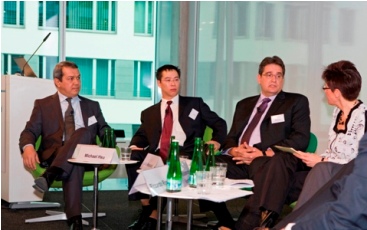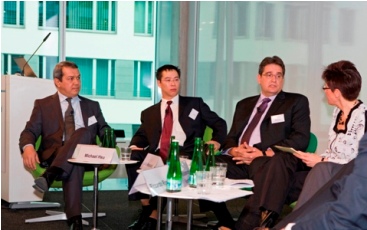 Challenge of the world market: "Europe is stuck with high installation costs"
"Competition on price" was one of the key questions of the panel discussion at the international conference SMEthermal 2011 in Berlin on 10 February. Representatives from the major solar thermal markets worldwide discussed the challenges of the world market among them (left to right): Hakan Alas, General Manager, Ezinç Metal (Turkey), Michael Hsu, CEO, Sunshore Solar Energy – Business Development Central Europe (Austria/China) and Lucio Mesquita, Managing Director, Thermosol Consulting (Canada/Brazil). SMEthermal is an annual one-day conference dedicated exclusively to manufacturing of collectors and tanks, new materials and process optimisation. There were 160 participants from 22 different at the event.
Photo: Solarpraxis AG / Therese Aufschlager
The European solar thermal industry is in a dilemma. The politicians criticise that the net retailer solar system prices are not going down, whereas the prices of the collectors and tanks has steadily fallen in the last 10 years. The real problem shows up clearly in the following pie charts. The share of the installation costs of a solar water heater in Germany and Italy is 42 to 50 % of the total retailer price. But it seems that the European manufacturers see no problems with this piece of the pie chart.
"In Italy there are a lot of old houses with sloping roofs, where installation is very difficult. The installers are not motivated to risk the climb on the roofs, if their margin is not high," explains Riccardo Rompani of the Riello Group.
The further one gets away from Europe, the smaller the share of the installation costs of the net retail price becomes. In Brazil the installer charges 10 % of the net consumer price, whereas in Germany, Italy and Portugal it the installation the share is between 37 and 50 %.
Figure: solrico
This situation seems even more extreme in Turkey. From the low average system prices of EUR 700 for a 180 litre double-circuit solar water heater, the installer claims 37%. "The installers earn good money in Turkey," confirmed Hakan Alas, General Manager of Ezinc, the biggest collector manufacturer in Turkey.
"We have several customers that install 3,000 to 4,000 solar systems a year, buying 10,000 collectors every year and they will never thinking about starting collector production, because it is much more profitable for them to install."
However, in Brazil the situation seems completely different. The system price for a 200 litre unit of about EUR 600 differs little from the price in Turkey, but the share of the installation is only 10%. "There was no heating industry established before the solar thermal industry started, so the manufacturers had their own installers sell their products," explains Mesquita, Managing Director of the Canadian Thermosol Consulting.
The consultant sees a completely different situation in Europe. The solar thermal system suppliers compete in the already existing distribution chain of the tradition heating sector. "We are now stuck at that point, because it is very hard to change this established chain," said Mesquita, who sees this issue as a major barrier in Central European markets.
Ralf Köbbemann-Rengers, Director Solar Thermal Systems Engineering, Bosch Thermotechnik (Germany), one of Europe's biggest heating boiler manufacturers, did not agreed with Mesquita that plumbers have been spoiled by the heating industry's high margins over many years – even if there is also competition between installers. As a logical consequence of this, if end costumers do not ask for reductions or compare various offers, solar thermal system prices will stay high in Germany and other countries, even if the industry succeeds in reducing component costs.
More information:
http://www.solrico.com
Further details about SMEthermal 2011