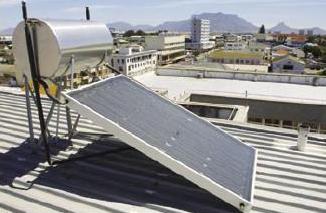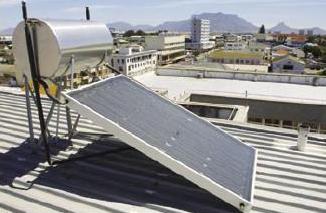 Cape Town: Draft of Solar Water Heating Bye-law
Currently, solar water heating systems have hardly penetrated in Cape Town, South Africa. Only 2 % of city's 906,000 households use solar energy. The planned bye-law should boost the market to 76,000 newly installed system in the next two years, but has been delayed due to continuous legal obstacles. Photo: Sustainable Energy Africa
The city of Cape Town devised a ground-breaking Integrated Metropolitan Environmental Policy (IMEP) to provide a better life for its 3.5 million citizens. Cape Town is the first city in Africa to implement such a policy. Thanks to IMEP, the city of Cape Town's Environmental Planning Department established an "Energy and Climate Change Strategy" to integrate renewable energy into the heart of Cape Town's construction sites. The strategy puts forward a solar water heating bye-law for new buildings, public buildings and extensions to existing ones.
"Cape Town did consider other ways of promoting solar water heating use, but concluded that the bye-law model has been the one most systematically evaluated", says Osman Asmal, Cape Town's director of the Environmental Resources Management Department. He also stated, "Individuals have the power to make key decisions about the environment – and solar water heaters are just one way in which they can do so."
"We will publish the draft law in May for public participation," announced Sarah Ward, who is also from the Environmental Resources Management Department of the city of Cape Town. "After a three to four months period, the law will be implemented as soon as possible." In theory, it all sounds like a fantastic response to climate change concerns; presently, Cape Town's city officials say that reaching the goal of a 10% market penetration of solar water heaters will hardly be possible by 2010. The city's bye-law has been delayed due to continuous legal obstacles.
New buildings within the city as well as every extension to existing ones requiring hot water for sanitary equipment or kitchen extensions have to comply with the planned bye-law regulations. The draft version does not encompass privately funded residential buildings of a size less than 100 m² (including the space for the garage), nor does it include buildings used merely for industrial purposes. Historical buildings or buildings in permanent shading will be inspected by employees of the city of Cape Town, who are authorised to exempt buildings of the set obligations. Skyscrapers or multi-storey buildings are to install as much solar water heating systems as their structure can bear. You will find more information about the solar bye-law in the table below.
Builders who fall under the above-mentioned criteria have to await approval of their building plan and are required to enclose a description of the solar water heating system. The system specifications of a domestic solar water heater and its components should meet the requirements of SANS 1307 or a comparable international standards certificate. The solar collector must be installed according to the specified rules to make sure it runs at its optimum.
This text was written by marketing and communication manager Hanna Schober, who is based in South Africa: schober_hanna@gmx.at
City / country

Cape Town / South Africa

Name

Solar water heater bye-law by the City of Cape Town

Goal

To regulate the installation of solar water heaters (SWH) or the production of sanitary hot water in buildings within the City of Cape Town.

Figures are estimations by Sustainable Energy Africa (SEA):
2010: 10% market penetration – 76,000 SWHs installed
2020: 50% market penetration – 380,000 SWHs installed

Date when law passed

Still a draft from the 10th of March 2007

Date when law came into effect

Cape Town's solar water-heating bye-law has currently been stalled.

The city continues to face legal obstacles.

Target group

new buildings or constructions

all extensions to existing buildings which will require the use of hot water

multi-storey buildings

households and city-owned housing

Special requirements

An application for a building permission must enclose a description of the solar water heating system, showing compliance with this bye-law. All applications that the Building Plans Department of the city receives after 1st of July 2007 must comply with this bye-law.


Further requirements for the solar water heating system:

A domestic solar water heating system should comply with the South African National Standards (SANS) 1307 or other, certified international standards

The collector must be installed in a way that it will work at an optimum performance rate (oriented to the north and having the collector tilted at 30° from the horizontal)

Installation must be signed by a certified installer

Manufacturer should provide a 5-year warranty on the performance of the solar water heating system in writing

Where possible, hot water cylinders should be installed within the roof space or inside the house

In areas with a high risk of frost, to address insulation concerns

For aesthetic reasons: in buildings older than 60 years or in heritage areas

Exceptions:

The bye-law does not apply to the following cases:

Buildings used for industrial purposes only

Any privately funded, residential building with less than 100 m², including garage space

The city is authorised to exempt buildings or parts of buildings from the obligations of this bye-law if there are valid reasons for such an exemption, such as:

Historical buildings

Buildings in areas with permanent shading

Last review of this tabloid

February 2009

Further information

http://www.capetown.gov.za/environment

Contact
Environmental Resource Management
City of Cape Town
PO Box 16548
Vlaeberg 8018
South Africa
phone +27 (0)21 487 2319
fax +27 (0)21 487 2578
E-mail: enviro@capetown.gov.za