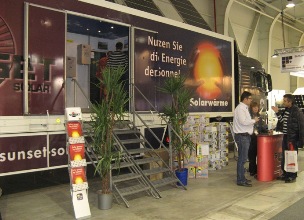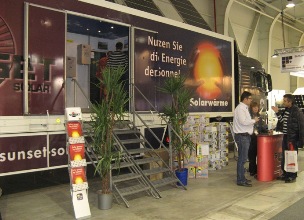 Bulgaria: Sunny Mood at SEE Solar 2012 in Sofia
While representatives from over 250 companies and 31 countries gathered at the Inter Expo Center Sofia for the 8th South-East European Solar Exhibition on 28 March, the Bulgarian government decided to cancel the highly controversial Belene Nuclear Power Plant project. Of course, the timing was only a coincidence. But still, the government's decision could have an impact on the future development of renewable energies in Bulgaria. For years, critics of the government's plans to set up the Belene plant for an estimated EUR 10 billion feared that the project could tie funds urgently needed to improve the country's poor energy efficiency and leave too little money for green energy projects, such as solar thermal installations on the roofs of public buildings. Now, with a definite end to the idea of another nuclear power plant, market players in Bulgaria hope for new growth in the sector of alternative energies.
Photo: Frank Stier
From its beginning in 2005, the South-East European Exhibition – including the Congress on Energy Efficiency and Renewable Energy (EE & RES) – has become a success story. Its dynamic development reflects the growing interest in eco-friendly energy solutions – not only in Bulgaria, but also in other Balkan states, such as Macedonia, Serbia and Romania. In 2011, 64% of the exhibition space was rented out by manufacturers and consultants from the solar energy sector (solar heat and solar electricity), which is why event organiser Via Expo decided to introduce the SEE Solar – South-East European Solar Exhibition 2012 as a fair within the fair. Well-known, international solar thermal companies, such as Alukönigstahl from Austria, Hewalex from Poland, Sunerg Solar from Italy, and Sunset Energietechnik and Solarzentrum Allgäu from Germany, participated in the SEE Solar 2012.
Hanjo Kubisch, Sales International Agent at German company Sunset Energietechnik, which exhibited in Sofia for the third time in a row, says: "Year by year, the visitors are showing greater interest and are even better informed." After traveling in the Sunset Solar showcase lorry (see photo above) across different countries, Kubisch can now compare the situation throughout the entire region. "All Balkan states show good climatic conditions for solar thermal energy and their economic situation is comparable, too. People here don't have much money, so they prefer cheaper products by domestic or Chinese producers. That makes things a little bit difficult for us, because our products have a higher quality, which also means they are more expensive. Still, we think it is important to be present in this region, because the Balkan markets are future growth markets," Kubisch explains.
Croatia, the Sunset international sales agent thinks, will become an interesting market for every market player when the country joins the European Union on 1 July 2013. Other Southeast European countries, such as Albania, Bosnia Herzegowina and Moldavia, will attract interest in the long term. In his opinion, Turkey stands out across the region, because solar thermal energy is widely used here. Sunset Energietechnik installed a solar thermal facility with 128 m2 of collector surface on the roof of the university in Muğla.
At the SEE Solar 2012, Solarzentrum Allgäu (SZA) presented their award-winning PV Therm module, a combined PV module that is cooled down by water floating through a steel tray in the back. The Balkan market estimates of SZA trade representative Dietmar Burkhard sound similar to the ones by his Sunset colleague Kubisch. "Of course, innovative high-tech products are still expensive in low-income countries such as Bulgaria and the other Balkan states. Nevertheless, all the Southeast European countries will have dynamically developing solar thermal markets in the years to come," Burkhard says.
Trade fairs are barometers when it comes to market development, the organisers like to say. If that is true, the market for solar energy on the Balkans is certainly on the rise. Only one week after the SEE Solar 2012 in Sofia, there will be a new B2B trade fair called SOLAR & THERM 2012 in the Serbian town of Novi Sad. "We launched it, because we think renewable energies are an important future technology with growing importance across the Balkans," Toni Laznik from Ljubljana-based fair organiser ICM says. From 12 to 14 April 2012, there will also be the 5th Annual Solar & Photovoltaic Exhibition (SOLAREX) at the Istanbul Expo Center. Actually, this trade fair does not only look to the Southeast European markets, but promotes itself as one of the most important market events in Europe, Russia, Middle East and Africa.
More information:
http://www.eeandres.viaexpo.com/en/seesolar
http://www.sunset-solar.de
http://www.solarallgaeu.de
http://www.solartherm.talkb2b.net
http://www.solarexistanbul.com