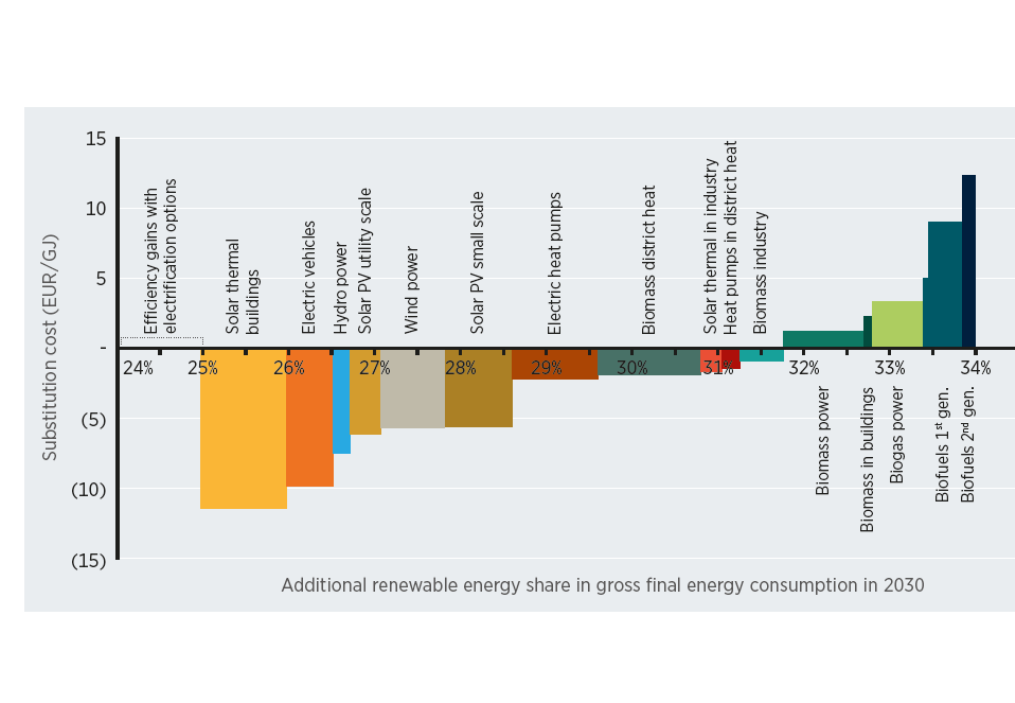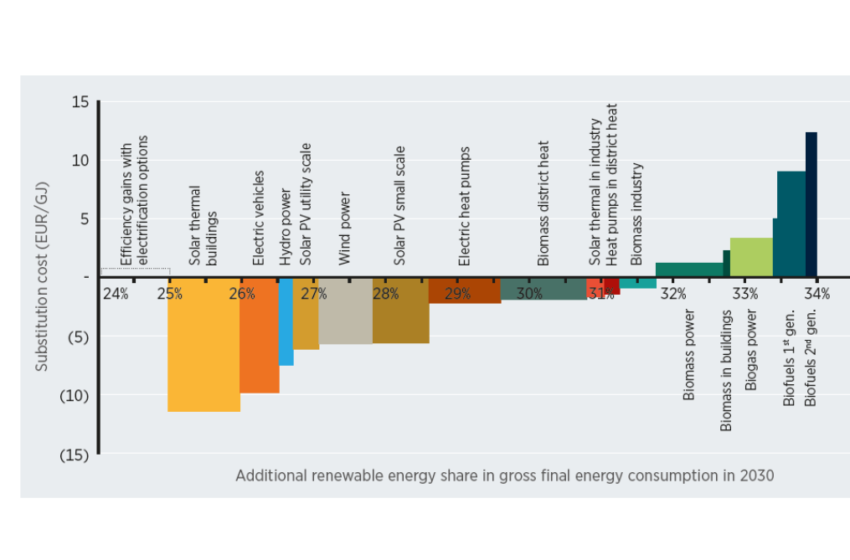 IRENA identifies solar heat potential in central and south eastern Europe
The 18 countries participating in the Central and South Eastern Europe Energy Connectivity Initiative (CESEC) could use renewables to meet 34 % of their energy demand by 2030, with solar thermal installed in buildings being the cheapest replacement option for fossil fuel equipment. These and other key findings can be found in a new report that the International Renewable Energy Agency (IRENA) wrote for the European Commission and published in early October (see the attached PDF). The 2030 solar heat potential of all CESEC countries combined is 93 GWth, or 133.1 million m2 of collector area. 
Chart: CESEC report
The EU countries that are part of CESEC are Austria, Bulgaria, Croatia, Cyprus, Greece, Hungary, Italy, Romania, Slovakia and Slovenia, though the initiative was likewise joined by the Energy Community countries of Albania, Bosnia and Herzegovina, Kosovo, Montenegro, North Macedonia, the Republic of Moldova, Serbia and Ukraine. The new report differentiates between two scenarios: a reference case that assumes plans, policies and targets will be implemented as agreed or current trends will continue, and a REmap scenario, which identifies and considers clean energy options on a country-by-country basis to accelerate renewables deployment until 2030.
The IRENA experts underlined that most CESEC members could substantially increase their use of solar thermal, "which has the potential to reduce demand for fossil fuels in the region's heat sector by about 3 % in 2030." In the same paragraph, they also write that "in addition to increased electrification, solar thermal can provide affordable hot water in residential and commercial buildings, as well as competitive low-temperature heat for certain industry subsectors."
To estimate the solar heat contribution in the REmap scenario's building sector, the authors used deployment rates of 0.28 m
2
to 1 m
2
of collector area per head, depending on the country. To evaluate the potential for market penetration in the industrial sector, they conducted country-specific analyses based on a
REmap study from 2015
, Renewable Energy Options for the Industry Sector: Global and Regional Potential until 2030. "The market penetration of industrial solar heat ranges from 0.7 % to 4 %, depending on a country's manufacturing focus," explained Luis Janeiro, Programme Officer – Renewable Energy Roadmaps at IRENA, who co-wrote the study.
The following table shows what amount of collector area needs to be installed in each country by 2030 in order to provide the expected solar heat contribution in the building and industrial sectors.
Industry REmap 2030 [PJ]

Buildings REmap 2030 [PJ]

Remap total

2030 [PJ]

Total GWh

Corresponding

collector area [m2]

Albania (AL)

0.24

2.9

3.14

872.2

1,744,400

Austria (AT)

4.44

13.4

17.84

4,955.6

9,911,200

Bosnia and Herzegovina (BA)

0.22

2.2

2.42

672.2

1,344,400

Bulgaria (BG)

1.17

2.8

3.97

1,102.8

2,205,600

Croatia (HR)

0.81

3.7

4.51

1,252.8

2,505,600

Greece (GR)

1.50

21.9

23.4

6,500

13,000,000

Hungary (HU)

1.78

8.5

10.28

2,855.6

5,711,200

Italy (IT)

11.05

92.9

102.14

28,372.2

56,744,400

North Macedonia (MK)

0.21

1.9

2.11

586.1

1,172,200

Moldova (MD)

0.40

1.9

2.3

638.9

1,277,800

Montenegro (ME)

0.31

0.0

0.31

86.10

172,200

Romania (RO)

3.25

15.8

19.05

5,291.70

10,583,400

Serbia (RS)

3.49

5.5

8.99

2,497.22

4,994,440

Slovakia (SK)

1.34

5.4

6.74

1,872.22

3,744,440

Slovenia (SI)

0.55

2.4

2.95

819.44

1,638,880

Ukraine (UA)

4.32

20.0

24.32

6,755.6

13,511,200

Kosovo (XK)

0.16

1.3

1.46

405.6

811,200

Cyprus  (CY)

0.05

3.6

3.65

1,013.9

2,027,800

239.58

66,550.2

133,100,360
Solar heat potential as a share of final energy consumption by 2030, according to the REmap Scenario. The corresponding collector area was calculated using an estimated specific yield of 500 kWh/m2.
Source: CESEC report
Enormous growth in clean district heat
According to the CESEC report, district heating currently meets about 13 % of overall demand across the region, while "Ukraine, Italy, Austria and Romania are the largest consumers." But in countries such as Serbia, Bulgaria, Moldova, Slovakia and Hungary "heat networks play an important role" too. In 2015, clean sources of energy provided 112 PJ (12 %) out of a district heat total of 969 PJ. By 2030, according to the reference case, their share will grow to as much as 29 %, whereas IRENA's REmap scenario expects those sources to meet almost half of the demand for district heat, estimated to be 1,062 PJ. Biomass systems in particular are seen as a DH network option that could speed up renewable deployment in the CESEC region and minimise reliance on fossil fuels. 
District heat generation in 2017, broken down by source [in PJ] (left axis) and by district heat share in total heat demand (in %) (right axis)
Source: CESEC report / IRENA, based on Eurostat energy balances
However, despite high irradiation, a lack of data prevented an assessment of the region's solar DH potential. "As for solar thermal used in DH networks, that is highly dependent on very specific site conditions," noted Janeiro. "Properly assessing the potential would require geographical data that was not available to us for this regional analysis regarding all 18 countries."
To fulfil the REmap scenario, IRENA recommends investments of up to EUR 78 billion. Overall, it said, the use of clean energy in the CESEC region could roughly double by 2030 when compared to 2015 and the proportion of renewables in the CESEC countries' energy mix could then range between 23 % and 56 %. This could save CESEC residents an additional 21 % in greenhouse gas (GHG) emissions and roughly EUR 3 billion in energy costs over the year and protect people's "health, environment and climate" – to the tune of up to EUR 35 billion annually.
Organisations mentioned in this article: