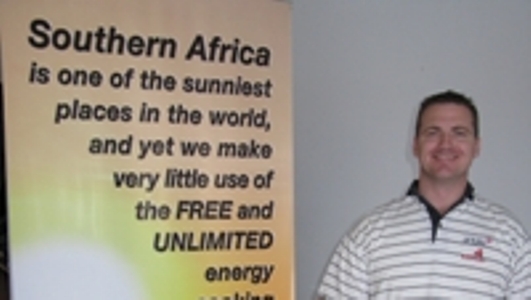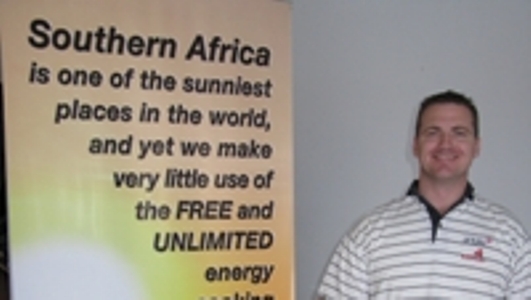 "Bringing the Industry Closer Together"
Dylan Tudor-Jones was a founding member of the Solar Water Heating Division of the Sustainable Energy Society of Southern Africa (SESSA). Solarthermalworld.org spoke with him at the International Solar Energy Society Solar World Congress 2009 in Johannesburg in October.
Photo: Hanna Schober
? Mr. Tudor-Jones, you are the Chairman of SESSA Solar Water Heating Division. What are the objectives of your division?
Dylan Tudor-Jones: Our aim is to promote solar water heating in South Africa to different target markets and market players. As a result, we have a number of initiatives to deal with. We have someone now for education and training, we have an ombudsman who handles enquiries and complaints and someone who deals directly with the SABS standards and attends the SABS meetings. We also try to develop the encouragement and stimulation for continued improvement on standards. From a promotional point of view, SESSA is promoting in the Homemakers Magazine, which is a national, free publication. We have got an advert running to tell the consumer "if you go and choose solar, you should use a SESSA member", because as a SESSA member we can guarantee quality and you will also be able to take part in the ESKOM Solar Water Heating Programme.
? Do you represent only manufacturers or also importers? Do they join forces to improve the solar water heater industry in South Africa?
Tudor-Jones: We represent manufactures, importers, installers, basically anyone in the industry, even consultants. As the industry is relatively small, our division had only 15 members two years ago and today there are 190-plus members and it is constantly growing, it is still very fragmented. We held meetings in different areas in South Africa, for instance Cape Town, Eastern Cape and Johannesburg to try to bring the members together and bring them on a common ground, but unfortunately, what is happening at the moment is that people are keeping their secrets to themselves and there is no synergy yet. They do not realise that the electric flow heater market in South Africa is 400,000 units per annum and there is a lot to go around if there are only 190 players. But we are working towards bringing the industry closer together.
? What are the activities to bring them closer together?
Tudor-Jones: There are a number of initiatives running right now; one is to put our division in order, because the number of members was not that big during the last few years and we had to make some changes. My objective for the year ahead is to make a draft to build a business organisation. We all feel that we have our business together and we are doing it for the love of the industry, but it would be more successful if someone ran it permanently. It is in the pipeline and I hope that by the end of the year we will have a business plan.
? What do you think should the government improve to support the industry?
Tudor-Jones: Next month there will be a government announcement for the solar water heating strategy. SESSA is expecting them to go for legislation, determining in the national building regulations that solar water heaters must be installed in new buildings. The government realises that they need to do something in order to meet their objectives, and I think solar water heaters are definitely forming part of this renewable energy mix.
? Are you satisfied with the Eskom programme?
Tudor-Jones: I think no one was really satisfied with the value of the incentive, it could have been higher, which would have been more of an impact and convinced more people. But at the same time there was also a common opinion amongst some, that Eskom should not have incentivized solar water heaters and just put that 2 billion South African Rand on promotional activities, because this is a fact, that we are almost at the end of this year and there are only three more years left of the programme, and then what?
? What do you think are the main obstacles in the South African solar water heater market?
Tudor-Jones: It is quite evident that the high capital cost of the solar water heater is the biggest hurdle and without proper finance there is no way out. The banks are a little bit behind in South Africa, but we are consulting already with the four major banks in South Africa, and all the banks are working on financial packages specifically for solar water heating whereby they are going to try to match, even though it is difficult for them, the monthly repayment for electricity to heat your water for a solar water heater.
? What are your hopes for the future for the South African solar water heating market?
Tudor-Jones: I want to eliminate electrical flow heaters completely. I think we are in a climate zone where we don't need electrical heaters. To heat water with electricity is the most uneconomic thing in the world given that you are losing 10 % only on the cabling to the house before it even reaches the heater. As a result, the biggest challenge is to try to convince professionals and change their minds and actually start to integrate solar water heating. The problem is that people think why must I change my 5 million Rand house for a 20,000 Rand solar water heater installation? But without it, we cannot integrate. I think I will live the day that electric flow heaters are eliminated and I am looking forward to an upturn in sales.
The interview was conducted by Hanna Schober.