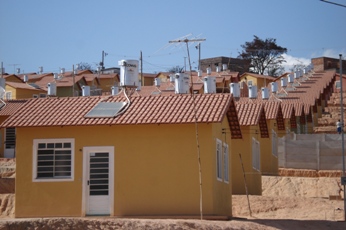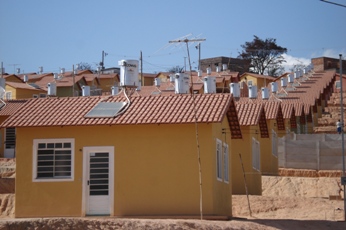 Brazil: Housing Projects Including More than 15,000 Solar Water Heaters in 2010
Minas Gerais is the leading state for solar thermal technology in Brazil: The state housing company COHAB plays a major role and started solar housing projects already in the late nineties. The photo shows a housing area in the city of Betim. Photo: COHAB
The month of March will mark the beginning of the implementation of the far-reaching agreement between the Housing Company of the Brazilian state of Minas Gerais (COHAB-MG) and the state-wide energy utility CEMIG. Together, they agreed on installing solar water heaters in more than 15,000 housing units being built in various regions of the state during 2010.
Minas Gerais is the Brazilian state with the highest amount of installed collector area per one thousand inhabitants. According to a 2007 survey among manufacturers of solar water heaters in the country, Minas Gerais had 84 m2/1,000 inhabitants, while the national average was only at 23 m2/1,000 inhabitants (see figure below).
The ten leading states in Brazil based on the total installed collector area per 1,000 inhabitants. These figures result from a market survey carried out by the consultancy SE-Studio Equinócio – Marca Solar Group on behalf of the national solar industry association ABRAVA. Source: SE-Studio Equinócio
The Brazilian collector manufacturer Aquecemax won CEMIG's invitation to tender and is now responsible for the installation of 14,600 systems. More than 3,700 additional units are under consideration and could be purchased and installed by placing change orders for the current contract. It was decided that COHAB and CEMIG will monitor the installation of the equipment together.
CEMIG donates the solar water heating systems. The energy utility is obliged to spend at least 0.5 % of its net operation income on activities aimed at reducing the electricity consumption throughout the country, a requirement the national Electricity Regulatory Agency (ANEEL) brought forth a while ago. ANEEL specifies obligations and charges for energy utilities in Brazil.
The project is going to install solar water heaters in COHAB-built houses, which have an average electric energy consumption of 150 kWh/month and therewith replace the former electric showers. The solar systems' storage capacity of 200 litres provides for sufficient hot water equalling five daily baths. On cold days, those systems can operate with assistance by electric showers at low power.
According to statements during former solar projects of COHAB, a solar water heater can reduce the power consumption of a house by 30 % to 40 %. The monthly savings can reach up to Brazilian Real (BRL) 80 for a family consisting of two adults and two children. The benefit tenants of public houses will have from these savings is an improvement in the quality of their lives, no matter if the extra money enables them to buy additional food, school supply, clothing or electronic household devices. It is exactly this reasoning that made the president of COHAB, Theodore Alves Lamounier, classify those solar heating designs as an "instrument of income redistribution."
More information:
CEMIG: http://www.cemig.com.br
COHAB: http://www.cohab.mg.gov.br/
Aquecemax: http://www.maxtemper.com.br/
ANEEL: http://www.aneel.gov.br/
This text was written by Carlos Faria Café, Director of SE-Studio Equinócio – Marca Solar Group based in Brazil: http://www.studioequinocio.com.br (Email: café@studioequinocio.com.br)