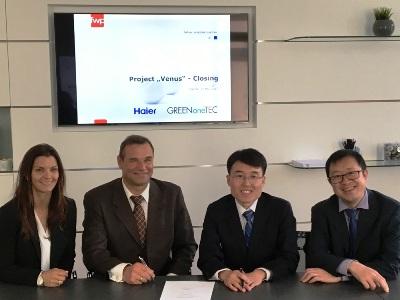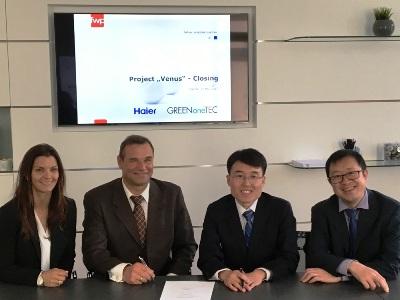 Austria: Haier Now Holds 51 % Stake in Greenonetec
There has been another Sino-European cooperation on solar thermal in recent weeks. On 18 May, Chinese-based Haier Group, one of the largest manufacturers of household appliances in the world, bought a 51 % stake in Austrian collector manufacturer Greenonetec, based in St Veit in southern Austria, from its sole shareholder, Robert Kanduth. Both parties share 50:50 voting rights and Kanduth has remained as managing director of the world's largest flat plate collector factory. The objective of the two shareholders is to establish licenced production of large-scale flat plate collectors in China and offer selected Haier products with the help of Greenonetec's distribution network in Europe. The photo shows Helvig Kanduth, entrepreneur and member of the newly created advisory board, Robert Kanduth, Xingzai Han, Director of Haier's Home Appliances Industry and Changyu Zhuang, Head of R&D at Haier Group and member of the same new board (from left).
Photo: Greenonetec
After two years of intensive negotiations, Kanduth believes that the cooperation with Haier will be a win-win solution for both partners. "Haier contacted us two years ago when searching for a technology partner in the large-scale collector segment," he explained. The Chinese white-goods manufacturer is headquartered in Qingdao, Shandong Province, and began offering residential solar thermal systems domestically and internationally in 2007. The collectors for these units were partly produced at the group's own manufacturing facilities. Kanduth said that it made perfect sense to manufacture the large-scale collector units of above 10 m² in size in China and that Greenonetec would support the new shareholder during the construction of its production facilities.
Haier's support has also been beneficial to the company location in St Veit. "We intend to diversify our product range and offer our wholesale customers in Europe selected Haier products, such as heat pumps and air conditioning units, under favourable terms," Kanduth explained. "We are currently screening Haier's portfolio to select products for which we see demand on Europe's markets."
Additionally, the move has bolstered Greenonetec's already good financial position for co-investments alongside the new shareholder. First, money needs to be put into an automated welding machine in St Veit to cut the storage tubes of SWH system
Solcrafte
to length.
Integrated storage collector Solcrafte
Image: Greenonetec
Kanduth said that sales of those compact solar water heaters had been growing rapidly outside Europe, from around EUR 3 million in 2016 to around EUR 5 million this year. The galvanised steel tubes have so far been coated at German chemical company BASF and customised at an Italian supplier.
Founded in 1984, Haier has grown into a huge business which continues to expand rapidly. It employs 73,000 staff and generated a turnover of USD 29.5 billion in 2013. The group started selling solar thermal systems in Europe in 2011, greatly investing in marketing at fairs and launching an aggressive price campaign. Albert Looschen has been the one managing solar sales over the last six years. He confirmed that the Haier Group had stopped the direct distribution of solar systems in Europe at the end of May 2017.
Kanduth said that
Kioto Clear Energy
, which has held 50 % of Greenonetec years back, would be closed down. The solar thermal business of the holding company, such as the production of hydraulic assemblies, was transferred to SEG Kioto, which is entirely separate from Greenonetec and owned by two managing directors, Peter Prasser and Günther Kohlmaier.
Websites of companies mentioned in this article: