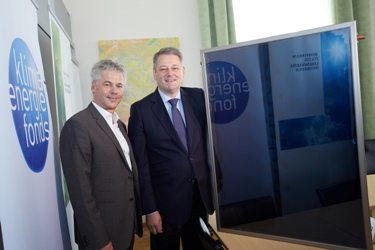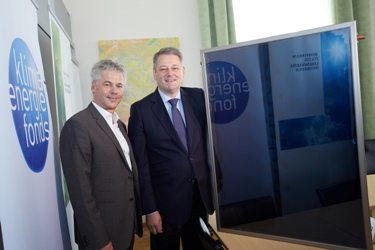 Austria: Climate and Energy Fund's New Programme Subsidises Solar Houses
On 13 June 2014, the Austrian Climate and Energy Fund launched the subsidy scheme Demo Projects Solar House 2014 (in German: Demoprojekte Solarhaus 2014), a new incentive programme for private builders. The stated aim is to gain practical experience with buildings in which at least 70 % of the heat is supplied by solar thermal energy. The programme offers a total of EUR 700,000 in investment grants in 2014 to integrate solar thermal technology into about 40 houses during a first start-up phase. The complete application package must be submitted to Kommunalkredit Public Consulting by 5 pm on 25 September 2014. The photo shows Ingmar Höbarth (left), Managing Director of the Climate and Energy Fund, and Andrä Rupprechter, Austrian Federal Minister for Agriculture, Forestry, Environment and Water Management, at the kick-off event for the new funding programme.
Photo: Thomas Preiss / APA
"Today, we are not only launching a new funding programme which is unique in Europe: We are taking a major step for Austria's strength in innovation and the security of supply in our country," Rupprechter emphasised during the press meeting for the launch. "Solar thermal is a clean, renewable energy technology that creates green jobs."
Gas or oil heating not permitted as auxiliary heat source
Eligible for grants are innovative solar thermal systems that achieve a solar fraction of at least 70 % of the total heat demand of residential buildings accommodating one or two families. The programme includes new and existing homes, as well as retrofit projects. The technologies subsidised to complement the solar thermal system are wood heaters and heat pumps – gas or oil boilers are not permitted as auxiliary heat sources.
The funding rate is capped at 50 % of the environmentally relevant additional investment costs and is calculated based on the building's heat demand. The calculations to provide proof of heat demand and solar fraction must come from passive house planning tool Passive House Planning Package.
Faster development of solar homes
Particularly innovative projects will be included in an accompanying research programme and supported through an increased funding rate on the entire system. The respective selection will be made by a panel of experts. The aim here is to speed up the technological development of solar houses and to improve existing designs. "Solar houses will play an increasingly prominent role during the implementation of the EU's Energy Performance of Buildings Directive over the next few years," Höbarth said at the press conference. "With the new incentive programme, we make sure that solar houses 'made in Austria' will take a leading role."
Websites to organisations mentioned in this article: