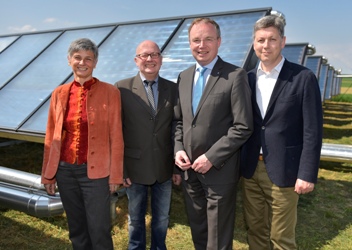 Austria: Another EUR 5 Million for Large-Scale Solar Plants Subsidy Scheme in 2014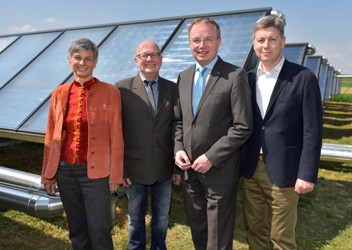 The Austrian Climate and Energy Fund has again allocated a budget of EUR 5 million to the Large-Scale Solar Thermal Plants Subsidy Scheme in 2014. Applications can be filed until 25 September 2014 (see the attached call for proposals in German). Based on last year's average incentives per m2, the amount will be enough to subsidise 15,000 m² of new collector area. Dr Stephan Pernkopf, member of Lower Austria's state government, and the solar energy association Austria Solar met at the solar thermal process heat plant of Fleischwaren Berger in Sieghartskirchen to discuss how to push the market segment. The photo shows (from left) Doris Hammermüller, Managing Director of Austria Solar, Gerhard Franz Roth, Managing Director of AEE Working Group Renewable Energy Lower Austria – Vienna, Dr Stephan Pernkopf and Rudolf Berger, Managing Director of Fleischwaren Berger.
Photo: NLK J.Burchhart
Austria´s Large-Scale Solar Thermal Plants Subsidy Scheme is now in its
fifth year
. The incentives for the solar thermal plant at Fleischwaren Berger were from the first run in 2010. The factory pre-heats water from 30 to 95 °C to produce steam for ham cooking and from 40 to 70 °C to supply the air conditioning system of the climate and maturation chambers.
Best practice example for solar process heat
As it turned out, the factory roof could not support the weight of the solar plant, which meant that in the end, the plant was not built on the roof but on a field next to the factory. The change in location caused a delay in planning and construction, so that the solar thermal generator could only be built in early 2013. The usual period between subsidy approval and construction is 1.5 years, but it is not unusual that companies ask for an extension of the deadline. Not only is every plant different, but, often, there will also be challenges that cannot be foreseen at the beginning.
| | | |
| --- | --- | --- |
| Year | Number of projects | Budget spent |
| 2010 | 38 | EUR 5.2 million |
| 2011 | 52 | EUR 6.8 million |
| 2012 | 38 | EUR 3.5 million |
| 2013 | 37 | EUR 4.2 million |
| Total | 165 | EUR 19.7 million |
Annual statistics of the Austrian Large-Scale Solar Thermal Plants Subsidy Scheme
Source: Austrian Climate and Energy Fund
With 1,067 m² of flat plate collectors, the plant at Berger Fleischwaren is the biggest plant which was built with subsidies from the first programme year. It is now listed on the website of
EU project Greenfoods
 as a best practice example for solar process heat.
The programme underwent a few minor modifications compared to 2013, all referring to subsidy area number 5: New Technologies and Innovative Approaches. From this year on, solar thermal plants which provide more than 70 % of the total heat amount of the building can receive subsidies under this criterion. In addition, the maximum incentive for a single project in this area was increased from EUR 50,000 to 100,000.
More information: