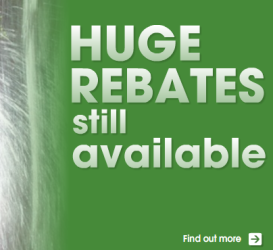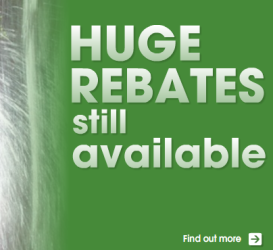 Australia: Second Decline in a Row
The Australian solar thermal market has not actually recovered since the boom year 2009. According to the Head of the Renewable Department of Rheem Australia Pty Ltd, Chris Mundy, the total installed collector area in 2011 again decreased by around 13 % to 100,000 systems. In 2009, around 150,000 systems had found a buyer in Australia. The company is still advertising the subsidies that have been granted around the country, but these subsidies will stop in June 2012. This means that economic prospects will likely remain difficult this year.
Source: http://www.solahart.com.au
The event which Chris Mundy thinks has been responsible for slowing down the solar thermal market was the introduction of an extremely attractive feed-in tariff for solar PV in several Australian states. For example, the 0.6 AUD/kWh tariff in New South Wales was "too much, too fast". 380,000 home owners across the entire country have bought a solar PV installation in 2011, compared to only 100,000 new solar water heaters. "Three years ago, we counted less than 5,000 solar PV installations per year," explains Mundy.
When the state government in New South Wales finally realised that the PV tariffs were overheating the market, they completely abandoned them in June 2011. Surprisingly however, the measure did not really bring the solar thermal market back on its feet again. "I see consumers becoming totally confused. It is difficult for them to distinguish between solar PV and solar thermal, which means that many of them believed all incentives had been stopped".

Indeed, it is likely that the current level of incentives for solar thermal will be substantially lower by the middle of 2912. The NSW Home Saver Rebate programme, which had been in place since July 2007, ceased paying out grants of AUD 300 per system on 30 June 2011. The state governments of Victoria and Western Australia still have their own state-wide subsidy schemes, however these will require an official extension as both programmes will end in June 2012. The welfare recipient targeted South Australian Solar Rebate and the Queensland subsidy scheme have a chance to continue after June 2012, however an upcoming Queensland election will see all government spending reviewed.
Most critically, the federal government's AUD 1,000 Renewable Energy Bonus Scheme will run out of funding in June 2012, and there are currently no plans to either replace or extend the current scheme. Instead, the Australian government plans to introduce a carbon tax by July 2012. The Head of the Renewable Department at Rheem is convinced "that a carbon tax will not be beneficial for solar water heaters on its own, but will need to be strongly supported by continuation of other subsidies and rebates over the next 5 years".

Mundy expects a rather difficult year in 2012. However, he emphasises his strong commitment to expanding the use of solar thermal technology in Australia: "We will try to push the market through publicity and high investments." Rheem has just invested AUD 5 million in a new robot line for solar collectors in its production factory in Perth, Western Australia, and is planning to launch new collector models in selected countries this year.
More information:
http://www.solahart.com.au
Amendment in February 2012
The Renewable Energy Bonus Scheme closed down in February very quickly some months early in order to avoid a rush of applications that often occurs in closing down support programmes. The following table shows the regulation within the stopped grant scheme.
Country / region
Australia
Name of programme
Renewable Energy Bonus Scheme
Type of incentive
Rebate
Eligible technologies
Solar hot water systems and ceiling insulations
Applicable sectors
Residential (limited to already built homes)
Amount
1,000 AUD Households will be able to receive a rebate for the installation of ceiling insulation or a solar hot water system. Households, rather than installers, will have to directly claim the AUD 1,000 rebate via the Medicare system.
Requirements for system

System must replace an electric storage hot water system
System must be eligible for at least 20 RECs.

(RECs = Renewable Energy Certificates, based on the amount of greenhouse gas emissions saved by replacing the former system)

Requirements for installation

Installer must provide qualifications
System must be purchased and installed on or after the announcement date (19 Feb 2010)
Building must be an already constructed one – new home construction is specifically excluded (except houses eligible under the Victorian Bushfire Appeal Fund)

Finance provider
Department of the Environment, Water, Heritage and the Arts
Total funds
252 million AUD (total budget from July 2007 to June 2012), including heat pump subsidies of AUD 600 each
Funding source
Public funds
Effective date
20 March 2010 (Transitional phase from 20 February 2010 to 19 March 2010)
Expiration date
30 June 2012
Website
http://www.environment.gov.au/settlements/renewable/solarhotwater http://www.hotwaterrebate.com.au
Last review
March 2010
Contact
Department of the Environment, Water, Heritage and the Arts
GPO Box 787
Canberra ACT 2601 Australia
Phone