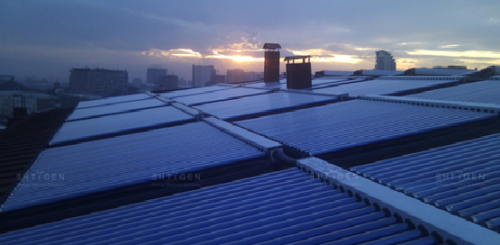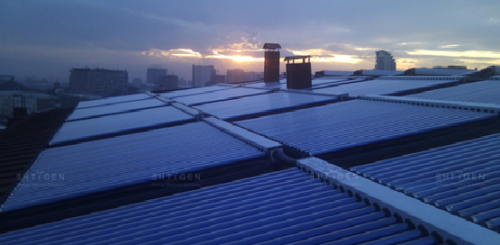 Armenia: Green Leasing Programme to Fund Solar Water Heaters at Hotels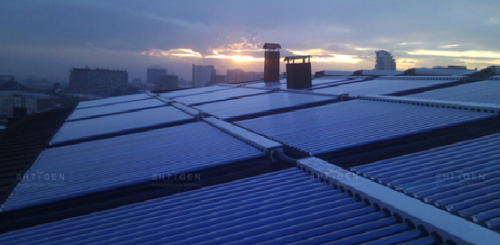 Armenia, a small country in South Caucasus, is home to an innovative financing scheme for solar thermal systems and other energy efficiency measures. In 2014, Armenian ACBA Leasing launched the Green Leasing programme for small and medium enterprises from any industry. According to an article published on 24 March 2016 on Armenian news website news.am, Green Leasing had already helped fund several solar thermal systems for different customers, such as seven hotels, four catering businesses and more than 20 service companies. One of the most well-known customers was the Tufenkian Hotel in Yerevan, Armenia's capital: The roof installation of 1,140 vacuum tubes was done in December last year (see photo).
Photo: Shtigen
The solar water heating unit is operated by
Shtigen
, a local supplier of solar thermal and solar electricity systems. According to Shtigen´s webite, the leasing contract between ASBA Leasing and the hotel offers instalments over five years at an attractive interest rate of 10.5 %. "We have already set up two more solar thermal systems with financing from ASBA Leasing," confirmed Hayk Shekyan, CEO of Shtigen.
The Tufenkian Hotel is located in the historical part of Yerevan city and has 85 rooms. It was built some years ago, "inspired by both classic European and 20th century Armenian design and architecture," as the hotel's website explains. The solar system was installed on the roof, so that it will not be visible from the street (see the photo below). A gas boiler functions as backup.
Historical design and modern solar energy usage do not exclude each other, the management staff of Tufenkian Historic Hotel in Yerevan, Armenia, is convinced.
Photo: Tufenkian Historic Hotel
ACBA Leasing is the largest registered leasing company in Armenia. It was founded in 2003 and 54 % of its shares are held by
ACBA-Credit Agricole
, the Armenian branch of French banking group Credit Agricole. According to the aforementioned news.am article, ACBA signed an agreement with the European Bank for Reconstruction and Development, which will provide loans worth USD 2 million for energy-saving measures. Furthermore, the EU Neighbourhood Policy will refund 10 to 15 % of the loan in case of energy conservation measures and the Ministry of Finance in Austria will support local and international experts in providing technical expertise to ACBA Leasing projects.
Websites of institutions and companies mentioned in the article:
Eugene Gerden, a freelance journalist based in Moscow and specialised in renewable energies, contributed to this article.