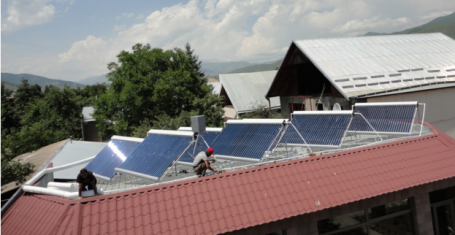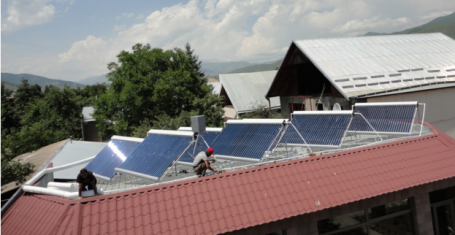 Armenia: Solar Heat as ACBA-Credit Agricole's Corporate Social Responsibility
ACBA-Credit Agricole, the Armenian branch of French banking group Credit Agricole, has announced the installation of several solar collector systems in Armenia's third-largest city Vanadzor. The solar thermal systems were installed on the premises of Orran, the local charity organisation for families in need, and regular maintenance will be carried out by a Shtigen, a local business and one of Armenia's biggest developers in the field of solar thermal and solar electricity systems. The photo shows a non-pressurised solar thermal system consisting of 240 vacuum tubes. It was installed on the roof of a swimming pool and provides the heat for the building.
Photo: Shtigen
According to Ike Shekyan, Director of Shtigen, the solar collector installations will supply hundreds of children and retirees in Armenia with solar-heated hot water and significantly reduce the energy costs of social institutions. The company, which was founded in 2013, focuses on solar thermal installations and partnered with Chinese vacuum tube collector manufacturer Sunrain for the purchase of its collectors.
According to estimates by the Armenian Ministry of Energy, the annual solar irradiation in Armenia is 1,800 kWh/m². Narek Asatryan, Spokesperson of ACBA-Credit Agricole, emphasised that the solar thermal project is part of the bank's corporate social responsibility programme: "ACBA-Credit Agricole Bank continues to promote ecological ideas by having solar thermal systems installed at the bank's head office in Yerevan and at four branches across Armenia. More collectors will be set up at some nurseries and preschools in six villages."
CJSC ACBA Credit Agricole Bank has been in Armenia since 1995. Since September 2006, the biggest stake in the company has been owned by European banking group Credit Agricole. The project has also received support from the Armenian government, since it is part of the government's investment programme for developing renewables. This programme was launched in 2015 and has a total budget of USD 60 million.
The text was written by Eugene Gerden, a freelance journalist based in Moscow and specialised in renewable energies.
Websites of institutions / companies mentioned in the article: