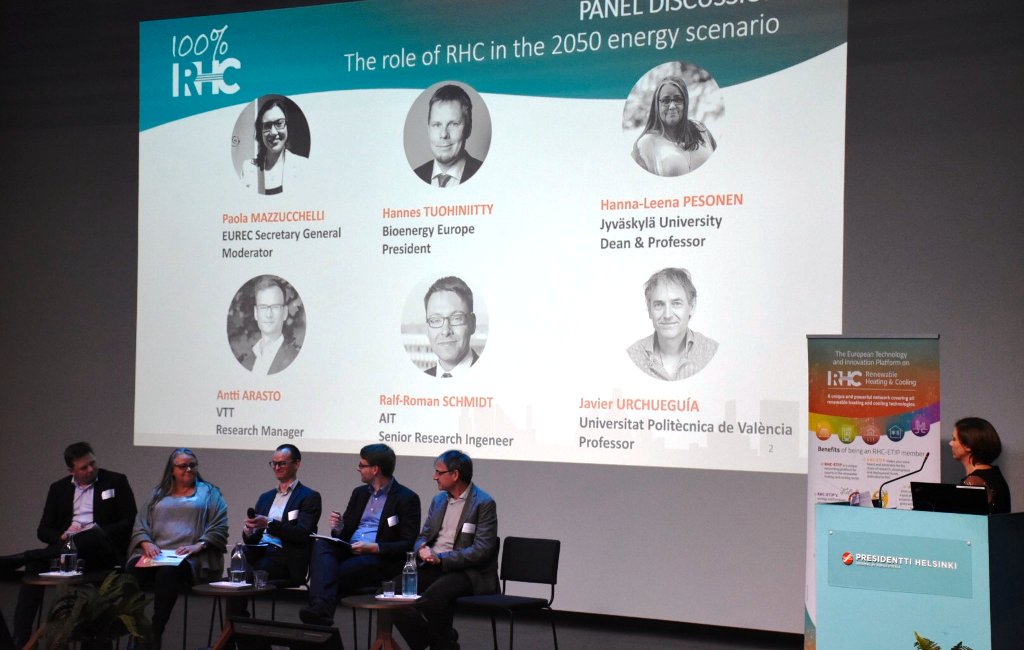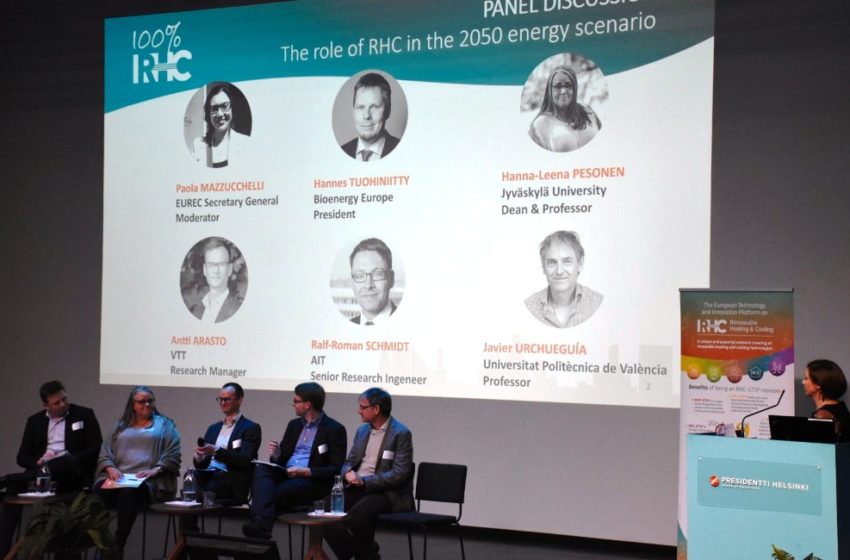 All-renewable future for Europe
Reaching a 100 % renewable heating and cooling target across Europe by 2050 will only be possible if there is strong and resolute political support to accelerate the market adoption of RHC technologies. This is one of the key messages of the 2050 Vision, which was presented at a one-day conference on 28 October in Finland's capital Helsinki. The event had been organised by the Renewable Heating and Cooling European Technology and Innovation Platform (RHC-ETIP), a network that was set up in 2009 and consists of over 800 experts from industry and academia. Among the speakers and panellists who attended the conference were representatives for the European Commission and government officials from Finland, since the country currently holds the EU Presidency. All conference presentations can be downloaded at https://www.rhc-platform.org/100rhc-event/
Photo: RHC-ETIP
The 2050 Vision is 40 pages long and was jointly developed by ETIP's members. It shows the high degree of maturity of RHC solutions and their key role in a variety of areas, from building single-family homes to retrofitting manufacturing facilities (see the attached PDF). The aim is to provide a clear path to a 100 % renewable heating and cooling sector in Europe by 2050. To meet this aim, the authors of the document recommend the following:
Enact laws to phase out fossil fuel heating systems
Promote the use of smart energy systems with automated controls and artificial intelligence
Further integrate this sector with the electricity market to even out supply and demand
Drastically reduce waste energy by reusing excess heat and organic waste
Build (large and small) daily and seasonal energy storage units for heating and cooling
Use real-time data to implement reliable and secure smart energy management
Enable innovative business models and financial investment to support RHC technology
Actively involve citizens and businesses in making the sector more sustainable
One of the topics discussed at the conference was the electrification of heating, which generated much attention among audience members and prompted questions from several of them. Their main concern was that wide-ranging electrification might not benefit renewable sources but rather fossil fuels, such as natural gas or even coal, far beyond 2030. To prevent this from happening, the experts who participated in the event recommended using both on-site heating equipment for processes that need comparatively low temperatures of under 500 °C and systems which require sources with higher exergy values, such as electricity, for more complex tasks, for example, in the transport and industrial sectors.
What's next?
After publishing and presenting the 2050 Vision, the RHC-ETIP Secretariat and the experts involved are now planning the next stage: to develop a Strategic Research and Innovation Agenda (SRIA), which will reportedly be ready by October 2020 and will address the main challenges and research and innovation needs in the RHC sector. The aim of the document is to make the unique perspective offered by RHC a key part of the overall debate about the Horizon Europe programme for the period from 2021 to 2027. The RHC-ETIP has already published a joint position paper about the support scheme (see the attached PDF), in which its authors call for RHC to be considered a topic in its own right, discussed alongside, but still separate from, renewable electricity.
The RHC-ETIP was founded in 2009 under the auspices of the European Commission. Today, this unique platform consists of over 800 professionals whose combined expertise covers all renewable heating and cooling technologies, including biomass, solar thermal, heat pumps, district heating and thermal energy storage. Its recently created Horizontal Working Groups focus on industries, cities, districts or buildings.
This news article was written in collaboration with Solar Heat Europe – ESTIF, which provides support for RHC-ETIP and Solar Thermal Technology Panel projects.
Organisations mentioned in this news article: