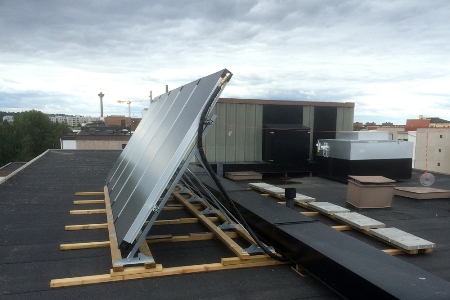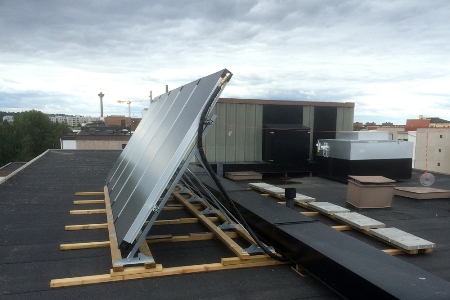 Solar Water Heaters Not First Choice of EU-GUGLE Participants
Finding feasible renovation models to change energy-consuming buildings into nearly zero-energy ones is the aim of the EU-GUGLE project, which stands for European cities serving as Green Urban Gate towards Leadership in sustainable Energy. The programme was launched at the six participating European cities of Aachen (Germany), Bratislava (Slovakia), Milan (Italy), Sestao (Spain), Tampere (Finland) and Vienna (Austria) in 2013. Each one of these cities agreed to renovate 226,000 m2 of living space over five years by increasing the share of renewable energy sources to 25 % in order to save between 40 % and 80 % of primary energy consumption with it. The photo shows the collector installation on the roof of a multi-family building in Tampere, one of the very few solar thermal installations in the EU project. 
Photo: Ecofellows
EU-GUGLE is part of the Smart Cities and Communities initiative, with which the European Commission wants to "foster the EU-wide dissemination of the most efficient models and strategies for helping cities and communities to achieve a 40 % greenhouse gas emissions reduction by 2020." It might be interesting to know what role solar thermal energy plays among the "most efficient models and strategies", was my first thought when I started my journalistic research on EU-GUGLE in Spain by talking to the coordinator of EU-GUGLE, Florencio Manteca González, Director of the Spanish National Renewable Energy Center, CENER.
"Dear Frank, since you have also contacted other partners of the project, I thought you already had the information you needed. As far as I know, some of them have already provided you with information, is that correct?" was the rather vague answer of González to my question about the contribution of solar thermal energy in his project. And I also found out the reason why: Although the project descriptions on the EU-GUGLE website for Aachen, Bratislava and Vienna all claim to use solar thermal energy, at least the project managers from Aachen and Bratislava informed me that they actually do not.
Solar thermal plays a small part in considerations on renewable retrofits
"Dear Mr Stier, in the course of our EU-GUGLE measures, there are currently no specific plans for the utilisation of PV or solar thermal energy facilities. Solar thermal water heaters are not an option, since the flats being renovated at the moment will be connected to the district heating system. Our use of renewable energy will be provided by drain water heat recovery," Dr Maria Vankann said about the EU-GUGLE project in the German city of Aachen.
"Dear Mr Stier, we are currently working on one project in Bratislava – the refurbishment of a block of flats – where only PV panels will be used to support heat pumps and ventilation with heat recovery. Solar thermal panels are not foreseen for any other planned building (yet)," was the answer of project partner Roman Grünner from Bratislava.
One positive statement from Finland
It may be somewhat astonishing, but the only positive statement about the utilisation of solar thermal energy in the course of the EU-GUGLE project came from the most northern city among the project participants: Tampere in Finland. "We have eight limited-liability pilot housing companies in Tampere, of which three have finished their renovations, and one of the completed pilots has solar thermal installed in the building," Tiina Sahakari, EU-GUGLE project manager from Ecofellows in Tampere replied. According to Sahakari, the installed collector surface is 10 m2. "But I believe there are plans to install some more, since the results have been quite promising. I am not sure if the rest of the pilots are going to have solar thermal energy installations, but I hope so," she added.
The result of my research on the role of solar thermal energy in the EU-GUGLE project is that the technology obviously plays a small part in considerations on renewable retrofits. Nowadays, solar water heaters do not seem to be a preferred option of engineers when they think about how to transform energy-consuming buildings into energy-saving ones.
More information: