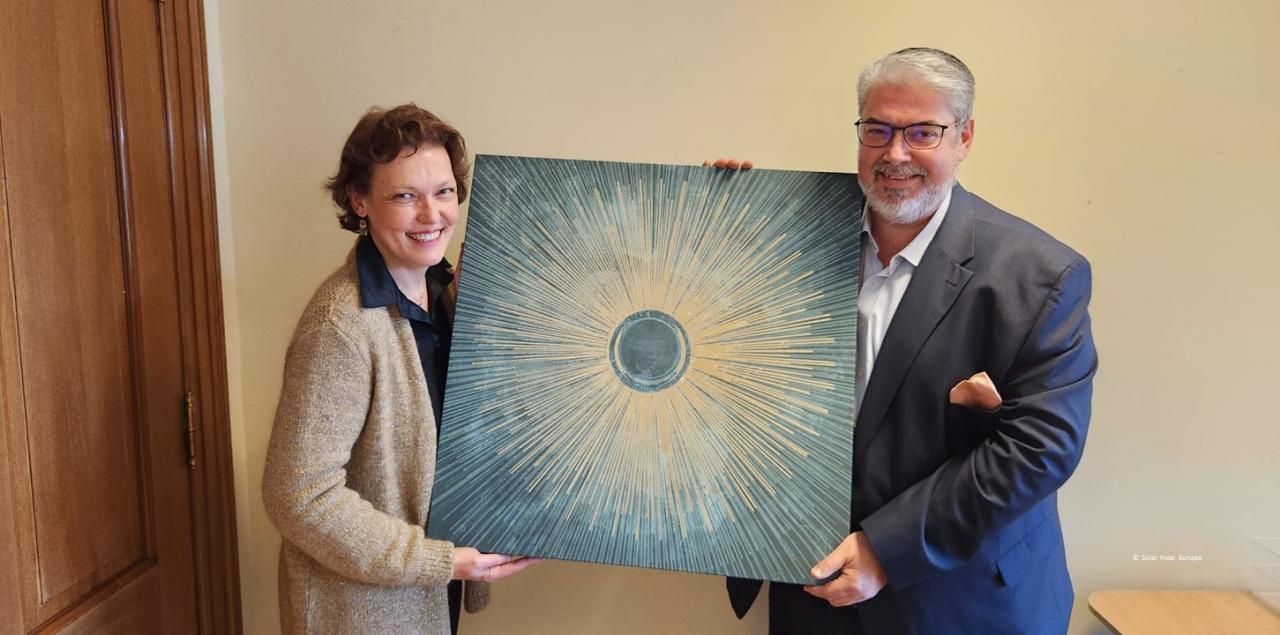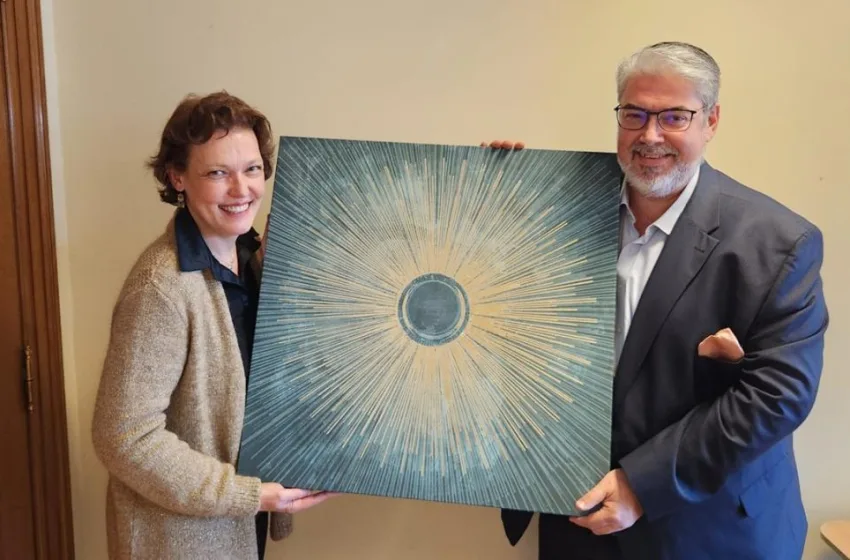 "I see huge opportunities to shed more light on the benefits of solar heat"
Solar Heat Europe has strengthened its team. At the beginning of April, Valérie Séjourné (left) took over the Managing Director position from Pedro Dias. Séjourné comes with more than 25 years of experience in communication, sustainability and advocacy with industry association background. Dias, who led the Solar Heat Europe (SHE) team for almost 10 years, will support the association as Policy Director on a half-time basis. Séjourné and Dias posted this symbolic "hand over" photo on social media on 4 March, both are glad to join forces to foster the role of solar heat in the energy transition. Photo: Solar Heat Europe
"We are thrilled to start working with Valérie, who carries the formidable responsibility of relaunching our association at a very special moment and at the beginning of the full deployment of the energy transition in Europe and globally," said SHE President Costas Travasaros and SHE Vice President Guglielmo Cioni in a press release sent out at the beginning of April. The Board thanked Dias for his "tremendous commitment to Solar Heat Europe during these many years". The fact that he remains part of the team is in line with the Board of Directors' goal of strengthening the Solar Heat Europe team's capacity and its efforts for the development of the sector, and allows a smooth transition.
Growth, promotion and advocacy
Séjourné has worked in related fields for almost 25 years, 17 of them as Communications and Sustainability Director at A.I.S.E. – the International Association for Soaps, Detergents and Maintenance Products. She had a team of three staff and directed many pan-European projects and campaigns in the fields of corporate social responsibility, sustainable production, design and sustainable consumption.
"A change of priorities at A.I.S.E. gave me the opportunity to take a pause and reflect on a new professional challenge. Passionate about sustainability since my first experiences with the French agency Ademe back in 1992, I searched for a job in which I would become even more involved in sustainability and the energy transition due to the ever more pressing urgency to act", explained Séjourné.
"I gladly accepted the challenge as Managing Director at SHE because I see huge opportunities to shed more light on the benefits of solar heating technologies in Europe and help the market grow." Her key objectives are to increase the membership base of SHE further and to intensify its activities and work in close dialogue with all stakeholders. Her extensive network in the chemical, retail and food and drinks industries will hopefully help to open some doors for solar heat as well, she added.
"Ensuring that the energy transition is successful for all – industry, end-users, and society"
Séjourné started the first weeks as Managing Director with personal one-to-one meetings with several members – companies as well as associations, but also with colleagues from other renewable energy and heating communities. She exchanged ideas with them to get to know the challenges, opportunities and issues of the day-to-day business: "Further awareness on the potential of solar heating & cooling solutions and readiness of the companies to deploy those technologies massively are my first take outs from those meetings." The industry is at a key turning point in its history. "This decade, these years are critical," added Séjourné. "We must meet this challenge well, but we are not the only ones in this race. Providing the relevant argumentation for solar heat will be key, so as to ensure that the energy transition is successful for all – industry, end-users, and society."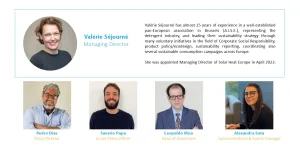 Extended team of Solar Heat Europe. Source: screenshot from the website
Solar Heat Europe brings together manufacturers, research institutes and associations in more than 15 countries across Europe covering different parts of the value-creation chain. The association celebrated its 30th anniversary in June last year with the launch of the Solar Thermal Roadmap "Energising Europe".  The next milestone will be the General Assembly on 29/30 June 2023 in Athens, when a new board will be elected.
More information:
Solar Heat Europe: http://solarheateurope.eu/