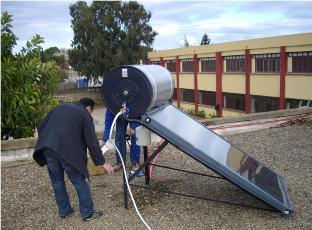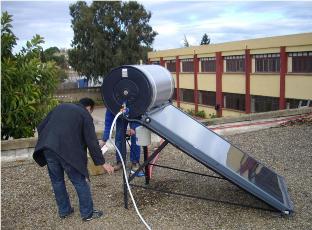 Thermosiphon system in Algeria
Algeria: 20,000 Pupils Trained in Saving Energy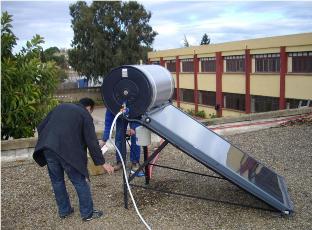 Over the last four years, more than 20,000 pupils from 60 schools have been taught about energy saving and the different types of renewable energy in Algeria. The Fourth Open House Day in Algeria has resulted in 15 new thermosiphon systems for schools. Photo: APRUE
The patrons of the so-called annual "Open House for Pupils for Energy Saving" are the Algerian Minister of Energy and Mining and the Minister of Education. The teaching and learning material was provided by the National Agency for the Promotion and Rational Utilisation of Energy (APRUE), whose regular newsletter also listed the positive effects of this year's programme (see attached document):
Having started in the school year of 2006/2007 with six schools accommodating around 1,200 pupils, the programme gradually grew into a state-wide initiative. In November 2009, more than 10,000 pupils from 60 different schools took part in the one-day training. The aim of the "Open House Days for Energy Saving" is to make young people develop expertise and knowledge in this field, educate them about how to use energy more efficiently in the household and teach their families about it as well. Therefore, schools offered their pupils a course, which focused on the benefits and energy saving potential of different types of renewable energy technologies as well as their modes of production, transport and distribution.
The day-long and state-wide course ended with handing out give-aways to eager pupils and installing 15 solar water heaters on the roofs of certain schools. "We have a couple of solar water heater importers with whom we are cooperating," the head of the responsible department at APRUE explaines. In 2009, it was Greek solar system supplier Megasun Solar Energy Systems, which delivered the thermosiphon systems.
For more information:
http://www.aprue.org.dz
Text was written by communication expert Hanna Schober based in South Africa. Schober@solrico.com