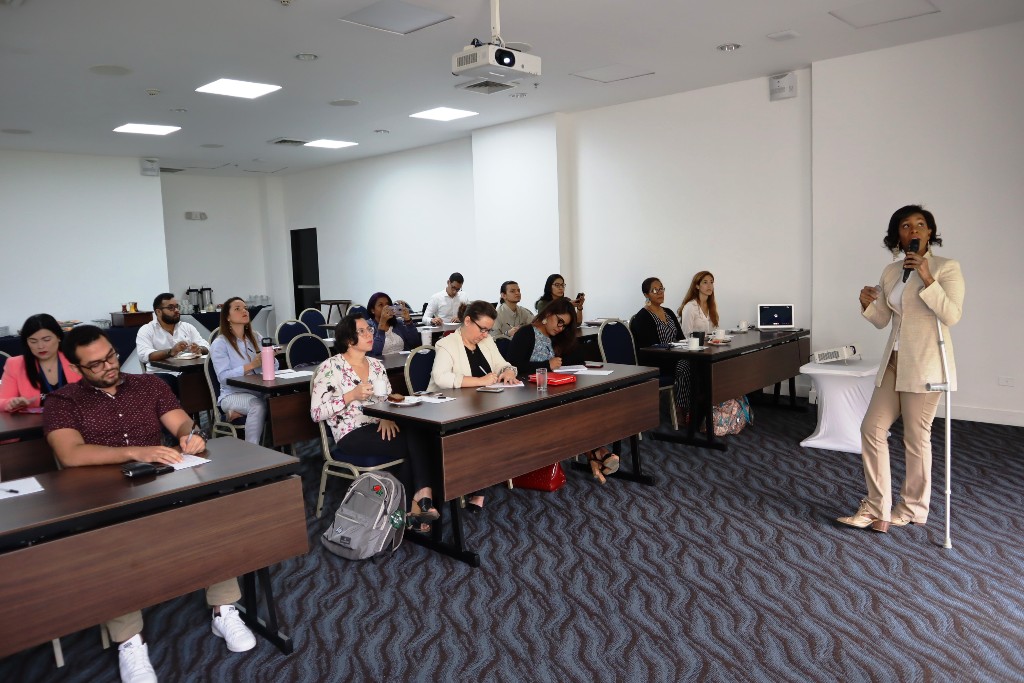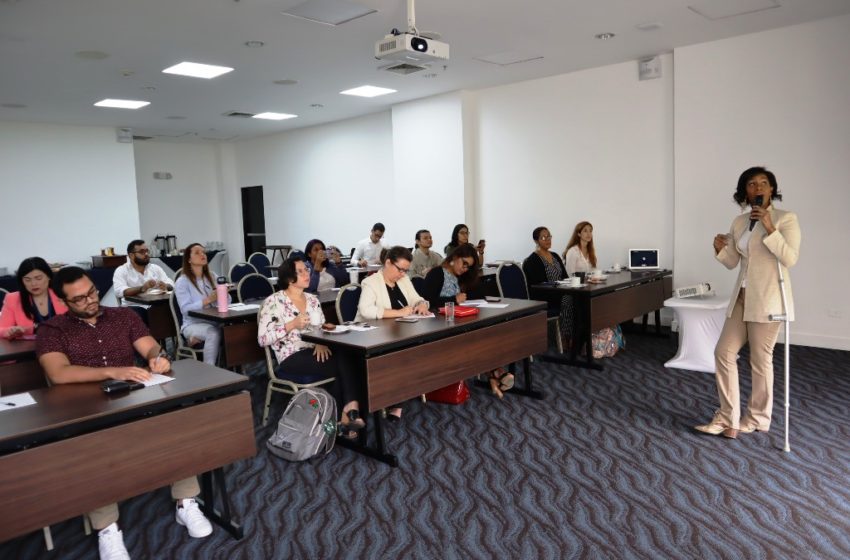 Promoting solar heat in Panama
As part of the Termosolar Panamá programme, the fifth Café Solar was held on 14 May. In all, 19 journalists and representatives for the local press attended the event. The photo shows Rosilena Lindo, coordinator of the support scheme at the United Nations Environment Programme (UNEP), while she was explaining key issues for communicating the benefits of solar heat. She was joined via video call by Marisol Oropeza, who works for the Heat Changers campaign. Termosolar Panamá, launched in July 2018, has a USD 10 million budget to support a wide variety of marketing activities for solar heat over three years. One major aim of the programme is the construction of 40 demonstration systems totalling 3,220 m².
Photo: UNEP
The pilot systems will be put up at hotels, hospitals, and agribusinesses, as well as commercial and residential buildings. Of the USD 10 million budget, USD 1.9 million has been donated by the Global Environment Fund (GEF). The remainder has been a joint contribution by Panama's National Energy Council, environment ministry, the Technological University of Panama, the Panama Green Building Council and Banco General. Banco General will also be the one setting up a USD 3.1 million financial support mechanism for companies and individuals interested in buying solar water heaters.
The first pilot system was installed at a private sector business in Panama City in March, and another 35 sites have since been chosen. They include public hospitals, homes for the elderly and schools and will be used to demonstrate the economic viability of solar heat. Public institutions will receive 100 % investment funding for their solar water heaters. Furthermore, the government will tender out work globally when requesting offers from solar thermal technology suppliers. "Beneficiaries will not only learn how to operate and monitor installations, but we will also offer them training to become LEED AP experts," said Lindo. LEED is a green building standard that is being promoted and certified by the U.S. Green Building Council.
PV market moves faster
Panama's solar thermal market is still tiny and subject to great fluctuations (see the following table). "Despite Law 37, which has been in effect since 2013 to promote the use of solar technology, the PV market has moved faster than the one for solar thermal. This has been mainly due to the larger share of energy consumption in the country's transport and power markets," said Lindo. "However, there is potential for solar thermal, especially in the industrial and hotel sectors."
Imports (CIF = Cost, Insurance and Freight)

2015 (USD)

2016 (USD)

2017 (USD)

2018 (USD)

Residential electric water heaters

726,565

741,226

1,128,811

837,320

Residential solar water heaters

51,531

11,966

69,332

16,204
Imported electric hot water devices continue to dominate the residential water heater market. Consumer prices are four times the CIF. 
Source: UNEP
The Termosolar Panamá coordinators and sponsors agreed to take the following actions within the 3-year period between 2018 and 2022:
Support the construction of 40 demonstration systems (3,220 m²)
Set up an action plan for solar water heating
Develop quality standards and quality control programmes
Offer technical training
Launch marketing and advertising campaigns for several solar thermal applications
Carry out 100 energy audits by considering feasibility analyses and tailor-made system design
UNEP expects these measures to prompt the installation of 16,600 m² of solar water heating systems within five years, saving 15.5 million kWh electric annually. Solar water heaters save either electricity or gas. However, the programme administrators decided to show all amounts in relation to electricity usage, as electric power is the energy source Panamanians are most familiar with.