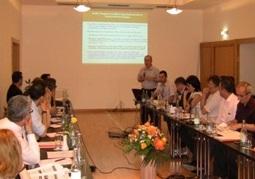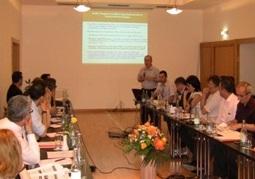 Albania: New Draft Law to Support Solar Water Heating
Albania is taking further steps towards implementing the European Union's legal framework in terms of solar water heating (SWH) systems. In May 2012, a round-table discussion on the new draft of Albania's National Renewable Energy Action Plan (NREAP) and the draft law proposal on promoting SWH systems brought together experts in the field, investors, representatives of interest groups, and officials from the Albanian Ministry of Economy, Trade and Energy (METE), as well as the UNDP Climate Change Programme in Albania. UNDP's Project Leader in Albania, Mirela Kamberi, believes that the "RES law will get approved by the end of 2012". Some uncertainty, however, remains because the Renewable Energy Sources (RES) law will go to Parliament as part of a package of four laws. Two of these, such as the Law on Power Sector and the amendment of the existing Law on Concessions, deal with rather sensitive issues.
Photo: UNDP Albania
The RES draft has been brought in line with EU legislation. It aims to support investments in the field, and further align the Albanian legislation with EU standards. "The entire process has not been easy, as had been expected," states Kamberi. The four round-tables that have been organised since September 2011 were attended by several interested parties – with satisfying results. The new draft law includes a chapter on promoting SWH systems, which states the following obligatory measures:
SWH systems must be installed in buildings, a measure that has to be included when certifying the energy performance of buildings;
SWH systems require a certain number of technical specifications and a minimum efficiency;
Both SWH systems and installers must be certified by an accredited body; and
imported or domestically assembled SWH systems should be exempt from custom duties and VAT.
Once the law is approved, it will require further governmental decrees to enforce the different measures. To date, Albania has not had a special SWH system law. The majority of the population uses electricity to heat their water and over 95% of the electricity generated in Albania comes from hydropower plants (HPP). However, hydropower only covers around half of Albania's electricity demand. On the other hand, Albania has considerable imports of energy which vary – depending on yearly weather conditions – between 30 and 60% of the Total Primary Energy Sources. This makes energy production and supply – including water heating – highly vulnerable to climate conditions. Low voltage or cuts in power supply are also not unusual, mainly due to the deteriorating power distribution system, which has been inherited from the country's communist era. Retrofitting the entire power distribution system is beyond Albania's economic capacities, so the government is planning to shift to alternative solutions, such as solar or wind energy, instead.
The new draft law on renewable energy has been introduced in the framework of the "Country Programme of Albania under the Global Solar Water Heating Market Transformation and Strengthening Initiative", a project thought to be implemented by the Albanian Government and the UNDP until 2014. With the project's estimated total budget of USD 2,105,000, the programme aims to facilitate the installation of 75,000 m² of new collector area over the duration of the programme, which could lead to future sales of 20,000 m² per year.
This text was written by Endrit Mema, an Albanian doctoral candidate in Business Law in Vienna, Austria.
More information:
http://www.undp.org.al/index.php?page=detail&id=210
http://www.ccalb.org/index.php?pg=details&id=19&nid=1&lng=en