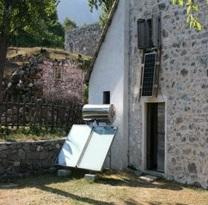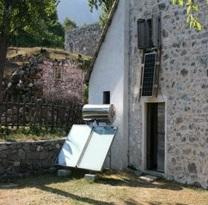 Albania: Solar Water Heaters in Albanian Alp Guesthouses
This summer, the UNDP Climate Change Programme, the Global Environmental Facility Small Grants Programme (GEF/SGP), the Albanian Ministry of Economy Trade and Energy (METE), and the German Agency for International Cooperation (GIZ) worked together to provide eleven guesthouses in the northern Albanian village of Theth with solar water heating (SWH) systems for domestic use (photo). Theth is located in a natural park in the Albanian Alps. With more than 12,000 tourists in 2011, the region is one of the most attractive spots around the country. The eleven thermosiphon systems were financed by grants from the participating organisations. The only thing that was co-financed by the beneficiaries was the installation of the solar water heaters.
Photo: UNDP Albania
All 11 systems came from Albanian company Termo Tirana. They had to be imported, because the locally produced solar water heaters do not yet fulfil Solar Keymark requirements. All of them are two-circuit thermosiphon systems, with glycol in the solar circuit because of the harsh climate in the mountains. The UNDP is satisfied with the project's outcome and considers implementing solar water heaters also in other tourist spots across the country.
The UNDP Climate Change Programme also organised a training session in cooperation with the Albanian Ministry of Labour, Social Affairs and Equal Opportunities (MLSAEO). The session with the title "installation and maintenance of solar thermal systems" was offered by the Vocational Training Centres (VTCs). The VTCs present in the largest Albanian cities of Tirana, Durrës and Fier aim to supply the Albanian labour market with qualified professionals, specially trained for installing and maintaining solar thermal systems.
The aforementioned events are hoped to increase the awareness among local actors and entice them to use solar thermal technology in the tourism sector. This sector is considered to be one of the country's most promising investment areas besides energy generation from renewable resources, such as hydropower, wind or solar energy. According to the Albanian National Agency of Natural Resources (AKBN), the country has an average 220 days of sunshine per year and a solar radiation between 1,185 kWh/m2 and 1,700 kWh/m2 per year. The UNDP office in Albania states that a proper use of SWH systems may cover up to 50% of sanitary hot water and 70% of annual hot water demand in hotels and the service sector. Indeed, the UNDP remains one of the most active forces in promoting SWH in Albania, also for its use in tourism.
This text was written by Endrit Mema, an Albanian doctoral candidate in Business Law in Vienna, Austria.
More information:
http://www.undp.org.al/index.php?page=detail&id=219
http://www.undp.org.al/index.php?page=detail&id=209&lng=en
http://www.ccalb.org/index.php?&lng=en