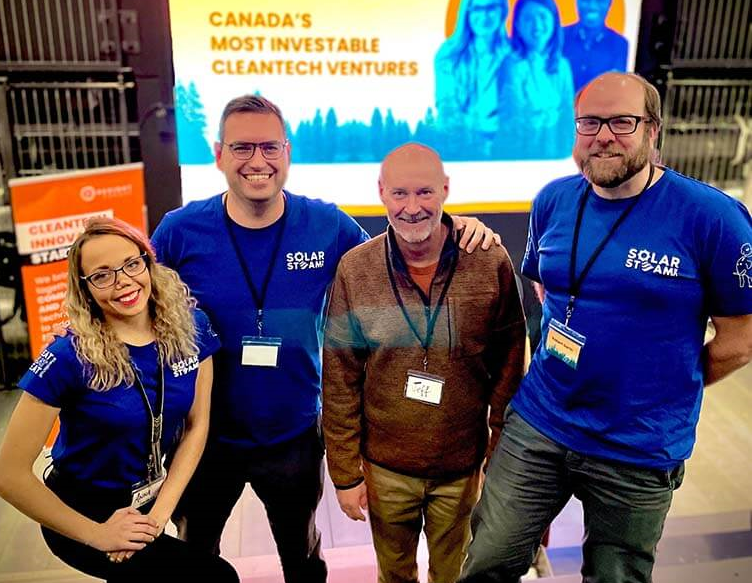 Advanced solutions for concentrating solar in extreme environments
Concentrating solar thermal is winning investors' confidence in North America. The Canadian startup SolarSteam was nominated as one of the 50 most investable cleantech ventures by Foresight Canada in November 2022 (see photo above). SolarSteam has developed an enclosed ultra-lightweight parabolic trough collector. In collaboration with the Canadian company Scovan, which offers, among other things, turnkey renewable energy solutions, SolarSteam has been operating a demonstration plant with 10 m2 aperture area since May 2022. After a successful initial fundraising with a combination of equity and grants topping USD 1 million in 2021, the company has launched a USD 2.5 million "equity seed" round in 2023 to finance the first commercial projects and to scale up production capacities.
Photo: SolarSteam
"With our technology we would like to provide renewable heat to industrial clients at the lowest cost possible in a temperature range of 85 °C to 350 °C, for which renewable heat solutions are still rare in Canada", said Apostol Radev, founder and CEO of Calgary-based SolarSteam (second from left on the photo above). Since 2017 his team has been working on developing a novel ultra-light parabolic trough collector and an extreme-climates-specific enclosure.
Light parabolic trough in an enclosure structure
One of the key advantages of SolarSteam´s technology is that the solar collector is enclosed in a double-sloped structure. According to Radev, this structure proved to be clear enough to maximize light transmission and is resistant to high wind speeds of up to 180 km/h, snow and heavy hail. Hence the enclosure allows the structure of the parabolic trough to be significantly lighter in comparison to conventional collectors.
After the lessons learned from the development of SolarSteam's demonstration facility, the team is developing a next-generation ultra-light collector with the aim of avoiding international supply chain risks, e.g. for coated aluminium or glass mirrors. The company does not currently want to disclose further details about the materials used for their next generation parabolic trough structure.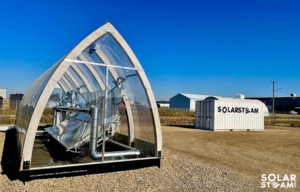 Demonstration plant in Alberta, Canada. Photo: SolarSteam
SolarSteam's pilot plant has been in operation in Alberta since May 2022. At TRL 7 and using water as the heat transfer fluid it demonstrated uninterrupted operation on a sunny day in December 22 with a temperature of -39 °C according to a news article on SolarSteam´s website. Radev emphasises that the idea is to operate the units in the future with all different kinds of heat transfer fluid, either pressurised water, thermo oil or molten salt.
Furthermore, the design for manufacturing, shipping and assembly allows the module's elements to be stacked together, easing both upstream manufacturing processes and transportation. The high modularity of the system and the containerisation of components "allows them to be manufactured quickly and deployed faster once the system goes on site", underlined Radev.
Accurate monitoring to track carbon reduction
The pilot plant features a built-in instrumentation pod on the back, whose purpose is to monitor the different types of operation. The unit's 17 data points track production, temperature and many other data sets, all of which can be visualised in an integrated dashboard. According to Radev, this instrumentation pod will be required for every 10 to 20 modules, depending on the system's complexity.
As the Canadian carbon tax framework and clean fuel standards for industry are set to stiffen by 2030, saving carbon emissions will become a real financial benefit. Quantifying carbon credits is another area to address for Radev: "We want to give clients the ability to register carbon credits on their books, so that they can claim them. Or if a client has satisfied its targets or required GHG offset, they can monetise these carbon credits as well."
Over USD 3 billion total addressable market
During a pitch presentation in Chicago last year Radev emphasised that "heat is the elephant in the energy room". He estimated the total addressable market (TAM) of industrial heat below 400 °C at over USD 3 trillion. The CEO also identified the serviceable available market (SAM) by 2030 at over USD 200 billion.
SolarSteam has set itself an ambitious target to deploy utility-scale projects. According to Radev, the company has several projects in the pipeline proving its technology in applications as diverse as district heating, food and beverage production and mining. However, although the commercial renewable heat sector is benefiting from renewed interest, Radev foresees the necessity of a learning cycle for his company supported by consistently engaging with industry associations and funding agencies. A first example is the collaboration between SolarSteam and the International Minerals Innovation Institute that was announced in mid-May. The idea is to demonstrate how renewable heat technologies could be used by the mineral industry in the province of Saskatchewan, in south-central Canada.
Achieving confidence from private industrial clients
Radev celebrates the successes and progress of all the companies in the solar thermal space. He does not see them as competitors, but as collaborators and partners on the quest to continue the de-risking efforts in deploying forecasted solar thermal systems capacity. Continuous collaboration and support from public bodies and levelling the playing field with the highly popular and trendy renewable projects that receive billions in funding will remain necessary to reduce upfront costs and achieve sufficient levels of confidence from private industrial clients.


Particularly the western part of Canada, where SolarSteam is based, has good direct normal insolation (DNI) comparable to southern Europe. Source: https://solargis.info/imaps/ (manual compound)
Website of the organisation mentioned in this article:
SolarSteam: https://solarsteam.ca/