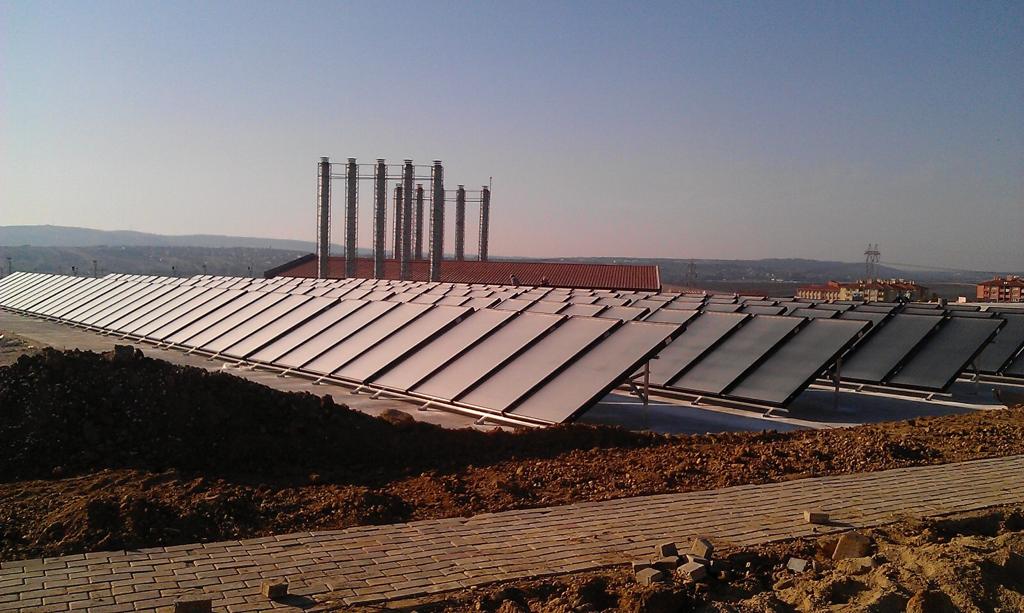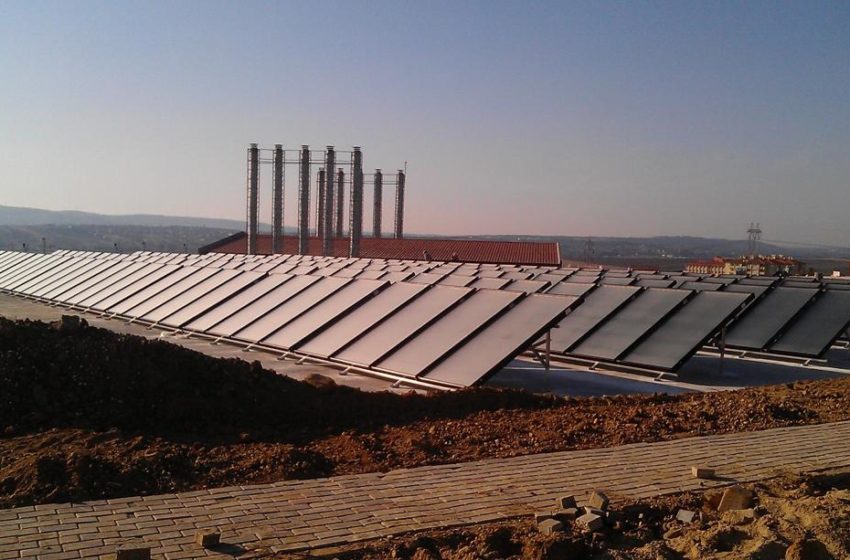 50 new solar hot water systems at Turkish prisons in three years
Turkey's regulations on installing solar energy equipment in buildings with over 1,000 m2 of floor area has resulted in a growing number of centralised solar hot water systems in prisons over the last years. The above photo shows one of those installations, a 3,363 m2 solar hot water system commissioned in 2012 and put up at Silivri prison, near Istanbul. It is made up of 1,384 collectors, delivered by Solimpeks Solar Energy Corp. The company is one of two collector and tank manufacturers that have won most of Turkey's public tender contracts, the other being Eraslan Solar Energy. Together, they installed solar water heaters in about 50, mostly newly built Turkish prisons in the last three years.
Photo: Solimpeks
"We usually sell our equipment to construction companies with the necessary clearance and supervise their installation of the solar fields, as we are not allowed to carry out work directly in the prisons," explained Yusuf Akay, Key Account Manager at Solimpeks.
Although vacuum tube collectors make up about 50 % of the total collector area installed each year in Turkey, all prison installations use flat plate systems. Akay said this is because tender invitations stipulate the required collector type, and vacuum tube collectors are not eligible. Solimpeks put up 16 solar hot water systems in Turkish prisons in 2019, the largest installation being a 4,575 m2 solar hot water system put up at Sincan prison, near Ankara (see photo below). The smallest has 290 collectors (705 m2). The government covers the full cost of installing the systems. So far, no prison has considered the use of solar space heating.
4,575 m2 flat plate collector field provide hot water for the showers in Sincan prison Photo: Solimpeks
The high demand for publicly funded solar hot water systems for prisons is a result of Turkey's
Energy Performance of Building Regulations
, which came into force in 2008. They had an impact on not only prisons but a wide variety of structures. As explained in section 2, paragraph 1a, they apply to both new and existing residential, commercial and public buildings with a floor area exceeding 1,000 m
2
. Section 19, paragraph 3 then states the requirement for centralised hot water systems in hotels, hospitals, dormitories and similar non-residential buildings, as well as sports centres, while section 22, paragraph 4, stipulates that these systems must be supplied with solar energy should they be installed in any of the building types listed above.
One of 15 systems for which Eraslan delivered collectors and tanks in the last three years. The 900 collectors were brought into operation in February 2019 to supply solar hot water to the prison in Diyarbakır, a city in southeast Anatolia.
Photo: Eraslan
In April 2017, the government published a list of revisions related to the energy performance regulations from 2008 to put a greater focus on the mandatory solar energy rules. The words "supported by solar energy" were added to section 19, paragraph 3. It now reads: "A centralised sanitary hot water system supported by solar energy is required for hotels, hospitals, dormitories and similar residential non-residential buildings and sports centres."
Although the rules apply to both newly constructed and to-be-renovated buildings, in reality, most centralised solar hot water systems were put up in newly built prisons.
Websites of organisations mentioned in this article: