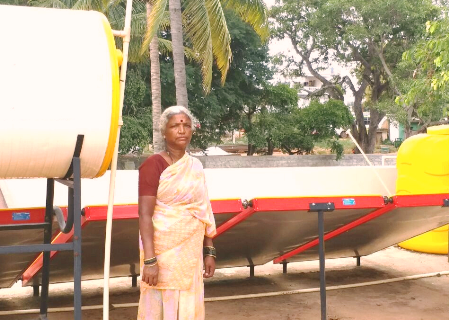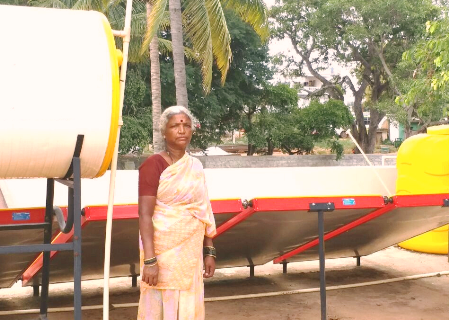 1,500 preheating systems in India's silk region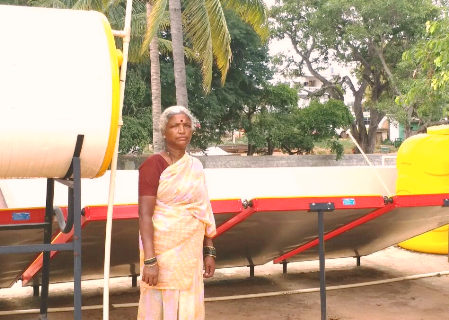 Solar process heat has gained popularity in the centre of India's silk production – more specifically, in Sidlaghatta, a town in the southern state of Karnataka. The statistics of Karnataka's Department of Sericulture shows that a little over 1,500 units between 2 and 10 m² have been switched from wood or briquettes to solar for preheating the traditional stoves. The Department of Sericulture has been promoting the technology among silk producers by providing a 75 % subsidy for any reeling unit partly heated by solar energy. The use of sunlight can cut firewood consumption in half.
Photo: Nuetech Solar Systems
The sericulture industry requires hot water at up to 70 °C for producing yarn from the cocoon of a silkworm. The protein sericin is removed by placing the cocoons in hot water. This process is called degumming, as the sericin functions like gum for coating the fibres. The hot bath then frees the silk filaments, making them ready for reeling. Individual filaments are subsequently combined to form thread and wound onto reels (see the figure at the end of this article).
Traditionally, people have used wood- or briquette-fired stoves to heat the water. Reeling 1 kilogram of silk requires, on average, 26 kilograms of firewood because traditional stoves show poor efficiency, not exceeding 18 %. Massive deforestation and the high price of wood and coal have made it necessary to search for highly efficient and sustainable alternatives.
One of southern India's solar thermal manufacturers Nuetech Solar Systems realised the potential for solar water heaters in this industry and carried out an awareness campaign amongst the weavers. According to Nuetech CEO Ananth Thyagmundlu this resulted in almost 1,200 solar process heat installations in Sidlaghatta so far.
Solar water heater
cost per unit

Subsidy amount

1,000 litres heating capacity in 8 hours
INR 150,000
INR 112,500
(75 %)
500 litres heating capacity in 8 hours
INR 75,000
INR 56,250
(75 %)
200 litres heating capacity in 8 hours
INR 50,000
INR 37,500
(75 %)
Subsidy amounts listed by Karnataka's Department of Sericulture in its 2012-2013 report. Indian Rupee (INR) 1 = EUR 0.013
Steps associated with the production of silk yarn
Chart: Department of Sericulture
With 7,000 silk-reeling micro-units, Sidlaghatta is globally renowned for its silk production. It has the state's second-largest market after Ramanagara.
More information: