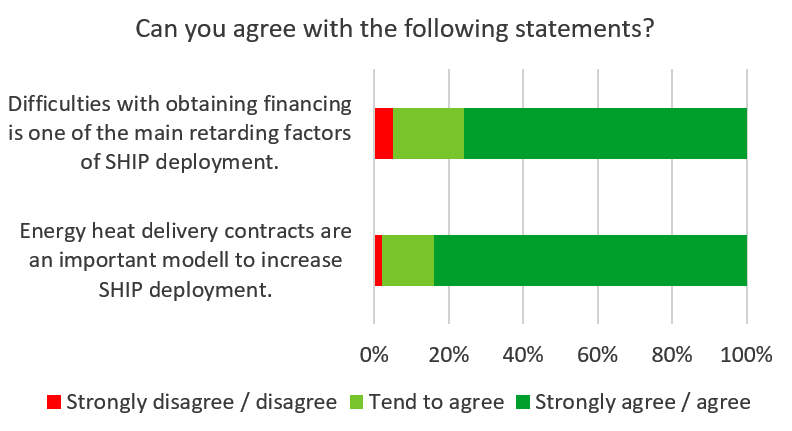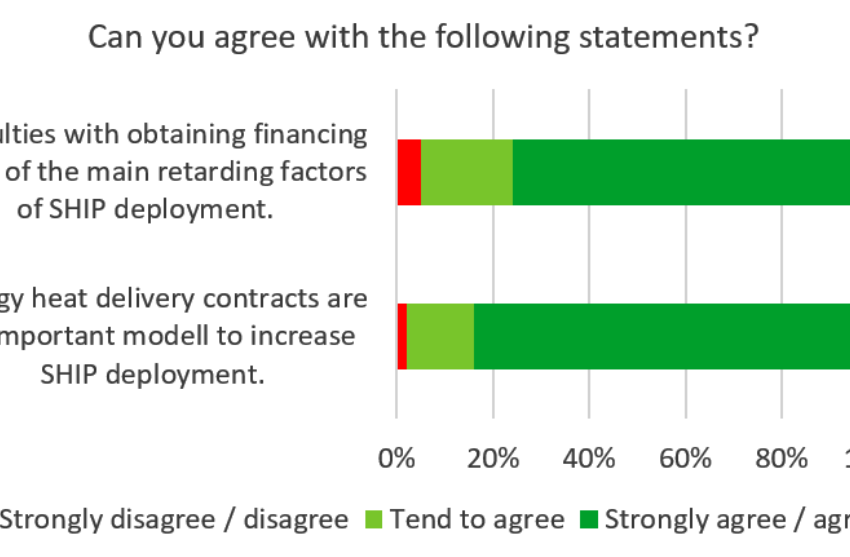 Heat supply contracts: Popular but hard to implement
A popular business model for solar thermal companies is a heat supply contract. More than 80 % of the businesses shown on the global map of turnkey systems providers for industrial solar heat, also known as SHIP, see these contracts and ESCOs as important means to boost sales. Almost the same number of companies likewise said difficulties with financing were a major cause of slow growth in the SHIP market. This article is a follow-on to a previous one discussing the findings of a global SHIP survey carried out in February and March. 
Source: Solar Payback SHIP Supplier Survey 2018
The high level of agreement was in stark contrast to the relatively small percentage of SHIP suppliers (45 %) that confirmed they had used heat supply contracts to set up Energy Service Companies (ESCO). In all, 21 % answered the related question by saying they had not yet carried out any such project owing to long, as well as complex, negotiations about kilowatt-hours or therms or difficulties with finding long-term finance partners. One Mexican supplier said solar heat supply contracts could only be offered in projects "where heat profiles and historical data on energy consumption are available". It seems that ESCO business models are only possible if third-party financing has been secured and reliable data on heat demand has been supplied by the client.
The world map shows an increasing number of dedicated suppliers of turnkey SHIP systems on every continent. Still, the vast majority – or, more specifically, 93 % of them – were seemingly not satisfied with business growth last year, according to the survey.
In all, 31 companies, which means not even half of those shown on the world map, managed to start up one or more SHIP installations in 2018. Only five commissioned more than five installations: They were Himin, based in China, Quadsun, headquartered in India, and three companies based in Mexico, namely Modulo Solar, Inventive Power and Heliocol.
Transparency on yields builds trust with end users
In addition to financing issues, survey respondents also gave other reasons for the small success rate, ranging from "the slow pace at which industrial clients make strategic decisions" to the view that "SHIP solutions have yet to become cost competitive with fossil fuel heaters" to the experience that "every project is a customer education process and requires bespoke engineering."
Jonathan Koifman, Head of Technical Presales and Marketing at TVP Solar, a Swiss-based producer of evacuated flat plate collectors, additionally said putting up showcases around the globe was a key strategy for increasing confidence among industrial end users. When asked about the main factors that could spur growth in the solar process heat market globally, he suggested to
Build more reference systems showing their real and current output and impact on end users.
Provide government funding for decarbonisation.
Simplify and standardise integration plans.
Implement energy efficiency measures at factories, so that, for example, 10-bar steam is not used for processes requiring water to be heated to as little as 90 °C.
Organisations mentioned in this news article: