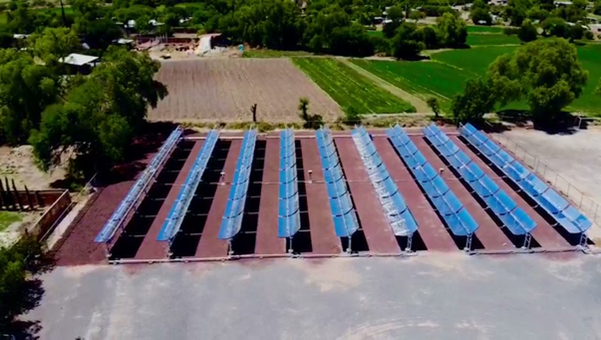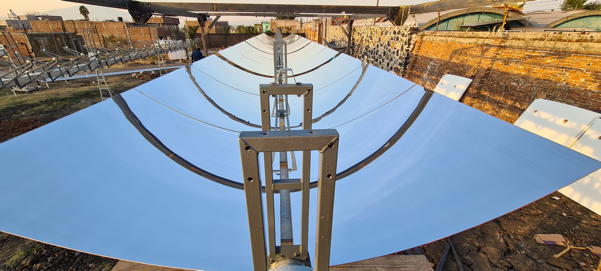 Zero CAPEX solar heat for Mexican industry
Local manufacturer and installer Inventive Power has completed what is reportedly the "first solar generated vapour purchase agreement in Latin America". The Zero CAPEX model, similar to an ESCO agreement for heating, offers high investment return rates. Since December 2021 a 332 kW parabolic trough plant has been delivering solar steam to the SME food processor Famo Alimentos in Guanajuato (see photo). Inventive Power expects to install a further 12,000 m2 of solar industrial heat capacity in 2022. The increasing costs of fossil fuels in Mexican industry appear to be boosting SHIP projects without subsidies.
Photo: Inventive Power
"I call our approach Zero CAPEX. Our client does not need to invest a single peso, they only get savings from the first minute," said Jesús Hernández. The Sales Director of Inventive Power seems excited when explaining the details of their project. The 720 m2 parabolic trough field with 72 units delivers a steam / hot water mixture at temperatures up to 180 °C to Famo Alimentos.
Zero CAPEX solar heat
Inventive Power produces the parabolic trough collectors in-house. "We have developed our own technology, which is patented in Mexico and the USA, and have our own manufacturing lines", said Hernández. According to Inventive, the system comprises the parabolic troughs with evacuated receiver tubes, a pump, a 5,000-litre water tank and so called flash tank that retrieves the moisture and allows pure vapour to enter the manufacturing process. "In the heat drum the temperature is 180 °C, however, there is still a high proportion of moisture but after passing through the heat drum the moisture decreases, producing vapour at 142 °C, which is then usable in the factory," said Hernández.
The system has a peak capacity of 332 kW and with an average of 6.6 hours of direct solar irradiation daily in Guanajuato Inventive Power expects an annual steam production of 832 MWh. This corresponds to a specific yield of even1,155 kWh/m2. According to Inventive, Famo will manage to reduce up to a 28 % of its previous LNG and diesel consumption using solar.
Steam purchase agreement
"Most companies do not have the cash available to invest in solar steam producing assets, so we have implemented a model through which we can sell thermal energy," explained Hernández. "We cover the CAPEX, we own the solar field and we charge the client a price per tonne of steam on a monthly basis, so that the client pays a reduced price for the tonne compared with using their original type of fuel." This model sounds similar to what other operators in the electricity market would call a PPA or power purchase agreement. However, it is also similar to the so-called Energy Services Company (ESCO) agreement in which the installer retains ownership of the plant and the client repays the investment with their monthly bills.
Entering into the specifics of the arrangement, Inventive says that "from the beginning, we cover all costs related to the operation, the maintenance and the electricity consumed by the system's pump and charge a monthly amount that is still 10 % cheaper than Famo used to pay."
| | |
| --- | --- |
| Parabolic trough collector field | 720 m2 aperture area |
| Total CAPEX | MXN 9.5 million (EUR 0.4 million) |
| Specific CAPEX | 13,194 MXN/m2 (575 EUR/m2) |
| Payback period | 3.2 years |
| Period of steam purchase agreement | 15 years |
| Price of a tonne of steam produced by LPG | MXN 1,500 (EUR 66) |
| Fixed price of a tonne of solar steam charged by Inventive Power in the first five years of the steam delivery contract | MXN 1,350 (EUR 59) |
Key figures for the steam-producing plant at Famo Alimentos and the steam purchasing agreement with the client. The system was not subsidised. Source: Inventive Power
Inventive has an agreement for at least 15 years with the client. "The price is fixed, but after five years the client can re-negotiate it". According to Hernandez the system lifetime is estimated to be at least 20 years, "Typically, after 15 years the system will be fully owned by the client and the remaining savings fully benefit them."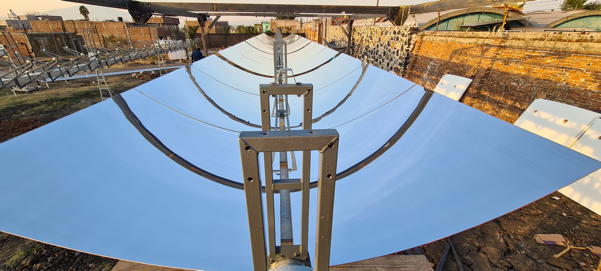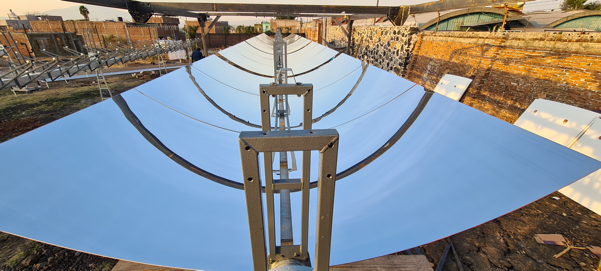 603 kW SHIP system under construction for a mining company at Hermosillo, in the Northwest of Mexico. Photo: Inventive Power
Next: Heat for mining and beyond
According to Hernandez the overall payback period for SHIP projects in Mexico ranges between two and four years if the factory is using either LPG or diesel. This is why the SHIP systems are getting bigger and bigger. Inventive plans to inaugurate a solar steam system in May which is double the size of the one at Famo. The undisclosed client from the mining sector is getting a 603 kW plant with 130 parabolic trough units (see photo above). In this case it is not a PPA agreement. The client currently uses diesel and the MXN 19 million investment (around EUR 800,000) will pay for itself in only 2.5 years.
Investors to finance PPA systems wanted
For the future, Inventive is looking for investors willing to finance PPA systems. "We are currently looking for investors willing to finance around USD 12 million, mostly from private sources. We offer very attractive return rates", said Hernandez. The company is already in advanced negotiations with some foreign investors in order to set up an 8,400 m2 (3,900 kW) plant that will produce more than 46 tonnes of vapour per day.
In any case, whether PPA, ESCO or client-owned scheme, the prospects in the solar thermal sector for Inventive seem sunny. They are on track to complete a total of 12,000 m2 in different SHIP systems in 2022 and at least double this capacity is in the planning phase. "With the current war situation, gas prices will rise, making concentrating solar heat more and more profitable", concluded Hernández.
Organisations mentioned in this news article:
Inventive Power https://inventivepower.com.mx/solucion-en-energia-solar/