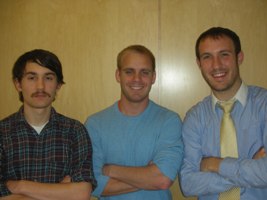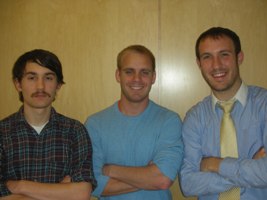 USA: "Solar Thermal Electric Car Charging Station" wins first Prize
Winners of the Honda iDream Student Challenge: The team Solar Solutions, formed by three students from The Ohio State University in Columbus, Ohio, won first place in the category Mobility. Their project describes a system that has the ability to charge a battery of an electric car using solar thermal energy from vacuum tube collectors.
Photo: Honda
iDream Student Challenge is a scholarship programme designed by Honda to inspire new approaches to everyday challenges. Solar Solutions concerned itself with the raising electricity demand due to the expected increasing number of electric plug-in vehicles in the near future. "Solar energy is a very attractive solution due to the enormous amounts of energy that the sun shines on the earth every day," the students argue in their presentation.
Prototype Design of the Solar Thermal Electric Car Charging Station
Figure: The Ohio State University
The newly developed "Solar Thermal Electric Car Charging Station" consists of a field of vacuum tube collectors, and a heat storage tank filled with a heat transfer medium – most likely oil. Tank energy is used to put a fluid in a separate loop in a high-pressure/-temperature state before running it through an expander. The mechanical work produced by the expander supplies an electrical generator. The electricity can then be stored or used to charge the car directly.
Minimum temperature to run the power cycle is 150 °C, at 10 bar. Solar Solutions estimates system efficiency from sun to charged batteries to be around 15 to 20 %, a bit higher than with photovoltaic modules. The low-grade heat from the expander can additionally be utilised for space heating or hot water demand in a household, because the car charging station can be installed near the driver's home.
According to a press release by Sunmaxx from October 2010, the winner's prototype design was built with vacuum tube collectors and a tank from US-American wholesaler Sunmaxx. Sunmaxx announced in a press release that the system should now enter production stage and would still be based on Sunmaxx components. The essential part of the system, the expander, is currently under development.
More information:
http://sunmaxxsolar.com
http://student.hondagrant.com/winners.aspx?ID=4