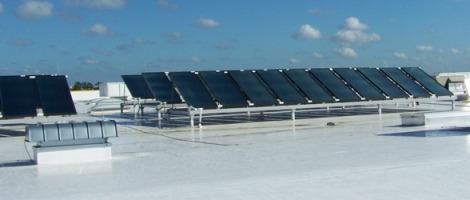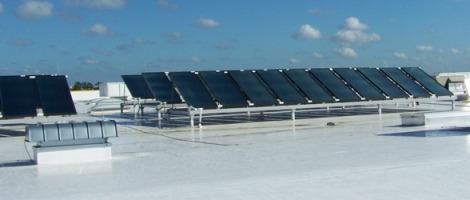 USA: Low Expectations and a Shift towards Commercial Systems
Commercial applications have gained momentum in the US over the last two years. The system shown in the picture is a project by the The Leveredge company from Florida. The 223 m2 installation heats up to 15,000 litres per day.
Photo: The Leveredge
US collector manufacturers exercised considerable restraint when asked about what they expect of this year's market development. Solrico, a German agency for solar thermal market & international communication, carried out a worldwide study about the solar thermal industry on behalf of the international magazine Sun & Wind Energy. Its results: The industry would already be satisfied with keeping the good results of 2008. On average, six companies anticipate a small 2 % drop in their production output compared to 2008.
"The business is much quieter than last year," confirms Ron Richmond, Manager of Business Development at the Californian collector manufacturer Sunearth. "But as expected the fourth quarter will be better because people want to take advantage of the tax credits in the current fiscal year." He predicts Sunearth's sales to reach the same 66,000 m2 of collector area it did in the previous year.
AET Alternate Energy Technologies in Florida – as Sunearth more than thirty years in the solar thermal manufacturing business – is also cautious in its forecasts. Marketing Coordinator Karen Allain estimates a production output of 50,000 m2, although the company produced 53,450 m2 last year.
Another trend seems to be fairly obvious when questioning local manufacturers: The shift from residential towards commercial installations – something that Randy Hagen, President of Solar Skies, a start-up collector manufacturer from Minnesota, could confirm. Florin Plavosin, Senior Director of Product Development at the Canadian company Enerworks, agrees: "The Enerworks' experience in the past two years is that commercial solar thermal projects are outpacing residential installations in North America in terms of sales volume." The reason for this development can be found in the incentive policy itself: The 30 % federal tax credits are available to residential, as well as commercial clients. Some states grant them in addition to state tax credits of 35 % and, thus, reduce the price of a system by two-thirds.
The results of solrico's worldwide study about the solar thermal industry will be published in the December issue of Sun & Wind Energy and in further nodes on solarthermalworld.org. 200 manufacturers from 41 countries around the globe filled out a comprehensive questionnaire about their own business opportunities and general market development.
More information about US incentive programmes on the federal and state level:
http://www.dsireusa.org/
http://www.solrico.com
http://www.sunwindenergy.com