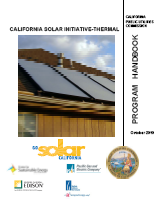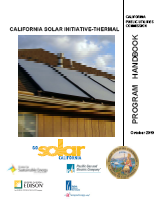 Handbook
USA: CSI – Thermal Program offers incentives for Commercial Systems

The California Solar Initiative (CSI) – Thermal Program began accepting applications for commercial systems on 8 October 2010. A month before this important date, the California Public Utilities Commission (CPUC) published a 75-page handbook explaining what's most important when applying for the CSI rebate.
Since 8 October, owners of businesses, industrial facilities and multi-family residential buildings have been able to apply for rebates of up to USD 500,000 when installing a qualified solar water heating system on their premises. The maximum incentive amount is USD 500,000 for replacing systems with gas as their energy source, and USD 250,000 for replacing electric systems. How large the actual grant amount will be, depends on the individual system's performance.
There is on online tool available at https://www.csithermal.com/calculator/, which can help calculate the subsidy amount for a multi-family or commercial system with collectors certified in accordance with the SRCC OG-100 standard. It estimates annual energy savings in therms or kWh, depending on the back-up fuel source. Systems which have already been OG-300 certified can use the SRCC OG-300 rating for the respective climate zone in California, in combination with shade factor and current incentive rate. You can consult the attached handbook for more information on the CSI – Thermal Program.
The incentive per annual therm displaced will decrease the longer the programme is running (see the table above for gas-replacing systems). If the budget allocated to one programme step has been exhausted, incentives per therm will be calculated using the step below.
The CSI – Thermal Program has a budget of USD 351 million, and is thought to run until 2018. Since 1 May, residential home owners can apply for a grant of up to USD 1,500. However, only 47 applied for the CSI rebate state-wide until September 2010. A USD 35 million marketing budget will promote the incentive programme over the next years.
More information:
California Public Utilities Commission: http://www.cpuc.ca.gov
CSI – Thermal Program: http://www.csithermal.com