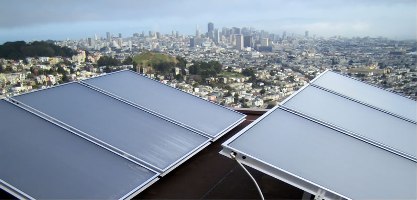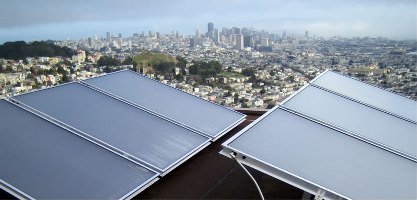 Solar Roofs San Francisco California
California's Solar Thermal Incentive Programme will finally start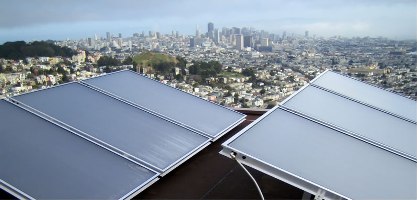 Two years – that is how long California has already been waiting for a "200,000 solar roof programme". After the Californian Public Utilities Commission (CPUC) published its "Proposed Decision" in November, the programme may finally become reality next year.
Photo: Joe Cassidy, Centrix Builders / Luminalt, Solar Installer from http://www.solarday.com
 Following a two-year pilot project phase, the Californian Public Utilities Commission (CPUC) published its so-called "Proposed Decision" at the beginning of November, recommending a state-wide incentive programme for solar thermal technology up to 2017 (download the "Proposed Decision"). The so-called California Solar Initiative (CSI) – Thermal Program would then provide a total of US$ 350 million in the form of direct financial incentives for natural gas and electric customers who choose so purchae solar thermal systems.
Californian utilities would collect US$ 250 million from gas ratepayers as a surcharge on national gas bills to help purchase solar thermal systems to offset natural costs. The CSI funds will cover the other US$ 100 million for replacing electric systems. Major gas utilities (Pacific Gas and Electric Company, Southern California Edison Company and Southern California Gas Company) and the Californian Center for Sustainable Energy (CCSE) would manage this state-wide programme together.
The good news for market players: The paper recommends the retroactive application of suggested rebates. It means that all systems installed after 15 July 2009 – the date when the first CPUC staff report was published – will be eligible for CSI incentives if they also meet the other criteria proposed by the CPUC.
The "Proposed Decision" has now been under review until 25 November 2009. According to people involved in the process, a final decision paper can be expected for mid-December and will enter into force immediately thereafter. It will then take four months before the companies responsible for managing the programme can accept the first applications. "We need the following month to set up the infrastructure for handling the very many applications, to write handbooks and start training classes," says Katrina Phruksukarn, Solar Water Heating Programme Manager at CCSE.
This would then be the happy end of a two-year long process, starting in late 2007 when California's governor Arnold Schwarzenegger signed a law aimed at installing 200,000 solar water heaters in California until 2017. Assembly Bill (AB) 1470 called for the establishment of a pilot programme to determine whether it was economicly feasible to replace gas and electric heating systems with solar thermal units.
The Californian Center for Sustainable Energy (CCSE) administered the solar water heating pilot programme in San Diego, which served as a model for the CSI – Thermal program design. The first results of a cost/benefit analysis together with suggestions for future projects were published by CPUC as a Staff Proposal on 15 July 2009. After having the public review this "Proposed Decision" for several weeks in August this year, the commission published, with some modifications, its suggestions at the beginning of November.
The proposed average incentives for residential and commercial systems are still under discussion. The "Proposed Decision" recommends average incentives for residential systems replacing natural gas to start at about US$ 1,500 and decline in four steps over the eight years of the programme. Replacing electric systems, on the other hand, can get you a rebate of US$ 1,010 in the first years. The precise amount of incentives will be calculated based on estimated first year kWh displacements of electricity by solar energy.
Owners of multifamily houses or commercial systems, which are to receive 80 % of the total incentive budget, will use a specifically designed online programme to calculate their incentive. The limit for commercial systems and systems for multifamily buildings lies at US$ 200,000.

More information:
http://www.swh.energycenter.org
http://www.cpuc.ca.gov
Text was written in cooperation with communication specialist Hanna Schober based in South Africa. Schober@solrico.com