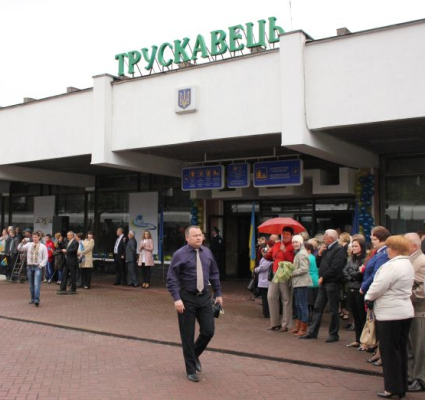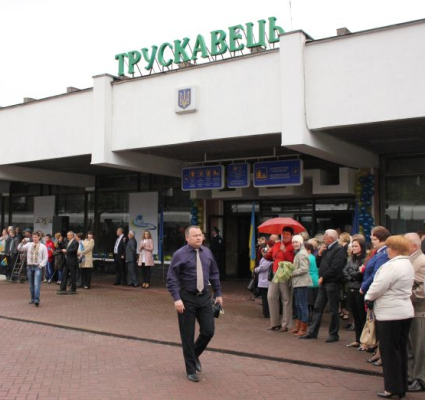 Ukrainian Railway Network Plans Solar Water Heaters for Break Room Facilities
The state-owned railway company in Ukraine is going to increase the number of solar water heater installations at its train stations. Ukrzaliznytsia (UZ), the State Administration of Railway Transport, which is a near-monopoly that controls the vast majority of the country's railway system, announced in May 2015 that it would install solar thermal systems at different railway stations across the country. The photo shows the train station in Truskavets, whose break room facilities are planned to be supplied with solar-heated water. Solarthermalworld.org spoke with Zinoviy Chuschak, Head of the Department for Energy Usage Control at the UZ, about the overall energy efficiency activities of his department.
Photo: UZ
According to Chuschak, 27 collectors would provide hot water for several break room facilities at the train station and the depots. Nine solar collectors would be installed in the locomotive depots of Zdolbuniv and Kovel, five of them in the depot Lviv-West. The head of the energy control department confirmed that if solar hot water capacity proved insufficient, collector volumes could be increased. The solar systems would be sourced from a Chinese supplier. The workers at the train stations and depots were expected to assemble and install the systems on their own, Chuschak confirmed.
In addition, the UZ plans to use boilers fired by wood instead of coal to achieve significant energy cost reductions necessary for operating the railway network. According to Chuschak, the use of alternative energy sources, in particular solar thermal collectors, was part of a comprehensive programme for energy saving, which had been undertaken by Ukrzaliznytsia since 2003. Back then, the UZ had already started to use solar hot water systems for its infrastructure. Chuschak confirmed that 24 solar collectors with a total area of 60 m2 were still operational on the Odessa-Zastava 1 locomotive depot. Another about 30 collectors were currently in operation at the Artsyz depot in Odessa.
More information: