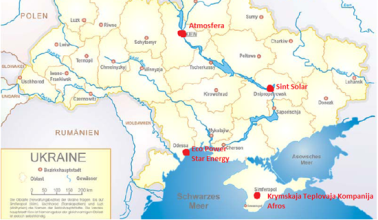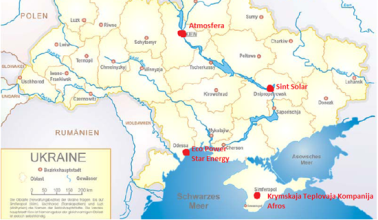 Ukraine: "A Collector is trendy and shows a certain Lifestyle"
With an estimated market volume of 10,000 m2 in 2009, the solar thermal market in the Ukraine is still in its infancy. The two main customer groups are the new middle class and the tourism sector. By interviewing local collector manufacturers, German agency solrico analysed the potential of the Ukraine and its barriers to market development. The map shows the sites of the solar thermal manufacturers that took part in the survey.
Map: German Energy Agency 2009
A geography that favours high growth: Spanning over 603,700 km2, Ukraine is the biggest European country behind Russia and has a population of more than 46.6 million. The coastal areas of the Black sea and the sea of Azov – both centres of tourism – enjoy a high solar radiation. The politically autonomous island of Crimea even falls into the Mediterranean climate zone. The sun shines over these regions between 2,200 and 2,300 hours per year. In comparison: Sunlight hours in Germany, Europe´s largest solar thermal market, range between 1,300 and 2,000 annually.
A second important factor for growth is the understanding among politicians and the Ukrainian population to reduce the dependency on Russian gas. Local producers of solar collectors confirm there is a strong will to search for alternative energy sources. One of the first results is the financing programme of the Lviv bank in western Ukraine: To finance a solar water heater, citizens pay only 5% annual interest rate instead of the usual 18 to 25%.
And, using solar thermal energy in private households is thought to be a popular trend in Western Europe. "Especially in the northern and western part of the Ukraine, there is a strong desire by the people to belong to the 'West'," Alexander Kowpak from Ukrainian solar system importer Atmosfera explains. This feeling is often stronger than people's economical reasoning. Roman Wasilenko from the Ukrainian sales office of German boiler and solar system supplier Viessmann agrees: "A residential solar thermal system will pay off in 20 years, due to its high price and comparatively low energy costs. Economically, buying this type of system does not make a lot of sense. But our customers do not want a collector primarily to save money. They want our collectors because it is trendy and it shows a certain lifestyle."
Another market driver is the rather developed tourism sector, which requires a large amount of warm water. It happens quite often in some tourist establishments that warm water is switched off during the entire summer, because it is too expensive for the owner to supply his guests with water heated by fossil fuels. Solar thermal system suppliers calculate with pay-back times of about two to three years in this sector.
However, solar thermal has not become a mass product yet. The reasons: The systems are still too expensive for the majority of the Ukrainian population and energy – especially gas prices – are still comparably low. Besides, there are no subsidies by the state and interest rates are still extremely high.
Local collector manufacturers also say there is no certification guaranteeing a certain quality standard. Olina Sitsch from collector manufacturer Sint Solar admits that their business is suffering because of this lack of standards. It gave an exponential rise to solar collector imports from China – imports that vary greatly in their quality. Unfortunately, these Chinese collectors are often labelled as having been manufactured domestically, leading to a decreasing trust of the people in solar systems "Made in Ukraine". "People prefer to order collectors directly from abroad or at least from western European importers rather than from local manufacturers," complains Wladimir Sogomonyan from collector manufacturer Krymskaja Teplovaja Kompanija – a view shared by Artem Grün from Eco Power, a local vacuum collector assembler. Just recently, Krymskaja has stopped producing solar thermal collectors altogether.
This text was written by Vladislava Adamenkova, a Czech student of international business studies in Vienna, Austria.
More information:
Krymskaja Teplovaja Kompanija : http://www.sevktk.com/kms_contacts+index.html
Viessman Ukraine: http://www.viessmann.ua/
Ecopower: http://ecopower.com.ua/
SintSolar: http://sintsolar.com.ua/
Atmosfera: http://atmosfera.ua/