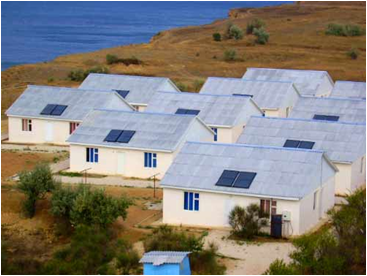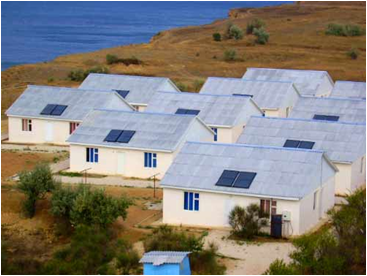 Ukraine: Political Instability Hurts Business
Ukraine's solar thermal market has been adversely affected by the country's currently very unstable economic, political and social situation. The industry agrees that customers are cautious about spending money during politically and socially uncertain times. Solar thermal stakeholders also note that one of the failures of the government and of politics in general has been to not follow through with laws, projects and promises, something which has almost become a tradition in every field, including renewables. Solarthermalworld.org spoke with some of the collector manufacturers and importers about their business situation in times of widespread instability.
Photo: Afros
Alexander Kowpak, Project Manager at Atmosfera, a major Ukrainian importer, says that because people have been spending less, the company's sales are 50 % lower than planned. Still, interest in Atmosfera's solar thermal products has increased, as big customers are stepping in to fill the gap. Artem Grun, Sales Manager at Eco Power, a vacuum collector assembler located in Ukraine's third-largest city, Odessa, states that, so far, the political situation has not affected revenues, but he is afraid that this is going to change in the future. Grun is expecting his company's sales in the residential sector to go down, because solar thermal is usually not viewed as a necessity.
Still, he counts on growth in tourism and the commercial sector. "Crimea was the most popular holiday destination for Ukrainians. Now, it is the southern coast of Ukraine – where Eco Power is based – that is likely to be preferred," he claims.
Ukrainian laws no longer apply on Russian territory
Pavel Wachrushev, Technical Director at Afros, a Crimean solar thermal collector manufacturer from Sevastopol, confirms that they have had fewer orders than last year, but the figure is not dramatically lower. He cannot make a prediction of what is to come, however. The company has not had to face such a major political change in the past, despite having manufactured solar thermal systems for more than a decade. "After Crimea's referendum and the acceptance into the Russian Federation Russian, it has been unclear under whose laws companies should operate," Wachrushev explains. "Russian laws have not yet been implemented on Crimea, and Ukrainian laws do probably no longer apply on Russian territory." Transporting goods between Ukraine and Crimea has also been a very difficult task, which makes trading nearly impossible.
Gas prices go up dramatically
"In the long run, the current political changes will be good for the solar thermal market," Kowpak says, "not only because of the independence from Russia, but also because gas prices are going up dramatically." According to Kowpak, gas prices have more than doubled since May 2014. "Over the next four years, the government is planning to raise prices by 140%," he adds.

But at present, the country's uncertain future has created a more pressing economic challenge: Ukraine is struggling with inflation. Grun estimates that about 90% of all solar thermal providers are importing their goods. "We had to raise prices. If we had not, we would be operating at a loss, something we cannot afford," Kowpak confirms.
This article was written by Vladislava Adamenkova, a freelance writer on the solar thermal sector with a focus on the markets of Eastern and South-East Europe. This news piece is part of the article Good prospects for solar district heating, which was published in Sun & Wind Energy 5/2014.
Sources: