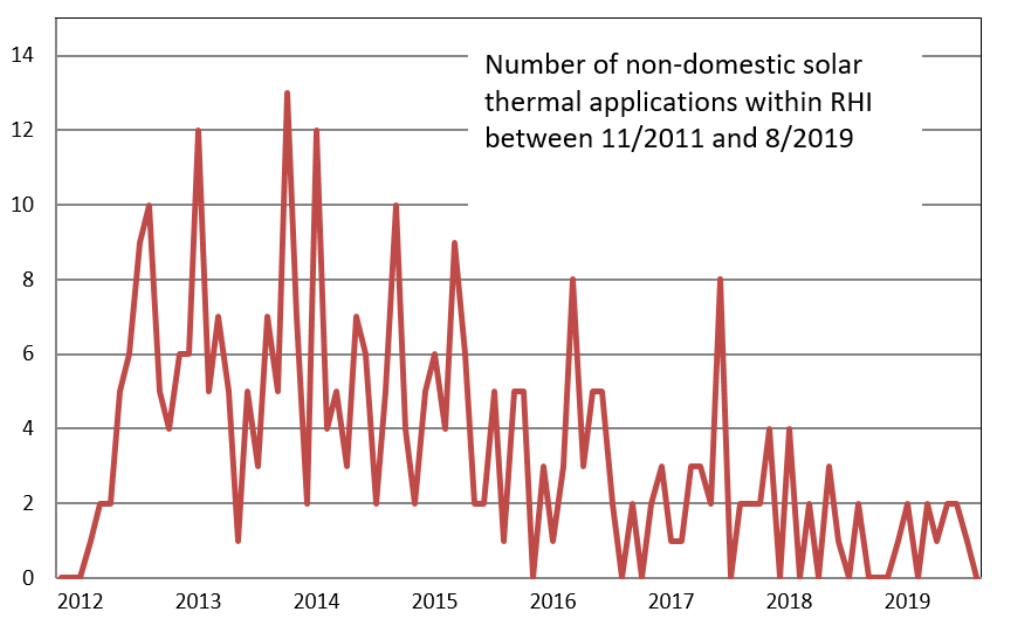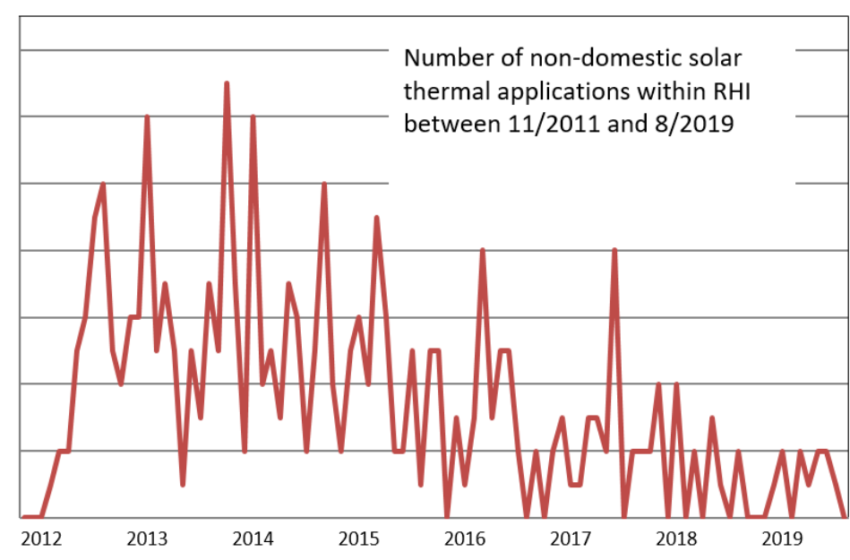 UK: "Solar heat has fallen out of awareness against PV"
When the British Renewable Heat Incentive (RHI) started in November 2011, solar thermal specialists all around Europe were enthusiastic about the implementation of a pure performance-based incentive for non-domestic applications. Unfortunately, the programme did not become the expected positive role model. After a peak in 2014, the number of applications declined year after year (see chart), although the heat tariff allows to reach attractive economics for example in commercial swimming pools. The success of solar PV is one reason for this poor performance. Another reason is the lack of professional energy consultants or solar technology providers who focused on solar heat. According to the current legislation the RHI will end in March 2021. For the news about the domestic RHI, please click here. 
Source: Ofgem
"The main reason for the decline of solar thermal in the UK and low uptake of RHI is the success of Solar PV. Both technologies often compete for the same physical space, the same funding and are adopted for the same reasons to offset carbon, save money on energy bills and to meet building regulation requirement. And, it is more common to do one than both", explains Grant Feasey, Senior Design Engineer at AES Solar, a British collector manufacturer and solar thermal system provider.
Obviously, PV has been favoured initially for the high feed-in tariffs available and it is considered as easier to design and install. "PV has evolved to be more affordable and more widely applicable and has benefited from a good support globally and strong public awareness, whereas solar thermal has suffered from slow innovation on a global scale due to less than level playing field on incentives, investment, and support compared to other energy technologies", summarises Feasey. The Senior Design Engineer observes that solar thermal has fallen out of the awareness now in the UK, even amongst professional energy consultants. In 2019 only nine solar thermal projects for non-domestic applications were approved, although solar thermal is profitable. AES Solar has provided a case study that shows that solar heat provided to a commercial swimming pool is economically feasible within the RHI scheme even when substituting low-priced gas.
79.2 m2 flat plate collectors provide 24,831 kWh annually to a commercial indoor swimming pool in the Scottish town of Forres substituting gas. Non-domestic RHI is paid according to metered solar yields over 20 years at 0.1098 GBP/kWh index linked to the consumer price index and adds up to GBP 66,245 over the whole period.
Solar field at the swimming pool in Forres, Scottland
Photo: AES Solar
| | | |
| --- | --- | --- |
| Installation costs (excluding VAT) | 34,275 | GBP |
| Assumed annual rate of inflation | 2% | |
| Annual increase of energy costs* | 5.6 % | |
| Annual gas savings | 27,590 | kWh |
| Annual solar yield relevant for RHI | 24,831 | kWh |
| RHI rate in year one (indexed by consumer price index) | 0.1098 | GBP/kWh |
| Fuel type | Gas | |
| Fuel price** | 0.0374 | GBP/kWh |
| Cumulative RHI subsidy over 20 years | 66,245 | GBP |
| Cumulative fuel savings over 20 years | 36,365 | GBP |
| Simple payback period | 8 years | |
Dynamic economic feasibility calculations which do not include maintenance cost. GBP= Pound Sterling. 
* Source: Office for National Statistics UK Average over 20 years (2000 to 2019)
** Energy Savings Trust March 2019
Source: AES Solar
Overall RHI statistics since the start of the subsidy scheme
Between November 2011 and August 2019, for all the supported thermal technologies 20,188 applications were approved (see following table), with solar thermal only representing 326 (1.6 %) of these. The clear winning technology was biomass boilers with 85 % of applications. The second best group was heat pumps with 9% of applications. This technology gained popularity against the biomass boilers in the last two years, with 663 new applications (56 %).
| | | | | | | |
| --- | --- | --- | --- | --- | --- | --- |
| | Heat Pumps | Biomass | CHP | Biogas / Biomethane | Solar Thermal | Cumulative totals all technologies |
| Cumulative totals until September 2017 | 1,179 | 15,621 | 29 | 533 | 274 | 17,636 |
| Cumulative totals until December 2019 | 1,842 | 17,070 | 87 | 863 | 326 | 20,188 |
| Newly approved applications between October 2017 and December 2019 | 663 | 1,449 | 58 | 330 | 52 | 2,552 |
| Increase between September 2017 and December 2019 | 56% | 9% | 200% | 62% | 19% | 14% |