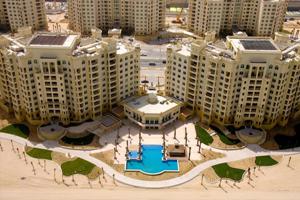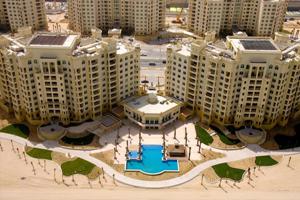 UAE: Large-scale Solar Thermal Systems directly at the beach
The first large solar thermal project of Viessmann in the United Arab Emirates (UAE) has already been in operation for four years, and has not experienced any major technical problems during that time. In 2007, the German heating boiler manufacturer delivered and installed 3,000 m2 of flat plate collectors, type Vitosol 200 F, which provide a daily supply of 20,000 litres of hot water to multi-storey buildings on "The Palm Jumeirah" near Dubai, UAE. The collector fields were installed on the roofs of the 14 flat blocks situated directly at the beach of the Arabian Gulf. Backup heat is generated by wall-hung gas boilers.
Photo: Viessmann
"The collector fields are very resistant to the salty air and sand storms," Aydemir Murat, Managing Director of Viessmann Middle East, confirms. Murat set up the Middle East office of Viessmann at the end of 2006. 14 employees have joined the company so far. The ten years before that, the engineer headed the Turkish Sales office of Viessmann. "We do not use special coating for the glass cover of our collectors," explains Murat. The dust and sand that covers the collectors only reduces the solar yield by around 10 %. "We offer technical services before the start of the winter season in September/October. Cleaning the collector area is part of that service," Murat explains Viessmann's strategy.
And how did solar heating technology factor into this prestigious project? "The builders had problems with receiving enough electricity for decentralised hot water cylinders," says Murat. "Therefore, they changed to a centralised hot water system, and then a consultant designed the solar system to reduce energy consumption."
The Palm Jumeirah is an artificial island in the form of a palm tree with a diameter of 5 km. The area accommodates 2,000 villas, 40 hotels, shopping malls and yacht ports, as well as 120 km of sand beach.
Photo: Viessmann

In the meantime, the UAE sales office of Viessmann has carried out some other larger solar thermal projects: The latest one is the newly built Sofitel Hotel in Dubai, which will be equipped with 588 m2 of collector area. The five-star hotel offers 361 rooms, including a resort complex of 182, and the solar system will start operating in the middle of 2012.
More information:
http://www.viessmann.com