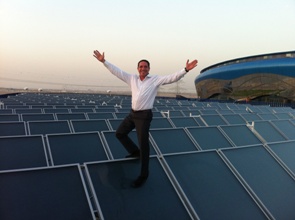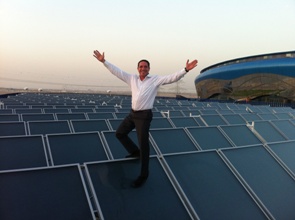 UAE: Dubai with two Greek Solar Thermal Installations above 1,000 m²
Greek manufacturer Sole has already completed its second large-scale solar thermal project in Dubai, United Arab Emirates. The company installed a 1,026 m² (0.72 MWth) solar thermal system at the newly constructed Dubai Sports Complex, which provides the sports facilities with hot sanitary and swimming pool water. The photo shows Sole´s Managing Director, Vangelis Lamaris, testing the stability of the collector field.
Photo: Sole
The collectors produced in Sole´s factory in Athens were mounted on the side of the building. The system was ordered by the construction company on behalf of the Dubai municipality. The installation is said to heat 8,000 litres of water daily, which is used by the entire sports complex. According to the manufacturer's own information, the installation reaches an output of 950 MWhth, which corresponds to a very high specific annual yield of 926 kWh per square metre of collector area – the result of an all-year round heating demand for the swimming pools and showers. According to the Greek collector manufacturer the solar system covers 95 % of the annual hot water demand of the sports complex as well as 70 % of the annual swimming pool heating demand.
Sole's first large-scale solar thermal system with more than 1,000 m2 in Dubai is installed at the world's largest building, Burj Khalifa. The collector field is installed on the roof of a lower office building next to the tower. The solar heated water is delivered to the Armani Hotel, as well as to the offices and apartments within the tower. Burj Khalifa is a mixed-use tower offering luxurious residences and commercial suites, and accommodating four swimming pools, and health and wellness facilities.
Sole is one of the oldest collector manufacturers in Europe. The company was founded in 1974, in the same year as Danish collector factory Arcon. Thermosolar, the German solar thermal system provider with its collector factory in Slovakia, claims to have been founded already in 1972.
Sole's national distribution office in Dubai opened in 2002 and is run by John Owen, who is so far its only employee. "The significant benefits of solar thermal installations are the cost savings in energy – not only for the tower or the sports complex, but for the government utility provider as well," Owen says.
The Dubai Sports Complex is a multi-purpose stadium designed to accommodate 15,000 spectators and host 10 Olympic sports – including basketball, handball, volleyball and several water sports. The centre is a facility in form of a teardrop, with an Olympic standard pool of 50 metres in addition to a second 50-metre pool with a moveable floor. The entire complex includes changing rooms for 400 athletes.
More information:
http://www.sole.gr
http://www.eurostar-solar.com