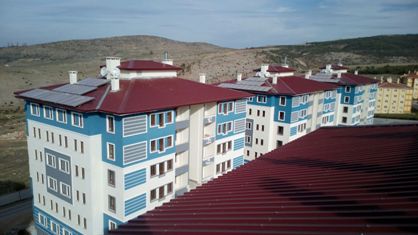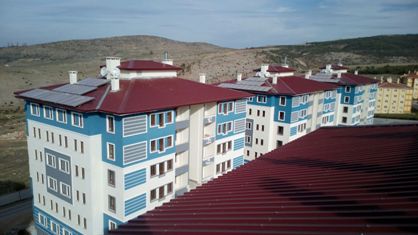 Turkey: State Activities in Solar Thermal Market Difficult to Research
Multi-family houses with central solar hot water systems, such as the ones on the photo, have become increasingly common in Turkey. According to the latest survey among collector manufacturers, which was carried out by German agency solrico, more than half of the larger Turkish companies consider multi-family buildings to have been the fastest-growing segment in 2014. Four in ten are convinced that this segment will dominate their sales in 2020. Solarthermalworld.org then tried to enquire about the role that the Housing Development Administration, TOKI, plays in the market's transition – a rather difficult undertaking, as the following story shows.
Photo: Simsek
According to TOKI's English web pages, the public housing administrator has supported the construction of 640,732 housing units and 3,772 social facilities in 81 provinces between 2003 and 2014. TOKI helped build 1,961 schools, 361 hospitals and clinics, 514 commercial centres, 508 mosques, and other structures. There are no online statistics about how many of these projects include solar water heaters.
Several attempts by a native speaker of Turkish to contact TOKI directly did not lead to any insights about how many solar thermal systems have been part of the projects. The operators in TOKI's Istanbul office refused to respond to any questions and referred the request to their colleagues at the agency's headquarters in Ankara. The TOKI administrators in Ankara, however, were convinced that the staff members in Istanbul were responsible for TOKI´s statistical information. All in all, solrico did receive some statistical information from Professor Necdet Altuntop, who is a member of the Management Board of Turkish industry association Günder. Altuntop provided solarthermalworld.org with the following tables, which seem to originate from TOKI.

| | | |
| --- | --- | --- |
| | Number of collectors | Collector area [m²] |
| 2010 | 3,225 | 7,095 |
| 2011 | 4,874 | 13,101 |
| 2012 | 20,692 | 44,294 |
| 2013 | 10,505 | 23,329 |
| Total | 39,296 | 87,819 |
Solar collector installations for TOKI projects in a given year
Source: Originate from TOKI, provided by Professor Necdet Altuntop
The number of collectors installed during TOKI projects reached its height in 2012 because of the large projects realised after the earthquake in the city of Van on the very east coast of Turkey (see the table above). Most collectors are part of housing projects, like the ones in Van. In 2012 and 2013, student dormitories showed an installation figure of 11,735 m² collector area, whereas hospitals gained 11,148 m². TOKI commissions construction companies to set up the buildings and involve solar water heating suppliers. The 87,819 m² of collector area over four years account for merely 1 % of the total collector area installed in Turkey during that time.
The pie chart shows how many of the 67,624 m2 of collector area were installed in different project areas in 2012 and 2013.
Source: Originate from TOKI, provided by Professor Necdet Altuntop
Collector and tank manufacturer Simsek, located in the city of Mersin on the southeast coast of the country, profited a lot from these TOKI projects. According to Product Manager Can Aydogan Sendan, the company was able to more than double its flat plate collector output from 30,000 m² in 2012 to 65,000 m² in 2013. "I think the figures from Toki are too small. In 2010, TOKI had 15,400 houses built in the earthquake region alone. We were responsible for setting up 5,000 of these houses and installed 2.32 m² of selective collector area at each housing unit, which adds up to 11,600 m²," Sendan said. The product manager confirmed that his company was still working with TOKI and the volume did increase again in 2014, although he predicts reduced demand from TOKI's construction companies in 2015. Sendan added that most of the projects required flat plate collectors with a selective surface, but he was not aware of a written publication which lists the technical requirements for TOKI projects.
More Information:
Serkan Güngör, a Master's Degree student at a Germany university, contributed to this article.