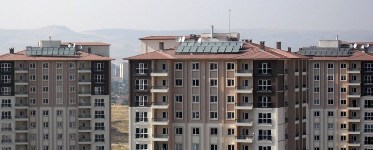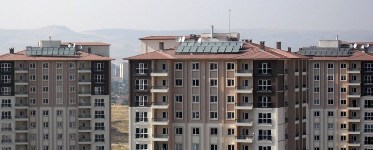 Turkey: Solar Hot Water Systems supply 20,000 low-income Family Flats
Solar water heaters are gaining importance in Turkey's social housing projects: Over the last years, the country's Housing Development Administration (TOKI) has provided a total of 20,000 flats for low-income families with solar hot water. According to Munik Durak, these projects have, for the most part, been realised at newly constructed blocks of flats consisting of 40 to 50 units (see photo). Furthermore, the director of TOKI´s project department stated that TOKI had installed solar heating systems in 100 hospitals all around the country.
Photo: Ezinç
The growing figure of TOKI solar projects was additionally confirmed by two Turkish collector and tank manufacturers, Solimpeks and Ezinç, in an article titled "Solar Energy for the less privileged", which was published in the March edition of the international magazine Sun & Wind Energy. "We are setting up two major projects: one in Istanbul, the other in Ankara," Hüdaverdi Yarar, Project Manager at Solimpeks Enerji, says. The Turkish manufacturer of solar collectors and storage tanks sells entire systems to TOKI. One of these projects is being installed in the Istanbul suburb of Kayabaşi, in which TOKI is building 60,000 flats. The second project is being realised in the Yapracik district of Ankara, and comprises of 9,000 units.
"The collector must satisfy a certain efficiency level, at least 74 %," Yarar adds. Until March this year, a technical requirement was in place which allowed only "laser-welded copper absorbers" to be used in TOKI´s solar water heating projects. This requirement was abandoned at the beginning of April 2011, according to Ezinç Metal San. "The TOKI administration has finally modified the specifications. From now on, both laser- and ultrasonic-welded absorbers, as well as meander or harp type absorbers meet the criteria," Hakan Alas, Managing Director of Ezinç, states.
The collector and tank manufacturer company from Kayseri is also providing solar systems to TOKI projects. One of those projects is a construction site in Kayseri itself. It consists of 24 blocks, each including 40 residential units. Ezinç installed 432 highly selective collectors with a total area of 994 m2 at the site. Three 1,000 litre tanks in each of the residential blocks complement the collectors. "According to our calculations, the systems deliver a combined 1,021 MWh of thermal energy per year," Kutay Ülke from Ezinç's Export Department says. This corresponds to a specific need of 1,021 kWh/m2 of collector area.
Turkey is a perfect example of how demographic development drives social housing construction. Turkey´s population has grown rapidly throughout the years, and the country's major cities are experiencing rapid urban growth as a result. TOKI writes on its website: "Many end up settling in unauthorised squats, bringing along many problems, such as urban poverty, degradation of the urban environment and loss of natural resources." Hence, three years ago, TOKI committed itself to increasing its own national housing stock to 400,000 units. The government agency was founded in 1984 with the aim of combining resources in Turkey's social housing projects.
More information:
http://www.toki.gov.tr
http://www.ezinc.com.tr
http://www.solimpeks.com
This text was written in cooperation with Ina Röpcke, a German journalist specialised on solar thermal technology and solar architecture. She is the author of the above-mentioned article "Social housing – solar energy for the less privileged", which was published in the March edition of Sun & Wind Energy.