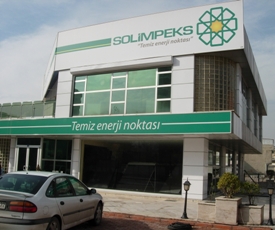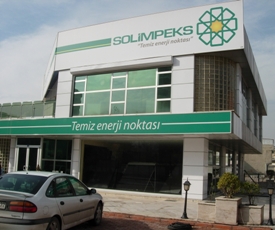 Turkey: Industry discovers Space Heating and Process Heat
The picture shows the solar shop of Solimpeks and the office building for the engineers of the Seiso subsidiary, which is responsible for large-scale projects. Turkish solar thermal manufacturers increasingly establish separate companies to handle hotel installations or process heat applications. Photo: Ina Röpcke
The times in which only thermosiphon systems could be sold on the Turkish solar thermal market seem to be over: manufacturers, such as Ezinç Metal San, Solimpeks Solar Energy Systems, Eraslan Solar Energy Systems and Tansuğ Makina Ltd. Industrial Facilities – better known by its brand Ouraset – have now launched an advertising campaign presenting systems for space heating. The last company in the row showcased its new product called Solarkombiset at the Intersolar 2009. It combines solar water and space heating and works alongside gas boilers. "It was a 100 % internal R&D development," Managing Partner Utku Tansuğ emphasises. The company installed nearly 20 Solarkombisets in villas during the second half of 2009. "This is not bad for a brand new product, which has a price tag of nearly € 5,000," Tansuğ says, satisfied.
Villas and particularly hotels are popular reference projects in Turkey. "Over the past seven years, we have completed 400 hotel projects in the regions around Antalya and Bodrum," Fatih Dağ, Managing Director of the company Dağsan in Konya, reports. Each project counts between 70 and 500 collector installations.
The scope of such a project makes it easier to beat out the cheap competition from China or domestic garage companies. Fahri Eken, Managing Director of the manufacturer Derya Güneş Kollektörleri, confirms that hotels know enough about solar systems to appreciate products of a higher quality.
Therefore, Turkish solar thermal manufacturers increasingly establish separate companies to handle large-scale projects. Konya-based collector and boiler manufacturer Solimpeks launched Seiso, outsourcing its engineering department to its new subsidiary. Six engineers handle the calculation, planning and installation of large-scale projects in hotels, factories, and villas.
Ezinç, on the other hand, possesses a subsidiary in Antalya, named Ezinç Güneş, to sell its systems and plan hotel projects. Process heating has not yet become a commonplace alternative in Turkey, although Hüseyin Gökalp of Solimpeks expects a demand for it in the future: "People don't know about it, but there is huge potential." He sees that potential in both the numerous textile factories throughout the region, as well as the companies involved in food processing. Konya is an ideal location for these projects: With just over one million inhabitants, the city located around 200 km south of Ankara is one of the most important industrial cities in Turkey. In 2008, Solimpeks installed a steam-producing system with a collector area of 150 m² at the Canicas textile factory in Tokat.
More information:
Dagsan Solar: http://www.dagsan.com.tr
Derya: http://www.deryakollektor.com.tr
Eraslan Solar Energy Systems: http://www.eraslan.com.tr
Ezinç Metal: http://www.ezinc.com.tr
Ouraset / Tansug Machinery: http://www.ouraset.com
Seiso: http://www.seiso.net
Solimpeks Solar Energy Corp.: http://www.solimpeks.com