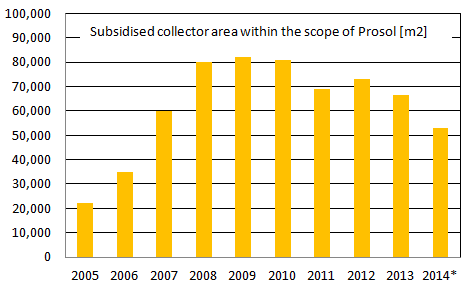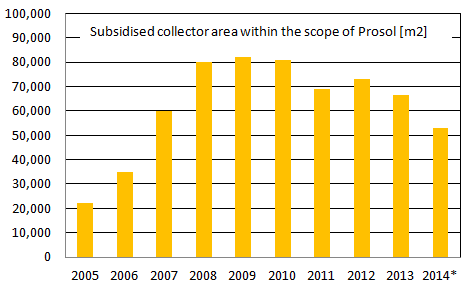 Tunisia: Ups and Downs of Prosol Subsidy Scheme
Tunisia's incentive and low-interest loan scheme Prosol can already celebrate its tenth anniversary next year. Since 2005, the Tunisian Company of Electricity and Gas, STEG, has been managing the programme, which enables end consumers to repay a loan for a solar water heater over five years by having the instalment amount charged to their monthly STEG electricity bill. The programme was praised as an ideal showcase for the entire region, because market volume grew by more than a factor of ten in only five years. Before the start of the grant programme in 2005, Tunisia had only had an annual installation figure of 7,000 m2. In 2008, the subsidised collector area was already at 80,000 m2. But last year, market volume dropped to 53,000 m2 because of several factors listed below.
Chart: National Agency for Energy Conversation
Delay in grant disbursement by Tunisia's National Agency for Energy Conservation, ANME: The solar thermal system supplier grants the subsidy directly to the end consumer and reduces the customer's final invoice by between TND 200 and 400. Companies can then claim the disbursement from the ANME, although "payments are sometimes delayed by four to six months," market players confirm. The pending subsidy payments limit the business development of the Tunisian industry.
Saturation of the market regarding the well-off parts of society. It will now be necessary to create new sales models and financial support schemes to also convince low-income families of the benefits of buying a solar water heater.
Whereas grants amounts have been the same over the last ten years, the country has experienced high annual inflation, with rates between 2 and 6 % annually. Since 2005, customers who buy a solar water heater with a 200-litre capacity have received a subsidy of Tunisian Dinar (TND) 200. Solar water heaters with a 300-litre capacity have been subsidised with TND 400. Ten years ago, the costs of a thermosiphon system with 200 litres of capacity added up to around TND 1,200, which means that 17 % of the investment was covered by the subsidy. Because of rising raw material prices, system prices have gone up slightly to around TND 1,250.
Support scheme changes to be announced in summer 2015
"The subsidy scheme cannot work forever," Rafik Missaoui, Managing Director of Tunisian consultancy Alcor and one of the initiators of Prosol, argues. "It's now an established industry and we need an exit strategy." Missaoui is about to discuss different options with the government. "I pointed out that all changes made within the support scheme need to be announced at least one year in advance. This gives the system suppliers the time needed to prepare for them," he explains. The consultant expects further announcements by the government in the summer of 2015.
Previous considerations have only included the subsidised collector area within the Prosol residential scheme. Since 2009, a new scheme called Prosol Tertiary has offered a 30 % investment subsidy to support the installation of solar thermal systems at hotels. According to the ANME, the tourism sector saw 2,312 m2 of collector area installed in 2012 and 2,566 m2 in 2013. Since the beginning of Prosol Tertiary, ANME statistics show 11,500 m2 of subsidised collector area.
Collector assembly made in Tunisia
Made in Tunisia is an important criterion for the subsidised collector area. Law no 2012-27 from 29 December 2012 stipulates import taxes on non-electric water heaters as part of the Tunisian Anti-Pollution Fund from the year 1992. Since December 2012 the import of solar water heaters is taxed as non-electric water heaters, whereas raw material can still be imported tax-free. "Since we do not have a glass manufacturer in the country, nor a full-plate absorber producer, these two components can be imported tax-free," Stephan Fintelmann, Managing Director of German collector manufacturer KBB Kollektorbau, explains. He regularly ships absorbers, including collector assembly material, to the factory of Tunisian system provider Biome Solar Industry. Biome has created several jobs with its collector assembly workshop.
More information:
http://www.kbb-solar.com
http://www.biomesolar.com
http://www.alcor.com.tn