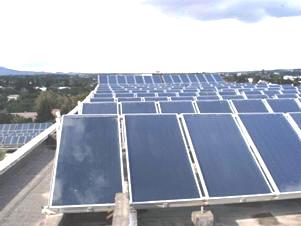 solar system in Tunisia
Soleil de Nefta – Solar City in the South-West of Tunisia
Will this be the future of Nefta? The Soleil de Nefta project foresees the installation of solar energy systems of about 20 MW by 2016, in order to produce hot water, solar electricity and solar cooling energy for the city of Nefta in the south-west of Tunisia.
Photo: ANME

In collaboration with the National Agency for Energy Conservation (ANME) and the Tunisian Company of Electricity and Gas (STEG), the Tunisian Ministry of Industry, Energy and Small Medium Enterprises organized an international seminar in Gammarth in December 2009 to launch the "Tunisian Solar Plan". It is not only a fitting addition to the "Mediterranean Solar Plan" , but also covers all the areas linked to energy efficiency and renewable energies. The plan shows Tunisia's ambition of becoming an international platform for the production and export of energy and an attractive place for solar energy in particular. It is planned to consist of 40 projects covering the period between 2009 and 2016 and would entail an investment of EUR 2,000 million, of which EUR 1,390 million will have to come from the private sector.
One of the projects included in the Solar Plan is the "Soleil de Nefta" project, which is going to use the latest solar technologies in order to meet the energy needs of Nefta, with its 20,000 inhabitants located in the south-west of Tunisia. The main activities around the Nefta region are in the field of agriculture and agribusiness (by producing date palms), as well as local and international tourism. Like all cities in southern Tunisia, the entire population of Nefta is connected to the national grid of STEG.
The "Soleil de Nefta" project is thought to help revive the oasis as the main source of the city's economy by primarily using solar energy. Other objectives of the project are to develop eco-tourism in the region, establish an environmentally friendly culture and boost the date palm industry. The requirements for energy utilisation to satisfy the needs of agriculture and tourism base on a solar energy system with approximately 20 MW. There are going to be four technologies in use, namely 6 MW of solar thermal capacity for hot water production, 6 MW of photovoltaic to generate electricity, 4 MW of solar cooling systems and 4 MW of concentrated solar power (see attached presentation).
The EUR 40 to 50 million project is said to include the following four stages between 2010 and 2016: the "depth energy audit" for energy efficiency, the "design", the "construction and implementation" and the "operation and maintenance" stage. Soleil de Nefta is going to be done in cooperation with the Rotary Club and the Association of Environmental Protection of Nefta.

More Information:
http://www.anme.nat.tn/index.asp?pId=296
http://www.unspecial.org/UNS692/t52.html