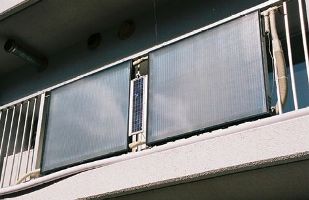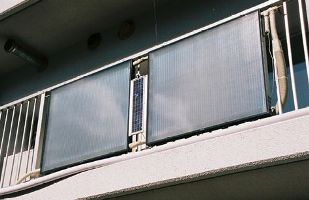 solar system of Tokyo Gas
Tokyo Gas launches balcony-integrated Collector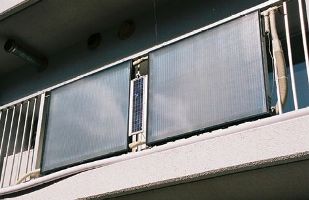 Japan´s large natural gas company, Tokyo Gas, started producing a collector panel that can be integrated into balconies. The low-cost system is a combination of solar panels and a gas water heater. Photo: Tokyo Gas
Tokyo Gas, a large natural gas company in Japan, decided to extend its business to the field of renewable energies. The Tokyo Gas' medium-term management plan 2009 – 2013, published in January 2009, states: "We shall develop an energy service business that incorporates new-energy and energy-saving services, and therefore adds environmental value to our usual cogeneration-type energy services" (see attached document).
It is precisely because of these goals that the Tokyo Gas and the Japanese Building Research Institute developed the next generation of solar-assisted water heating systems together. The low-cost system is a combination of solar panels and a gas water heater and its collector will be integrated into the balcony.
The projected system costs, excluding the installation fee, amount to approximately YEN 100,000 (around EUR 750) for a system with a 1 m² panel and YEN 200,000 (EUR 1,500) for a system with a 2 m² panel. The features of the system include, among others, an energy-efficient latent heat gas boiler, a compact hot water tank and a solar-assisted energy savings controller.
The production of the solar-assisted water heating systems has already started and the first integrated small-scale combination of solar system and gas water heater has been installed in Japan.
The commitment of Tokyo Gas to solar thermal technology is a big step for the entire sector. "Gas suppliers will be very important to establish a solar water heater market, possibly more important than the dominating heat pumps," Iida Tetsunari, executive director of the Japanese Institute for Sustainable Energy Policies (ISEP), stated at the European Solar Thermal Energy Conference (estec2009) in Munich.
Testers have already monitored the efficiency and the yield of the assisted water heating systems. If the solar-heated water in the tank reaches the preset level, the gas boiler will no longer ignite and water will be drawn directly from the tank. The energy-efficient storage tank therefore allows homeowners to save in their consumption of gas. Tokyo Gas experimented with its first prototype (collectors 2 m², 100 litre tank, installed 90° vertically) in 2008.

More Information:
http://www.tokyo-gas.co.jp
Text was written by communication expert Hanna Schober based in South Africa. Schober@solrico.com