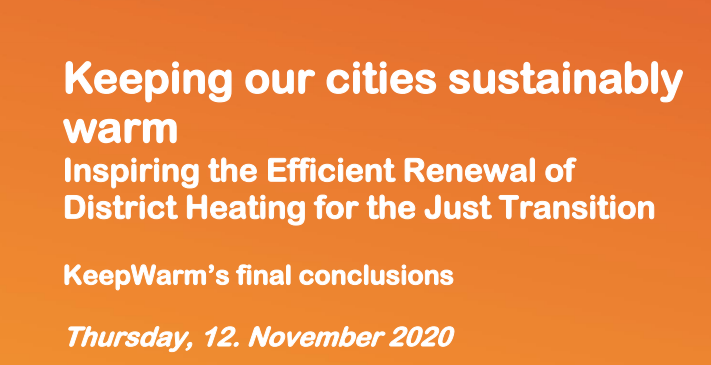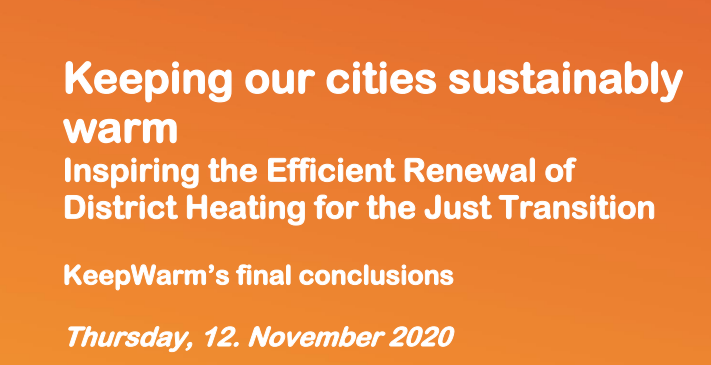 Three SDH plants under development in Croatia
District heating operators in Croatia have shown great interest in solar energy. Under the auspices of an EU-funded two-and-a-half-year project called KeepWarm, three feasibility studies on solar district heating (DH) ventures are currently underway in the country, whereas endeavours in the other KeepWarm partner countries – the Czech Republic, Latvia, Serbia, Slovenia and Ukraine – aim to retrofit DH networks powered by biomass boilers and heat pumps. The results of KeepWarm will be presented at a free online conference on Thursday, 12 November 2020. To take a look at the event schedule or register for the conference, please go to https://keepwarmeurope.eu/online-seminars/
The aim of KeepWarm is to increase the number of cost-effective investments in the modernisation of district heating systems and lower GHG emissions by improving system operation and promoting clean energy. "Some of our key objectives are to increase expertise, optimise plants, devise business models, attract investors and make DH modernisation part of national and multilateral strategies and action plans," said Stefanie Schädlich, KeepWarm Coordinator at the German Agency for International Cooperation.
She said the project has been "very successful in terms of achieving the objectives set out at the beginning". In all, 617 DH employees have acquired new technical, organisational, financial or managerial knowledge and 109 DH operators have learned how to draw up sustainable business plans, 23 of which are gradually being mapped out and have reached the level of a detailed feasibility study.
Solar district heat to meet building requirements in Croatia 
DH meets 15 % of Croatia's heat demand. About 110 DH networks are registered with national energy regulator HERA. However, so far, the country has had only one system running on solar heat, said Marko Čavar, who leads KeepWarm on behalf of the North-West Croatia Regional Energy Agency (REGEA). That system is a 400 m2 solar field in Vukovar, owned by a public utility named Tehnostan. But there are plans to expand the field to 1,200 m2 to generate 900 MWh of solar heat per year. "This expansion is to be implemented in two phases. The first will involve the addition of 160 collectors and the second of another 400," explained Čavar.
And with the support of KeepWarm, pre-feasibility studies for the integration of solar fields in three DH networks in the cities of Velika Gorica, Zaprešić and Samobor are currently carried out. All three sites are located close to Zagreb's DH system, the largest in Croatia.
| | | | |
| --- | --- | --- | --- |
| Location | Samobor | Velika Gorica | Zaprešić |
| Heat boiler capacity | 9,525 kW | 69,612 kW | 20,360 kW |
| Length of DH piping | 2,081 m | 9,836 m | 2,368 m |
| No. of connected customers | 1,263 | 5,902 | 2,372 |
| Current fuel | Natural gas | Natural gas and extra-light heating oil | Natural gas and extra-light heating oil |
| Planned collector size | 3,000 m2 | 500 m2 | 50,000 m2 |
| Renewable target | 4 % | 3 % | 17 % |
| Investment plan | Merge into a single DH grid, add solar heat | Connect boiler rooms to one DH grid, optimise new system, and add solar heat | Merge into a single DH grid, optimise system, connect potential customers and integrate solar heat |
| Estimated costs | EUR 500,000 | EUR 1,000,000 | EUR 3.5 million |
Three DH systems built in the 1980s and owned and operated by HEP Toplinarstvo will now each get a retrofit and a solar heat system. In all three cities, the detailed feasibility study is expected be finalised by the end of 2020.
Source: Attached PDF, titled KeepWarm Showroom Croatia
According to Čavar, existing and upcoming rules and regulations on deep energy retrofits of public and private buildings are one reason why Croatia's district heating operators are so interested in solar thermal energy. "In the future, we believe that buildings in need of a retrofit will require a minimum share of 30 % RES and on-site energy production, which could be provided by a 30 % RES share in district heating. After numerous attempts to connect biomass sources to Zagreb's network, solar collectors have been identified as the best approach from a socio-economic perspective," said Čavar.
KeepWarm's current business plans focus on small solar thermal fields, with the aim of acquiring the expertise needed to run and maintain these systems. In a next step, HEP Toplinarstvo, which owns the DH networks, will try to not only meet heat demand in summer with the help of the sun but store solar thermal energy for times when the energy amount generated by the networks throughout the day cannot meet demand. "Lastly, when HEP Toplinarstvo has renovated its pipelines, lowered temperatures in the DH network and connected boilers rooms to it, the utility is planning to implement solar thermal collectors on a large scale to meet the legislative requirement of 30 % RES."
KeepWarm, a multi-country project funded by the European Union's Horizon 2020 programme, was launched in April 2018. Most of the project partners are (clean) energy specialists from Austria, Croatia, the Czech Republic, Latvia, Serbia, Slovenia and Ukraine. The aim of KeepWarm is to strengthen the market position of DH networks throughout Central and Eastern Europe.
Organisations mentioned in this news article: