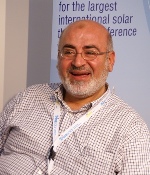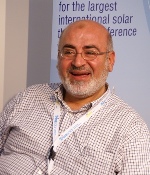 Syria: "It is a crazy market"
The pioneer of solar thermal technology in Syria: Nabil Kadi Kran started producing flat plate collectors and solar tanks in the Middle Eastern country 30 years ago. He recently had to cope with a decrease in his company's sales due to cheap imports of vacuum tube collector systems from China.
Photo: Bärbel Epp
Although Syria is still an oil-exporting country, the government decided two and a half years ago, that relying on its limited resources of oil and gas alone was not enough: At the beginning of 2008, it increased prices on fossil fuels, which sparked a booming interest in solar water heaters. "At that time, we sold 2 to 3 systems a day, whereas the rate was 5 to 6 systems per month before the increase in energy prices," Kran, CEO of the company Lava, says. Thermosiphon systems for residential clients make up 90 % of the company's sales, with most of them possessing an electric backup. According to a workshop report from March 2009, the newly installed collector area is estimated at around 100,000 m2 – a boom created entirely without the help of subsidies.
Hani Kassis, CEO of Syrian collector manufacturer Dast, frequently encounters problems with the imported Chinese systems: Not only because they are of low quality, but also because they are often wrongly installed.
Photo: Dast
Kran's explanation of why the sales volume of Lava went down again to 30 units a month: "It´s a crazy market. The imported vacuum tube collector systems from China with their 200-litre tank are sold at USD 300, whereas our systems cost around USD 1,000". Hani Kassis, CEO of Syrian collector manufacturer Dast, agrees: "We have a lot of problems with the imported systems from China due to their low quality and wrong installation". Because there are hardly any qualified solar installers in Syria, it has become the task of the component manufacturers or importers to install a sold system. In addition, the new entrances in the import business do not have a lot of experience with solar thermal installations.
Manufacturer Dast's situation is comparable to Lava's. Its CEO Kassis also looks back at 30 years of experience in the solar thermal sector. He founded his company in 1982. According to Kassis, there are only 2 or 3 Chinese suppliers in the country, which offer a good enough quality.
95 % of Dast´s sold and installed systems are closed-looped thermosiphon systems with glycol in the solar circuit. Over the last years, the company focused more and more on large solar thermal systems for multi-family buildings, a development also supported by Resol, the German controller manufacturer that teamed up with Dast in Syria as a national distributor. The company based in Damascus offers solar thermal systems based on either flat plate or vacuum tube collectors.
Kran very much regrets that there are no financial mechanisms to support the solar thermal market. "The government is thinking about several different measures, but has not yet implemented any of them," the CEO of Lava explains. The only exception occurred last year, when the national bank was told to give low-interest loans to solar thermal clients, who wanted to finance such systems. Kran says what happened was that the people took the credit money and bought a new television or refrigerator with it. Because of this malpractice, the government halted the loan programme. What a crazy market!
More information
http://www.solardast.com/en
http://www.lava-sy.com/