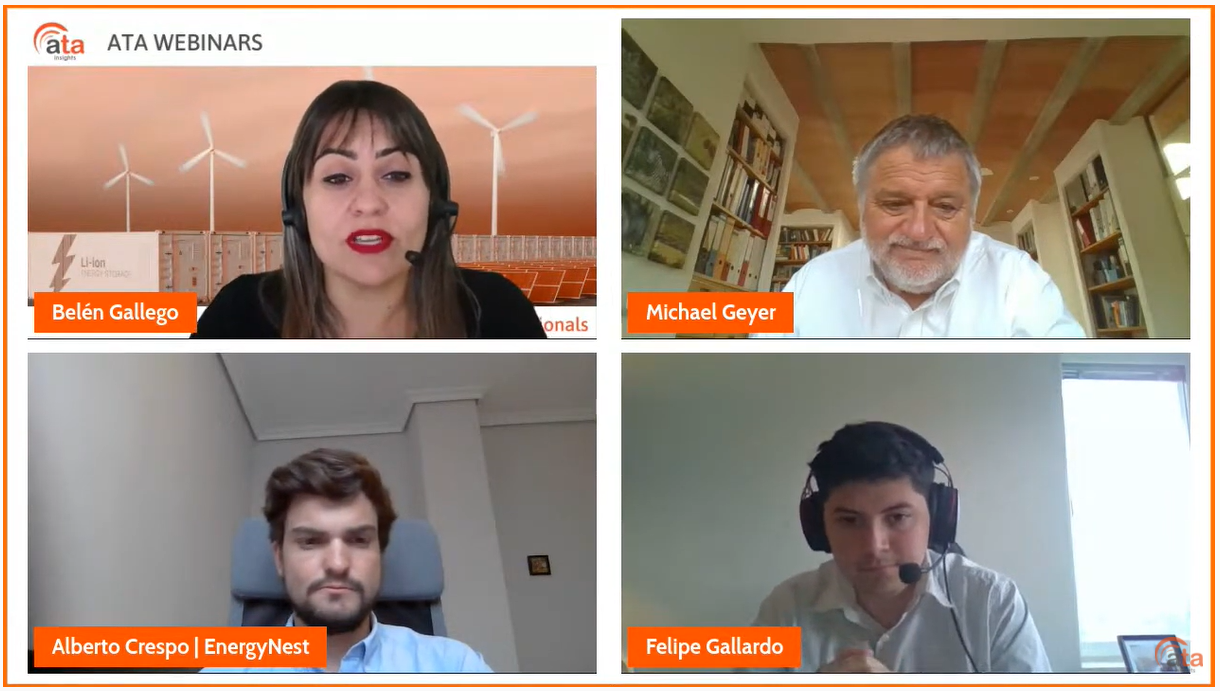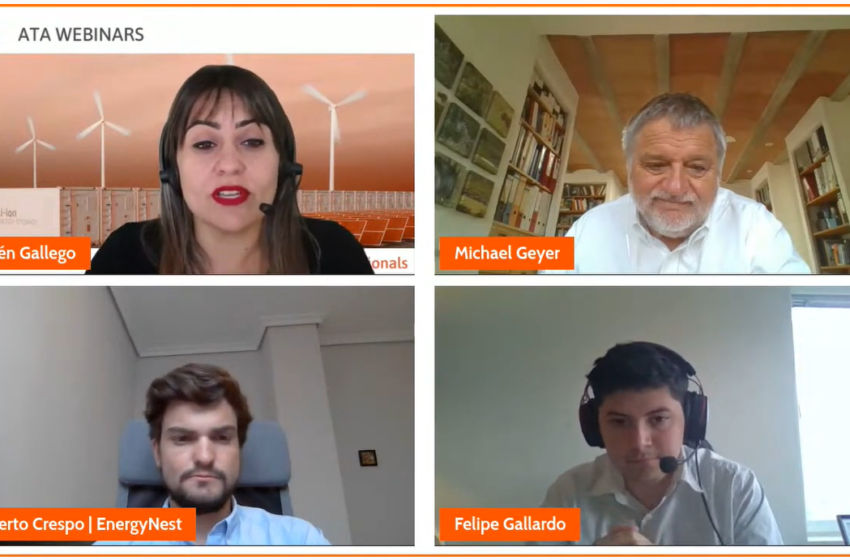 Start-ups develop new high-temperature storage solutions
At the end of May, representatives for Norwegian EnergyNest, Swedish Azelio and US Malta joined a webinar organised by Spanish agency ATA Insights to talk about their companies' innovative, cost-competitive thermal storage systems. The three tech start-ups offer clients intraday solutions that store clean, surplus solar heat or electricity generated during the day for use in the evening and at nighttime, ideally to meet demand 24/7. The advantages of the new thermal energy storage (TES) systems: much longer lifetimes compared to lithium batteries, thanks to a lack of degradation, and 100 % discharge capability. This makes them more cost effective than electric batteries despite lower overall efficiencies. A recording of the webinar can be found on YouTube: https://www.youtube.com/watch?v=R4eHG6vgDJg
Brief description of the three start-ups that presented their TES solutions during the ATA Insights webinar held in May 2021 Source: EnergyNest, Azelio and Malta
Modular storage system based on tubes filled with high-performance thermal concrete. Insulation is added onsite and now shown in the schemes. Source: EnergyNest
Alberto Crespo Iniesta, who works in EnergyNest's product development department, believes his company is well positioned for the decarbonisation of the industrial sector. The system's versatility makes it possible to be charged with waste heat, electricity, heat from the sun or steam.
Founded 10 years ago, EnergyNest si currently undertaking one of its first commercial projects at an Eni oil treatment plant in Italy. Once the project is completed, the two ThermalBattery modules delivered to Eni will be charged by a field of parabolic trough collectors. The heat stored in them will subsequently be transferred to a steam generation system to produce electricity for onsite consumption via a 150 kW turbine. Alternatively, steam could also be provided directly to the client.
Every ThermalBattery element consists of a steel pipe heat exchanger cast into a layer of high-performance thermal concrete called Heatcrete. The thermal oil, water/steam or compressed gas used as the heat transfer fluid in that exchanger can travel through the steel pipes in both directions, depending on whether a system is being charged or discharged. EnergyNest delivers the preassembled concrete tubes inside a 20 ft container that can store up to 2 MWh. "It's a plug-and-play installation" that needs only "a couple of welds at the top and the bottom of the module," said Crespo, adding that a ThermalBattery can "handle process temperatures up to 427 °C and above 100 bar."
Modularity is important to EnergyNest. Crespo said up to five of the company's modules can be put on top of and as many as needed next to each other to create systems with an output of a few MWh to a few GWh. EnergyNest estimates its product will last for more than 30 years.
The start-up's global expansion has recently been fuelled by a EUR 110 million investment agreement it signed with the Infracapital fund this April. Infracapital is part of M&G, a leading European savings and investments firm and now EnergyNest's top shareholder.
A TES-POD consists of a storage tank with molten aluminium and a Stirling engine. Source: Azelio
The second storage system presented at the webinar was Azelio's TES.POD, which has been designed to supply heat and power on demand around the clock. "Our solution converts, for example, surplus electricity from PV or wind farms into high-temperature heat and stores that heat in molten aluminium alloy," explained Azelio Business Development Manager Felipe Gallardo.
When a client needs electricity, a Stirling engine then converts the heat back into electricity at 29 % efficiency. Cooling down the engine makes it possible to supply clients with low-temperature heat between 50 °C and 60 °C as well, increasing conversion efficiency to 90 %. "Our solution is tailored for small energy consumers. A fully charged TES.POD can provide 13 kW during 13 hours. But you can also have clusters of TES.PODs, and we can provide you with the equipment needed for controlling these clusters," said Gallardo.
A TES.POD consists of an aluminium tank and a Stirling engine. To charge the system, clean electricity passes through a resistor, heating up a transfer fluid. The fluid then flows through a shell heat exchanger, melting recycled aluminium in a closed tank. To discharge the unit, the process is reversed: As the fluid again circulates around the tank, it removes the stored heat from the molten metal.
"The roundtrip efficiency may not be comparable to an electrochemical battery. But when you consider that there's no degradation and 100 % discharge, you end up with a cost-competitive solution," said Gallardo, predicting a 30-year lifetime for the system.
Azelio offers a
value calculator
to customers to conduct their own prefeasibility assessment. It requires only a few data points – such as the demand profile and the price for the source of electricity that is to be replaced – to estimate an LCOE value and a payback period.
During the webinar, Gallardo also presented a business case involving 50 kW TES.PODs and a Chile-based pumping station currently running on diesel 24 hours, seven days a week. The suggestion is to install a PV system in addition to the onsite diesel generator to support the generator and charge TES.PODs during the day. These pods would then generate electricity at night, reducing demand for fuel-sourced electricity. The optimal system configuration in this scenario is expected to provide an 84 % annual solar fraction.
| | | |
| --- | --- | --- |
| Irradiance (GHI) | 2,492 | kWh/m2 |
| Nominal TES.POD power | 50 | kW |
| Storage capacity | 14 | hours |
| PV capacity | 396 | kWp |
| Annual electricity demand | 491 | MWh |
| Solar fraction (PV and TES.POD) | 84 | % |
| Annual direct PV electricity consumption | 238 | MWh |
| Annual TES.POD electricity generation | 174 | MWh |
| LCOE | 101 | USD/MWh |
| Payback period | 4 to 5 | years |
Simulation results for a Chilean client using TES.PODs to operate a pump cluster 24/7. The LCOE were calculated based on a 30-year system lifetime and a discount rate of 4.5.
Source: Azelio
The third presenter was Michael Geyer, Senior Technical Advisor at Malta, which offers a storage system based on proven molten salt technology. When charging, the system is run as a heat pump, converting electricity into heat, which is stored in molten salt. In discharge mode, the system operates as a heat engine, using the stored thermal energy to produce electricity and heat. 
Chart: Malta
Organisations mentioned in the article: