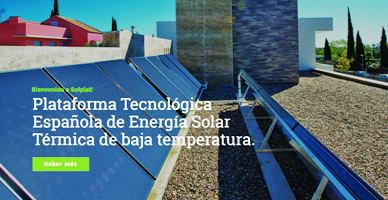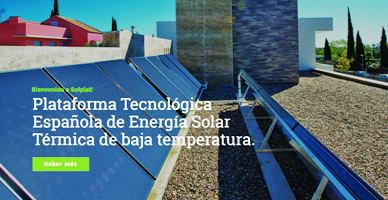 Spain: Stakeholder Platform Solplat to Promote New Applications
On 4 October 2017, the Spanish Ministry of Economy hosted the first general meeting of the newly created Technology Platform on Low Temperature Solar Thermal, Solplat. Funded by the ministry and promoted by Spain's solar association ASIT, the umbrella platform was created to help companies, public authorities and universities support and improve segments which have seen fairly little market penetration to date. Examples are district heating, solar process heat and Nearly Zero Energy Buildings (NZEBs).
Pascual Polo, General Secretary of ASIT, said that "some countries such as Denmark have a huge solar district heating market. But in Spain, which has double the solar irradiation figures, 73 % of the district heat is produced by biomass, 12 % by gas and 15 % by other fuel sources. We aim at promoting combinations with solar thermal." He added that district heating was not the only market they intended to address; others were industry and NZEBs. "We are very excited about the project," he said. "We created working groups for each of the three market areas and one on standards and certification. Each group will have subcommittees to address more particular needs." Some specific measures are listed in the following.
Create synergies between all actors
Identify potential of industrial sector
Globalise Spanish technology by increasing export and import activities
Identify and promote new materials to make solar thermal more efficient
Encourage hybrid renewable heat solutions that include solar thermal
Promote solar thermal events, discussions and exhibitions
The members of Solplat are the ASIT members as well as public institutions such as the Ministry of Energy, the governments of Andalusia, Catalonia and Valencia, and the Institute for Energy Diversification and Saving. Companies or organisations interested in joining one of the working groups can contact ASIT (see contact information below). "The platform is open to everybody involved in the solar thermal sector," Polo said.
"Solar resources have hardly been exploited"
Polo explained that the objective of the platform was to encourage local administrators to develop pilot projects, with a focus on solar district heating. "In the last 3 weeks, we had meetings with representatives from regional governments to show them what they can achieve thanks to solar district heating. We're advising them on how to find the best technical solutions and raise funds to promote these early pilot projects." He added that most district networks were managed and funded by public institutions. He thought it was very important that they meet with private companies and research centres that are familiar with the technology and can visualise its potential. "We expect to be able to promote the first implemented pilot district heating systems next year."
Another Solplat focus is NZEBs. The EU's Energy Performance of Buildings Directive, which still needs to be fully implemented in the country, stipulates that all newbuilds must be NZEBs by the end of December 2020. "We have a very vague idea of what to do in Spain with this directive and energy-efficient buildings remain a small niche market, so there is a lot to do," Polo said.
The new platform comes at a time when the Spanish solar thermal sector is apparently at the end of a long period of decline. ASIT said that it had gained 5 new members in the last months, putting the current total at 23. "The construction sector is improving and so is solar thermal. We're seeing a clear upward trend." However, he also said that small-size heaters shouldn't be the only market opportunity. "Solplat was created for branching out into new solar heat markets. We are far behind some other European countries and our solar resources have hardly been exploited," Polo explained.
More information