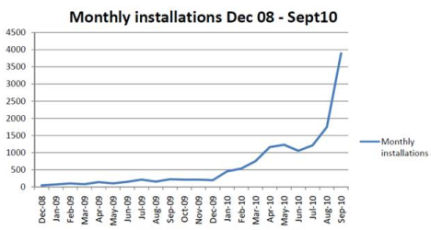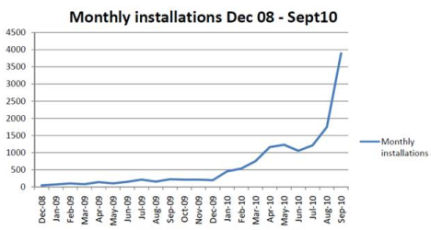 South Africa: Eskom´s Incentive Programme shows a Steep ramp up
The number of monthly installed and subsidised solar thermal installations in South African households increased significantly towards the end of 2010. According to Eskom, energy utility and administrator of the national residential subsidy programme, 4,914 claims were paid in December. This compares favourably to the approximate 250 systems that were installed in the same period in 2009, and represents a significant increase as can be seen from the graph. Eskom is not updating the above chart anymore with monthly figures.
Source: Eskom/SESSA
What are the reasons for this steep uptake? An important factor was the increase in the amount paid out by the incentive programme at the beginning of 2010, which almost doubled the subsidy per applicant.
"The increasing electricity prices are also starting to show their impact and people are afraid of blackouts during the winter," Henning Holm, Vice Chairman and Communication Portfolio Manager of the Solar Water Heating Division of the Sustainable Energy Society of South Africa (SESSA), says. Electricity tariffs are expected to increase at around 19 to 35 % per year depending on the status of the client and the supplier. Holm expects tariffs of around 1.65 to 2 South African Rand (ZAR)/kWh by 2014 for domestic small contracts whereas the current rate is on average 1 ZAR/kWh. Not surprisingly, this too is a major contributing factor to the increased uptake of solar water heating.
Thirdly and of equal importance is the stronger standing of the industry and the suppliers, which is also confirmed by Eskom. By the end of December 2010, a total of 108 accredited suppliers as well as 245 registered distributors and 124 registered independent installers were part of the incentive programme, whereas the Eskom counted only 8 registered suppliers in 2008 at the inception of the subsidy scheme.
"The sector is currently much better organized", says Holm. "And the association is starting to strengthen from this. SESSA's solar water heating division grew from 200 to 500 members – mostly installers – within two years and engaged the first full time staff in August 2010. Irvan Damon, the "ambassador" of the solar water heating division started the first nationwide solar water heater workshops and is rolling out a new marketing strategy for solar water heating". According to Holm, plans are to enlarge the team to three full time employees by the end of the year in order to further strengthen the association.

More information:
http://www.sessa.org.za