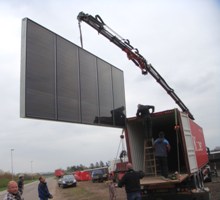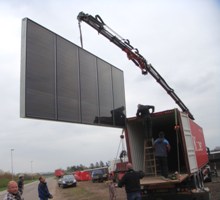 A Solar Field of 7,350 m2 – and a Heat & Power Plant
The quickest installation possible: It took only one month to set up the 525 flat plate collectors, each with a 14 m2 surface, in the open countryside. The 7,350 m2 solar thermal system feeds the district heating system of the Danish town of Tørring. Photo: Sunmark
It is not every day that someone starts operating a 7,350 m2 solar thermal plant in Denmark. The Danish Minister for the Environment, Troels Lund Poulsen, joined the official inauguration ceremony in the town of Tørring on the 16th May. The solar thermal system with 5.1 MWth  supplies hot water at a temperature of 90 to 95 °C to the district heating system, which is fed by a combined heat and power plant.
"We can cover 10 % of the annual heating energy that the 968 units connected to the district heating system will need to produce," Hjørdis Petersen, the marketing & sales coordinator of Sunmark, states. The Danish company is the supplier of solar thermal turn-key solutions. Its large-scale flat-plate collectors have a surface area of 14 m2 and are produced in Vietnam. Sunmark was also responsible for the installation of the collector field. Its workers needed only one month to set up the 525 panels in the open countryside.
Considering solar thermal as a key technology for the future: The Danish minister for the Environment, Troels Lund Poulsen (left), inaugurated official celebrations on 16th May and was shown around by Michael Gregersen, the plant manager of the heat & power plant in Tørring. Photo: Sunmark
When it comes to a demand for hot water during the summer months, the share of solar energy rises up to 80 % of the total energy output, which is a great advantage for the operator of the combined heat & power unit. Since the price of electricity is typically very low in summer, it is not worth turning on the gas engine for electricity generation. "The solar plant is therefore an ideal solution, because the demand for hot water has to be met in summertime, too," explains Petersen.
The cost of the Tørring solar plant, including digging and control unit, added up to more than Danish Crones (DKK) 14 million (or €1.9 million) in total. This corresponds to specific costs of €250 to €300 /m2 collector surface.
Sunmark has experienced a strongly increasing demand for large solar plants. The company thus raised its production capacity in Vietnam from 80,000 to 250,000 m2 in May 2009. "Our subsidiary in Vietnam is a very important asset when it comes to entering the Asian markets," explains Petersen. Just two months ago, Sunmark set up a solar heating plant for a fish processing unit of Thai Union Manufacturing. The installation consists of 33 collectors with a size of 14 m2 each. 
More information:
http://www.sunmark.com