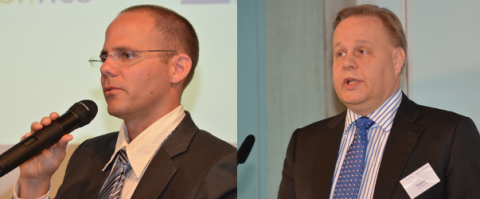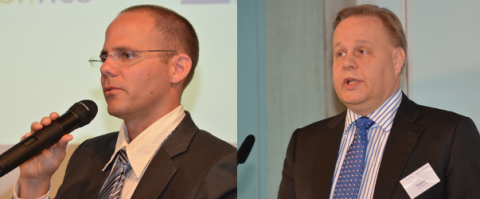 SMEThermal 2013: 150 Experts Debate Future Solar Collector Generation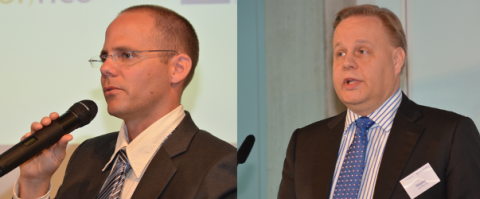 The industry needs to aim for big targets to make sure solar heat will be able to contribute to a changing energy market. With this statement, Karl-Heinz Remmers, founder and CEO of German Solarpraxis, opened the fourth SMEThermal conference in Berlin on 29 January. More than 150 industry representatives and researchers from 25 countries used the conference to discuss the necessary future developments of collectors, system and production technology. The key topic of the first panel discussion: What will the collector of the next generation look like? One panellist side favoured full-polymeric collectors: Michael Sessler from Magen eco-Energy, Israel (left). The other side develops and produces metal collectors with all-aluminium direct-flow absorbers: Jari Varjotie, Savo-Solar, Finland.
Photos: Eva Augsten
The vision of Magen eco-Energy, which has decade-long experience in manufacturing pool-heating collectors, is the piping industry. "25 years ago, all piping was made from metal. But this has changed dramatically and polymers are now on their way to dominate the piping industry," explained Michael Sessler, Vice President Business Development at Magen. The advantages are very clear: Low weight – one person alone can easily handle the 17 kg panel. Second: Great corrosion resistance and no scale accumulation, which makes the collector especially suited for open-loop thermosiphon systems in hard water areas of the sun-belt countries (see attached presentation).
Magen eco-Energy, however, had to overcome a number of challenges before it was able to present an all-polymer collector for hot water applications:
Discovering a reliable overheat protection, so that the polymer absorber made from commodity plastic parts can withstand dry and wet stagnation.
Designing a header that can be over-moulded to the piping sheet and withstands at least 200 hours at 10 bar and 80 °C.
Creating flexible header pipes, which adjust to the large thermal extension and contraction of the polymer absorber.
Sessler admitted that all overheat protection measures – venting, pressure valves or thermotropic layers – do still not represent the most apt solution: "We are working on an optimised collector design, which has a high enough efficiency and reduces the difference between the extreme stagnation and the conditions once the system is in operation. This would allow us to forgo any special overheat design." Sessler was confident that there should be potential in the upcoming years to produce polymer absorbers with an ex-factory price of 40 to 50 EUR/m2.
Saving costs was also the main issue of Jari Varjotie, CEO of Finnish company Savo-Solar, which offers collectors with all-aluminium absorbers, either through extruded profiles or roll-bonded. Both types achieve higher efficiencies than the traditional absorber type with single tubes bound to the absorber plate by ultrasonic or laser welding (see attached presentation). "Our collectors achieve a more than 14 % higher yield in the field than current all-aluminium absorbers," Varjotie pointed out. "We know that energy density is very important in commercial projects and our collectors save costs exactly because of the higher energy yield and the all-aluminium design." Still, this design had challenges of its own:
Overcoming customer prejudice because of corrosion problems in roll-bonding absorbers in the past
Developing a suitable technology (frame brazing or laser welding) to bind the extruded aluminium sheet to the header
Dealing with the free inflation process in roll-bonding absorbers, which leads to high tolerances
Training installers in correctly handling the solar circuit during installation and initial operation to avoid air in the solar circuit, which can cause corrosion
The debate has clearly shown that both new collector generations have their advantages and disadvantages and, most apparent, result in different applications. Ultimately, the panellists voted for a system-defined collector. They also called for breaking away from a conservative way of thinking and for giving something completely new a chance on the market.
More information:
http://www.solarpraxis.de/en/conferences/smethermal-2013/general-information/
http://www.savosolar.fi/
http://www.magen-ecoenergy.com/
http://www.vonardenne.biz/