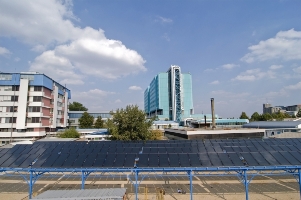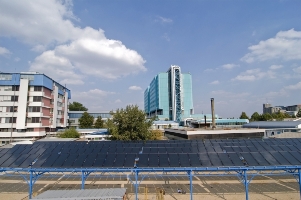 Slovak Aid supports Installations of larger Solar Thermal Systems across Region
The currently largest solar thermal system in Serbia is installed on the employee and visitor parking garage of the hospital in the Serbian town of Zreňanin, according to the director of the Serbian Solar Institution, Miroslav Lambiča. 200 solar collectors manufactured and set up by Slovakian company Thermosolar have generated heat for this central hospital since December 2010.
Photo: Thermosolar
Thermosolar also contributed 20 % of the installation costs of the system. The largest chunk of the project costs were covered by Slovak Aid, a non-profit organisation for development aid established by the Slovakian Ministry of Foreign Affairs. The solar water heating system on the hospital in Zreňanin is only one of several large-scale solar thermal systems the organisation has supported over the last years.
One of the latest projects realised by Slovak Aid in the area of solar energy is the 72 solar collector installation on a boarding house – set up, too, in the town of Zreňanin. This second project is also the second cooperation with Thermosolar, which again paid for 20 % of the system costs.
2010 saw the installation of still three other solar installations at child facilities in Serbia. The total installed collector area of these systems amounts to 336 m2. The homes for children with special needs are located in Subotica (northern Serbia), Stamnica (eastern Serbia), and Kragujevac (central Serbia).
The company responsible for the implementation, Thermosolar, is the largest Slovakian manufacturer of solar collectors. The newly installed solar collectors will lower CO2 emissions in the region by roughly 120 tons per year, as the number of installed collectors will ultimately reach 168, and a total surface area of 336 m2.
Actually, the former Yugoslavian country was one of the largest countries in the 1990s in terms of installed solar collector area in Europe, but the military conflict slowed down the market. Slovak Aid is hoping that the large solar thermal systems will make the broader public aware of the usefulness of the installed solar systems.
More information:
http://www.Slovakaid.sk
http://www.Thermosolar.sk