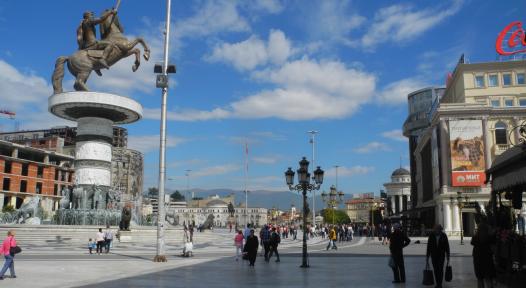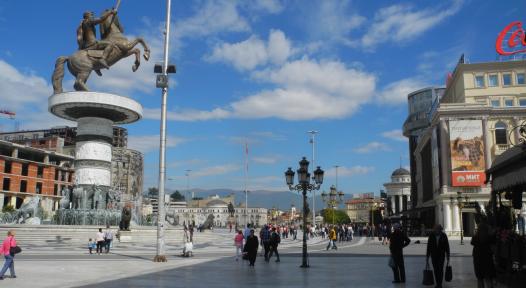 Skopje's Green City Action Plan favours district heating
Many times during winter, Skopje in North Macedonia holds the unfortunate record of being the capital with the worst air quality in Europe. One reason for this is that some of the city's public buildings – even hospitals and schools – burn heavy fuel oil to provide hot water and space heating. Lovren Markic, who heads Skopje's International Relations Department, knows the country urgently needs to tackle its environmental problems, including its high pollution levels, before it can hope to join the European Union. "At the national level, we've already harmonised our energy legislation with EU rules," he said, adding: "One of the main strategic aims for Skopje is now to make greater use of renewable sources of energy." The national association Solar Macedonia, however, notes the lack of appropriate policy support for the solar thermal sector. 
Photo: Municipality of Skopje
Hence, in 2020, Skopje adopted the Green City Action Plan, supported by the European Bank for Reconstruction and Development (see the PDF for download below). The GCAP proposes several measures to lower carbon emissions, including an expansion of Skopje's district heating network, an upgrade of its low-carbon sources of heat and the installation of solar collectors on public and residential buildings. It also calls for multiple support programmes to promote not only PV, geothermal energy and biomass but also solar thermal and solar air heating. According to the GCAP, solar thermal collectors installed on residential property will cut carbon emissions by up to 1,000 tonnes, on municipal buildings an additional 7,000 tonnes.
Enlarging the district heating network to connect many more households, public buildings and manufacturers is one of the key measures in the Green City Action Plan and will be supported with EUR 73 million over the next 10 years.
Source: GCAP
"So far, however, we've had only PV plants installed and only on three high schools, and we have yet to put up a solar thermal system," said Markic. He pointed to the global Covid-19 outbreak as one reason why things have not worked out as expected. Nevertheless, he remained optimistic: "In the coming years, I expect we'll be able to cut energy consumption in our municipal buildings by also installing solar collectors. It may even be possible to not only put up these collectors as part of the GCAP but also get them funded via an energy efficiency loan programme set up by our country's finance ministry in collaboration with the World Bank." In its current form, the programme offers loans to municipalities that invest in revenue-generating public services and wastewater management projects.
National incentives for energy-efficient residential buildings
Meanwhile, the deputy head of the energy department within North Macedonia's economy ministry, Valentina Stardelova, said the government had already created a Programme for the Promotion of Renewable Energy Sources and the Promotion of Energy Efficiency in Households in 2019. In the same year, it approved 763 out of the 1,306 funding requests submitted, providing applicants with a total of Macedonian Denar (MKD) 10 million (EUR 162,000) to purchase and install solar water heaters. At the beginning of this year, that programme then set aside MKD 52 million (EUR 845,000) to support buyers of PVC windows, pellet stoves and solar thermal collectors. As reported by balkangreenenergynews.com on 22 January, these incentives cover up to 30 % of the cost of buying and installing solar water heaters, or up to 70 % if the applicant lives in a low-income household.
In addition, the country's environment ministry announced that next year, it will work together with the city of Skopje to put out a call for applications from Lisiče, one of the city's most polluted residential areas. Selected households will then receive up to MKD 3.2 million (USD 52,000) to make their heating systems more energy efficient.
Insufficient government support
"Thanks to very good climate conditions and an abundance of sunshine, many Macedonians have solar energy systems installed in their homes. They're well aware solar energy is the best and most eco-friendly way to heat buildings – and that it's free," said Dr Ilija Nasov, CEO of Camel Solar and President of national association Solar Macedonia. But in light of these benefits, he added, the government's energy policy is insufficient and inadequate.
"There's virtually no government support for Macedonian manufacturers of solar thermal collector systems," he noted. Over many years, the
prior programme
for the "partial subsidising of purchased and installed solar water heaters for households" provided funding without stipulating any sort of quality requirements. "This means EUR 300 was paid for each system, but because there were no funding requirements such as Solar Keymark certification or minimum efficiency per collector, all the money was spent on cheap non-pressurised thermosiphon systems," he said.
As a result, local manufacturers with Solar Keymark Certificate don't benefit from these national subsidies. "We, the Macedonian Solar Association, have urged the government many times to increase the incentives and include the aforementioned criteria."
Another reason why North Macedonian collector producers are losing business to foreign companies, he said, is that they have to pay regular import customs duties and VAT on raw materials. By contrast, imported solar thermal collectors, which includes non-pressurised thermosiphon systems, are not subject to customs duties and can be bought at a reduced VAT rate. "How Macedonian collector manufacturing can continue under these conditions is a question worth asking," he said. His own company, Camel Solar, mainly sells its PVT systems, which provide both electricity and hot water, to customers abroad.
A PV-Thermal installation with 3.2 kWp on the roof of a kindergarden in the neighborhoud of Karpos in Skopje
Photo: Camel Solar
Organisations mentioned in this article: