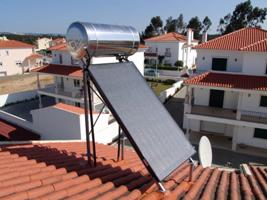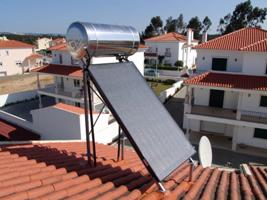 Portugal: New Subsidy Programme to start in October
The government's announcement to invite tenders for a new subsidy scheme was met with mixed feelings throughout the industry: It represents a great chance, but comes at a wrong time.
Photo: Vulcano
It is the second piece of news in a short time catching the Portuguese solar thermal sector by surprise: At the beginning of June, the nation's government announced a new incentive programme for the solar thermal sector under the National Strategic Reference Framework, starting on 31 August 2010. The total budget is said to be EUR 9.5 million and the target group small and medium companies.
This announcement came completely unexpected because the government confirmed just four months ago that it would halt last year's incentive programme "Medida Solar Térmico" (MST) due to a lack of funds for it (see news). Although the announcement itself is regarded as quite a positive sign for the market, the national solar association Apisolar thinks "the timing could not be worse." Rafael Ribas, Apisolar´s Vice President, explains: "We were completely surprised at a time when we are still responding to the MST programme. It will be difficult to respond in time for the tender in August". The government reacted to the industry's request by extending the deadline for the tender to 15 October.
Nevertheless, some of the industry's worries remain. Between February and July 2010, the government did not pay out any of the approved grants of last year´s programme to Yunit (former Pmelink), the private company responsible for the management of the MST programme, which brought some system suppliers in deep financial troubles. Only very recently has the government begun to pay out grants again. Yunit will also be responsible for running the programme in October.
In June, the Minister of Economy, José Vieira da Silva, announced yet another programme for the solar thermal sector in 2010, with a total budget of EUR 50 million. Although there has not been any further information about this new programme since its announcement, da Silva indicated that it is thought to promote the installation of approximately 115,000 m2 of collector area for a target group of private, non-profit entities and social, but non-governmental institutions. "The government decided to put the development of 'Solar Thermal Measurement' under the National Strategic Reference Framework out to tender, in order to develop solar energy applications in the private, as well as non-profit sector," da Silva said back in June. The national association appreciated the announcement. Apisolar's president Ribas sees a great chance with this new incentive programme: "We left about 800 Private Social Solidarity Institutions (IPSS) out of last year´s scheme and were not able to offer them a subsidized solar water heater system. The new programme could fill in some of the gaps."
This article was taken from the Portuguese magazine Climatização, which publishes news and articles about solar thermal technology, HVAC, energy-efficient buildings and geothermal on a bimonthly basis, with six issues a year. Solarthermalworld.org has an agreement with the magazine about sharing international solar thermal news.

More information:
http://www.apisolar.pt
http://www.climatizacao.pt